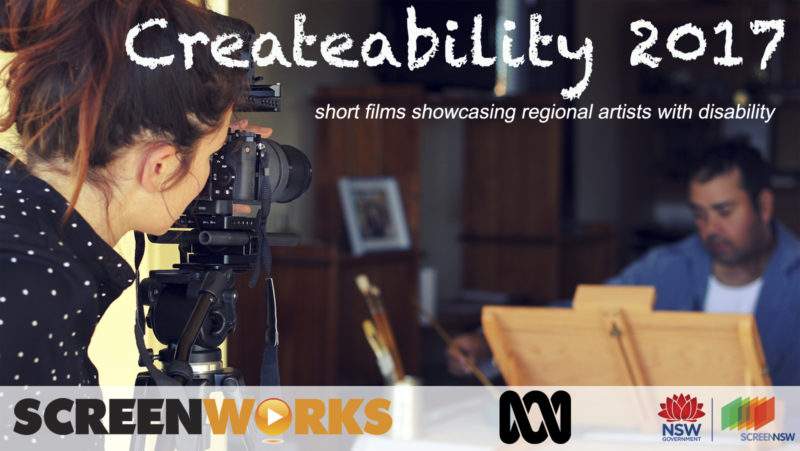 Createability 2017
The key objective of CREATEABILITY 2017 is to profile work produced by artists with disability through identified arts organisations and screen media.
Follow the Createability project on Instagram
CREATEABILITY FILM FESTIVAL SUCCESSES
Congratulations to the Screenworks members whose Createability films have been selected for  the following festivals;
Both Kellie Jennar's film, In My Own World and Susie Forster's film, The Fine Art of Being Zion have been accepted into the Bent Bridge Film Festival

---
2017 CREATEABILITY APPLICATIONS ARE NOW CLOSED
Applications for CREATEABILITY 2017 closed at midnight on April 23rd 2017.

Thanks to all who showed interest in this years project, keep checking back  to see how the initative progresses. Let the deliberations begin!
---
Registrations for CREATEABILITY 2017 will close at midnight on
Sunday 23rd April 2017
WATCH THE CREATEABILITY ABC MASTERCLASS VIDEO HERE
DOWNLOAD LINKS:
Createability 2017 Storyplan template
Createability 2017 Budget template
---
Program Overview:
CREATEABILITY 2017 is a Screenworks initiative supported Screen NSW and the ABC that provides funded opportunities for professional filmmakers living in Regional NSW to profile artists with disability living and creating in their communities.
Screenworks has funding available for 8 filmmakers to produce 8 films in total. Each film will between 3 and 7 minutes and will profile an artist with disability who resides and creates in Regional NSW.
Filmmakers with disability:
Filmmakers with disability are strongly encouraged to apply for this program. All filmmakers selected for this program will be strongly encouraged to connect with and to include emerging filmmakers with disability from regional NSW as part of their team. Opportunities may also include mentorship, skills development, industry networking and/or creative collaborations, with a view to help enable collaborations and project teams for future projects.
If you are a filmmaker with a disability living in regional NSW and want to be involved in the project, we want to hear from you. Send us an email to [email protected]
---
Eligibility for Filmmakers:
CREATEABILITY 2017 is not an entry-level initiative for filmmakers.  All applications must first meet the following eligibility criteria in order to complete the application process.
The applicant must, at a minimum, have one broadcast short-form credit (i.e. music videos, television commercials, online content or corporate films commissioned and paid for by a third party)
Applications are only open to Australian citizens or residents living and working in Regional NSW. This is defined as all of NSW excluding Sydney Metropolitan, the Blue Mountains and the Central Coast.
The applicant must be available and able to produce the short documentary to these key deadlines:


| | |
| --- | --- |
| Script deadline: | Monday 12th June 2017 |
| Shoot window: | 10th July – 30th July 2017 |
| Rough cut deadline: | Monday 14th August 2017 |
| Fine cut deadline: | Monday 11th September 2017 |
| Final Delivery of Materials deadline: | Monday 2nd October 2017 |

All applicants must watch the Createability Facebook Live Video stream ABC Pre-Production Masterclass and/or watch it post the event. This will assist them to complete their application. They will gain professional advice to assist them in producing a competitive storyline and outline budget to the standard required by the independent panel. The ABC Pre-Production Masterclass was streamed live via the ABC Open Facebook page on Tuesday 28th March 2017, 8pm – 9pm EDST. This video is now available to view here. If you have a questions when watching after the event, please email them to [email protected]
Each filmmaker must complete the online Createability 2017 application form. Applications close on Sunday 23rd April 2017. All mandatory questions must be answered and all support material uploaded. Mandatory supporting documentation includes:


These materials will be assessed by an independent panel and a final decision made on the successful applicants during week commencing 8th May 2017.

---

Funding available:

Each successful filmmaker will be allocated a budget of $5,000 excluding GST to produce a short film up to a maximum length of 7 minutes.  As part of the application process, each filmmaker will need to clearly demonstrate how the $5,000 budget will be spent.

When considering the budget, each filmmaker must include information about the accessibility components that will be included in their short film.

---

Terms of Funding:

Project funding is provided as a grant. If you are successful, Screenworks will enter into a written agreement with you, specifying the terms of the funding and what you will need to deliver in order to receive payments. All projects selected for production will be subject to editorial guidelines and must comply with editorial feedback provided by Screenworks and/or the ABC.

The successful filmmaker teams will be required to grant Screenworks, the Australian Broadcasting Corporation (ABC) and the NSW State Government agencies (such as Screen NSW) a non-exclusive, worldwide, royalty free licence to use the short film for its own corporate or promotional purposes including but not limited to use on websites, newsletters and/or annual reports for perpetuity.

Screenworks reserve the right to approve production budgets prior to contracting.

---

Successful applications:

If you are one of the 8 selected filmmakers you will be required to work with an appointed ABC Producer to engage with your subject artist, to develop your storyline and produce a shooting script for approval before commencing pre-production and principal photography. This will be through face-to-face script clinic meetings, telephone conversations and email correspondence. Each key deliverable stage e.g.: script, edit, fine cut will require the approval of all stakeholders before progressing to the next stage.

---

Assessment criteria:

The Screenworks and ABC team will assess eligible applications against the following assessment criteria:

Quality of the application material.
Quality of the story & treatment of subject matter.
Track record and previous experience of filmmaker.
Ability of the filmmaker to deliver the film on-time, budget and to a high standard.
Filmmakers interest in the project and how filmmakers with disability can be included in the project.
Screenworks may also take into consideration whether the applicants have a number of concurrent outstanding projects in development or production that may impact on the quality.


---

Project promotion:

Screenworks and the ABC intend to promote this project through multiple channels including promotion to local regional media via press release information and on social media channels. There will also be project page updates on the  Screenworks and ABC websites to detail the project. Each filmmaker selected will be expected to support and co-operate with Screenworks and the ABC to ensure that it is able to achieve the project promotion objectives set out above.

Where a filmmaker chooses to submit their film in to Australian or international film festival, any entry fees will be the responsibility of the filmmaker.

---

Submitting your application:

All Createability 2017 applications for funding must be submitted by midnight (AEST), Sunday 23rd April 2017. An application receipt will be emailed to all applicants within 3 business days of submitting your application.  If you do not receive a receipt email, you should contact Screenworks on (02) 6687 1599 to confirm that your application has been received.

Applications must be submitted using the online application form.  Applications submitted by other methods will not be accepted. If you experience any difficulty with the online application, please contact Screenworks Project Coordinator, Louise Hodgson on (02) 6687 1599.

---

Screenworks Diversity Commitment:

Screenworks are strongly committed to increasing diversity across all sectors of the screen industry. We encourage all talented filmmakers to apply to our programs regardless of their gender, race, religion, sexual orientation or disability status.

We also ask that applicants consider inclusiveness, accessibility and diversity when forming their filmmaking teams for any Screenworks initiative.

---

CREATEABILITY 2017 is supported Screen NSW and is being delivered in partnership the ABC.
---
Please support Screenworks by using the links below.
Published on March 10, 2017 5:18 am