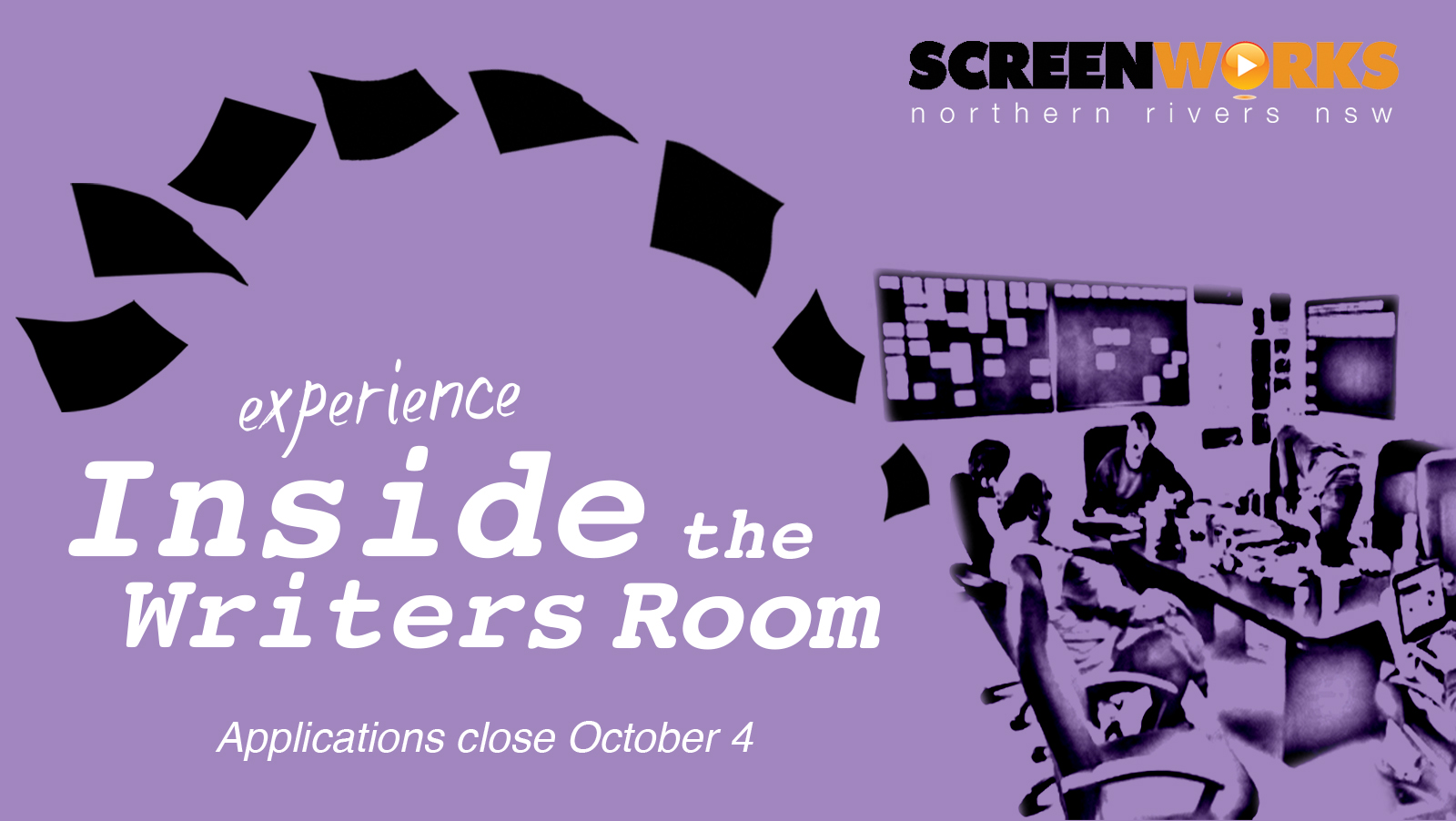 Inside the Writers Room 2017
Advancing the career paths of regionally-based screenwriters
Inside the Writers Room is a professional development program designed to give four regional NSW screenwriters the opportunity to sit in and watch professional writers working on the story for a television script in a writers room environment.
Thanks to the ongoing support of some of Australia's leading production companies, Screenworks is able to offer the selected participants the opportunity to observe writers rooms of the following highly respected companies:
These opportunities are most relevant to emerging or early-career writers of television content, and more specifically TV drama or comedy series. There may also be an opportunity for the participants to receive advice or a market appraisal on their own projects or scripts.
By delivering the program for a third year, Screenworks wants to build the capacity of local emerging and early-career screenwriters, provide opportunity for people living and/or working in regional NSW, and improve our local industry's capacity and sustainability.
APPLICATIONS HAVE NOW CLOSED

CLICK HERE TO VIEW A SAMPLE APPLICATION FORM.
---
PROGRAM STRUCTURE:
Four emerging or early-career screenwriters will be offered the following opportunities:
1. OPPORTUNITY TO OBSERVE A WRITERS ROOM IN ACTION

Up to 1 week trip to Sydney or Melbourne to observe a professional writers room take place at one of four productions companies. This component includes flights, accommodation (up to 4 nights), per diems and ground transfers included.
2. PRESENTATION TO LOCAL SCREENWRITERS GROUP

Successful participants will be required to present to the local Screenwriters Group to discuss the outcomes from their involvement in the program (at the completion of the program).
---
ELIGIBILITY AND SELECTION CRITERIA:
Screenworks will conduct an online application process and will establish a panel of industry professionals to help select the four emerging or early-career screenwriters to take part in the project.
ELIGIBILITY CRITERIA:
To apply for Inside the Writers Room you must meet ALL of the following criteria:
Must be able to demonstrate a high-level writing ability by providing an example of writing for TV, especially drama or comedy and demonstrate a commitment to pursuing a long-term career as a screenwriter;
Demonstrate that you have been living in Northern NSW* for a minimum period of 12 months prior to submitting your application (* refer to definitions below);
Be an Australian citizen or permanent resident;
Applicant must be a Screenworks Member
Complete all sections of the online application form and submit the application prior to Midday, Tuesday 4 October 2016.
SUPPORT MATERIALS AND DOCUMENTATION REQUIRED:
1. Details on your current project (including title, short synopsis, potential format etc)

2. A sample of your work – a treatment or script extract (up to 5 pages maximum)
3. An up-to-date resume/CV
4. A letter of support from a screen industry professional who has known you for more than 12 months and/or is familiar with your work.
SELECTION CRITERIA:
The following selection criteria will be considered when assessing applicants for participation in Screenworks Inside the Writers Room program (all criteria areas are equally weighted):
The potential for the writers room opportunity to help the applicant build relevant industry skills and potential to establish a career as a screenwriter living and working regionally.
The skills, achievements, experience and track record of the applicant(s) and the quality of their previous work.
The potential of the applicant to contribute to and enhance the growth of screen production in regional Northern NSW demonstrated by the quality of sample works and support documentation provided with the application.
Applications from Aboriginal and Torres Strait Islander people, people with disability, culturally and linguistically diverse people and people living in remote areas of Australia are strongly encouraged.
Screenworks is strongly committed to ensuring equal access to this project – if you require assistance with your application, please contact Screenworks on:
Telephone: (02) 6687 1599.
---
ASSESSMENT PROCESS & APPLICATION DEADLINES:
ASSESSMENT PROCESS:
All applications will receive an initial eligibility, quality and relevance assessment by Screenworks staff. Shortlisted applications will be sent to an assessment panel comprised of highly qualified and experienced screen industry professionals.
The assessment panel will consider how well the eligible applicants meet the selection criteria (listed above).
Applicants will be notified by late November/early December 2016 in writing of the outcome of their application.
Application Deadlines:
Applications to Screenworks' Inside the Writers Room program will close Midday Tuesday 4 October 2016 (Australian Eastern Daylight Time)
Applications must be submitted using the online application form available via Screenworks website. No late entries will be accepted, no extensions will be granted. Incomplete applications will be deemed ineligible.
Screenworks will advise all applicants in writing of application success or otherwise. No specific feedback will be given on individual applications.
APPLICATIONS HAVE NOW CLOSED
---
DEFINITIONS/GLOSSARY OF TERMS:
"Northern NSW" – refers to the following regions that are shown coloured in the below map: Northern Rivers, Mid-North Coast, Northern Inland, Orana and Far West. (click on image below to view larger in new window)
---
ENQUIRIES OR MORE INFORMATION:
If you have any questions about the Inside the Writers Room program or require information about the application process and/or form, please contact:
Ken Crouch (Screenworks General Manager)
Email: [email protected] | Phone: (02) 6687 1599
---
PARTNERS:
Screenworks' Inside the Writers Room is supported by

Screen NSW
Screen NSW is the statutory authority established to assist, promote and strengthen the screen industry in NSW so as to promote Australia's cultural identity, encourage employment in all aspects of screen production, encourage investment in the industry, enhance the industry's export potential, encourage innovation and enhance quality in the industry.
---
Essential Media and Entertainment
Essential Media and Entertainment is one of Australia's leading independent producers of high quality screen content for both local and international audiences. Headquartered in Sydney, Essential Media also maintains offices in Brisbane, Los Angeles and Toronto. Platform partners outside Australia include BBC, National Geographic, PBS, Discovery Networks, Sundance, History Channel, Arte, Netflix and Fox Network.
Recent successes from its diverse slate include popular and award-winning drama series Rake and Jack Irish, the landmark natural history series Australia: The Time Travelers Guide and standout lifestyle hits Gourmet Farmer and Shane Delia's Spice Journey.
---
Every Cloud Production
Every Cloud Productions is an independent, Australian production company producing distinctive, high-quality television drama for domestic and international markets.
Founded in 2009 by leading television industry creatives, Fiona Eagger and Deb Cox, the company balances strong storytelling and high production values with astute producing expertise.
Independently, Fiona and Deb have produced and created close to 100 hours of prime time drama, including seminal drama series SeaChange, telemovie The Society Murders, family drama East of Everything, acclaimed Indigenous drama The Gods of Wheat Street and hit series Miss Fisher's Murder Mysteries.  Legal drama series Newton's Law is the latest project from Every Cloud, due for release in early 2017.
Every Cloud Productions is focused on fostering Australian talent, supporting co-operative alliances with creative producers across various media formats, and engaging with development opportunities within the industry.
Possessing established relationships with international sales agents and distributors, the company continues to focus on making exceptional drama productions for domestic and international audiences.
www.everycloudproductions.com.au
---
Jungle
Jungle is one of the top comedy production companies in the country, working across television, film and advertising.
Its productions include the ABC comedy series The Moodys, A Moody Christmas and The Elegant Gentleman's Guide to Knife Fighting, as well as Stan's first original series No Activity and the upcoming Channel 9 series Here Come The Habibs. They have also produced documentaries including Between a Frock and a Hard Place and As You Dreamt It.
The company has only recently branched out into feature films and are currently in development on two Screen Australia backed projects – The Murderous Urges of Ordinary Women and Death is For the Living.
Jungle is also one of the top television commercial production companies in Australia and have produced work for all of its biggest advertising agencies.
---
Matchbox Pictures
Matchbox Pictures develops and produces scripted and non-scripted television programs and feature films for audiences throughout the world.
Formed in 2008 by Tony Ayres, Penny Chapman, Helen Bowden, Michael McMahon and Helen Panckhurst, Matchbox is one of the most dynamic production houses in Australia.
In May 2011, NBC Universal took a majority stake in Matchbox Pictures and consequently acquired full ownership of the company in January 2014.  With a diverse output, the business produces television drama, children's programming, factual and entertainment content, animation and feature films for the domestic and international marketplace. Matchbox has also developed games and apps to enhance its programs across all available platforms.
Matchbox works with some of the most exciting writers, directors and producers in Australia to deliver content that is internationally renowned.
---
Support our programs. Support Screenworks. Donate today.
As an Australian nonprofit organisation, we rely on donations from the general public to help us make sure that we can make ends meet. Please make a difference by giving a one off donation via PayPal or setting up a small monthly donation via our GiveNow fund-raising page. Donations over $2 are tax deductible. Thank you for your support.
Published on June 20, 2017 6:21 am