Screen Composing with Guy Gross (31 Mar 2014)
A behind the scenes exploration on how music is created for film and television with multi award winning screen composer Guy Gross.
2.00– 5.00pm, Mon 31 Mar
SAE Creative Media Institute
Ewingsdale Rd
Byron Bay

Tickets available click here.
Guy will present on his experiences as a screen composer, talk about the highlights in his career and advise on how to work as a composer in the Australian screen industry. Guy will show examples of his work and there will be opportunity for questions and discussion.
Topics covered will include:
How a composer works to a brief
How a composer works with directors, producers and non musical clients
Setting the tone, creating themes, instrument choices
The process of composing
The approval process with clients
This event is a valuable opportunity for composers, musicians, screen creators and producers to meet with one of the industry greats.

Guy Gross is one of Australia's leading film and television composers. From his British Academy Award, for the score to The Adventures of Priscilla Queen of the Desert, to the US Sci-Fi series Farscape, his film scores cover a huge variety of styles. Testament to this diversity, Guy has received numerous peer awards including Best Music for a Documentary, Children's Series, Short Film, Animation, Promotional Video, Advertisement, TV Theme and twice Best Music for a TV Series.
Guy's credits include the television series Bordertown and East West 101, children's animations Old Tom and Blinky Bill, telemovies Joanne Lees: Murder in the Outback, Scorched and The Howard Years and the feature film A Few Best Men.
Guys is a director and partner of Trackdown, one of Australia's leading film music and audio service providers. They specialise in recording editing, producing and mixing music for film and television and operate Australia's largest purpose built orchestral recording studio.
THIS EVENT IS SUPPORTED APRA AMCOS AND SAE CREATIVE MEDIA INSTITUTE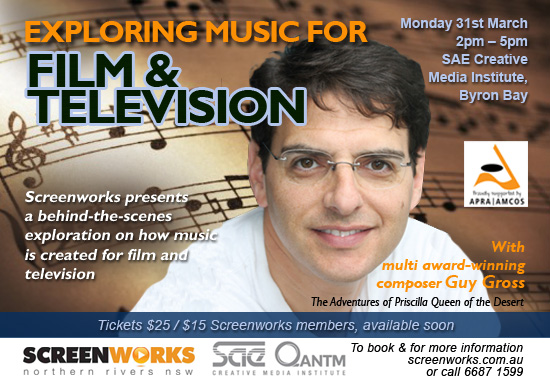 Published on March 31, 2014 4:00 am