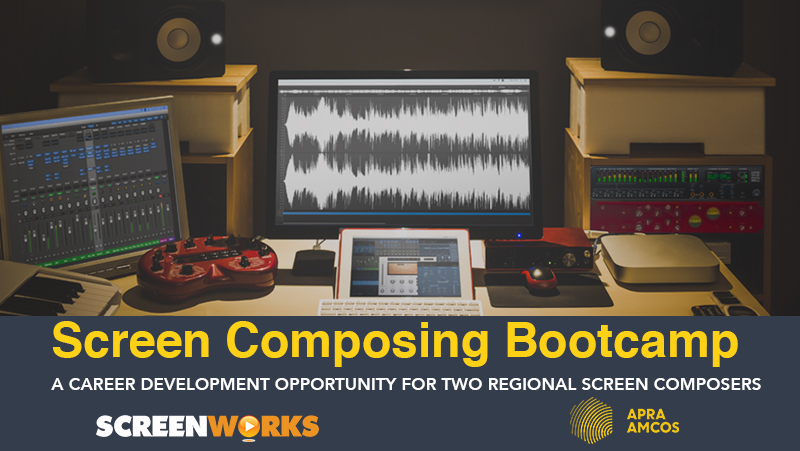 Regional NSW Screen Composers on Track for Success
At the start of this year, Screenworks called for applicants for their inaugural Screen Composing Bootcamp. Supported by APRA AMCOS, the boot camp is designed to give two early career screen composers living in the Northern Rivers of NSW the opportunity to connect with and learn from two of Australia's most respected screen composers, Adam Gock and John Gray. The two regional composers selected for this opportunity are Naima Fine from Terania Creek and Stephen Nossiter from Pearces Creek.
Naima Fine was chosen by the screen composer John Gray (Blue Murder, Kokoda) and Stephen Nossiter was chosen by screen composer Adam Gock (Master Chef, Sea Patrol). Both of the selected participants will meet their mentors at a Screen Composing information night in Bangalow on April 11 when the professional composers will present at a public information session on screen composing as a career. Naima and Steve will also receive 6 weeks of mentoring which includes a trip to visit their mentor's studios in Sydney.
Naima Fine's creative practice revels in the spaces between ecology, activism and composition. She studied composition at Queensland Conservatorium of Music before gaining a BSc in Ecology & Conservation Biology with First Class Honours. Her compositions have been performed in NZ, UK, China and Australia, and have been recognised with awards, competition selections and commissions. She's been Composer & Music Director for Women's Circus and her work is commissioned annually for Homophonic!, a queer composer concert series.
Naima explained "While I have experience in composing for different mediums including stage performances and chamber works I am really excited about developing my skills in composing for screen and the increased career opportunities these skills will bring. "
Steve has been composing music since before he can remember and 8 years ago, taking a leap of faith, he left his electrical career in Cooma and moved his family north to pursue composing and audio production in the Northern Rivers. Having completed his Bachelor of audio production at SAE in 2012, Steve has been working on numerous film and TV projects as a composer and in various other roles.  Steve said " I am so  excited about this opportunity from Screenworks.  I am super keen to expand my skills and experience in screen composing and sound design and make it my primary career.  Through this mentoring, I hope to be able to hang up my electrical contracting tools for good."
"This opportunity is the first of it's kind for Northern Rivers screen composers" explained Screenworks CEO Ken Crouch.  "Screenworks intends  to develop this program and roll it out on an annual basis.  We will be seeking continued support from APRA AMCOS to continue to  bring this opportunity to early career screen composers throughout regional Australia"
Screenworks invites anyone who is interested in composing for screen to come along on April 11 to meet with John Gray and Adam Gock and find out more about career opportunities for early career composers.  For more information visit www.screenworks.com.au
---
PARTNERS:
Screenworks' Screen Composing Bootcamp is supported by APRA AMCOS
APRA AMCOS is a key business partner to Australasian music creators. We have 95,000 members who are songwriters, composers and music publishers. We license organisations to play, perform, copy or record our members' music, and we distribute the royalties to our members.
As a world-leading organisation invested in the future of music, APRA AMCOS enables music creators and customers to maximise the value music brings to business and life. We achieve this through a simple and effective licensing framework, and providing holistic industry support – from education, to live music, export, creators' rights advocacy and recognition through our high profile awards and events program.
Published on March 15, 2018 4:06 am