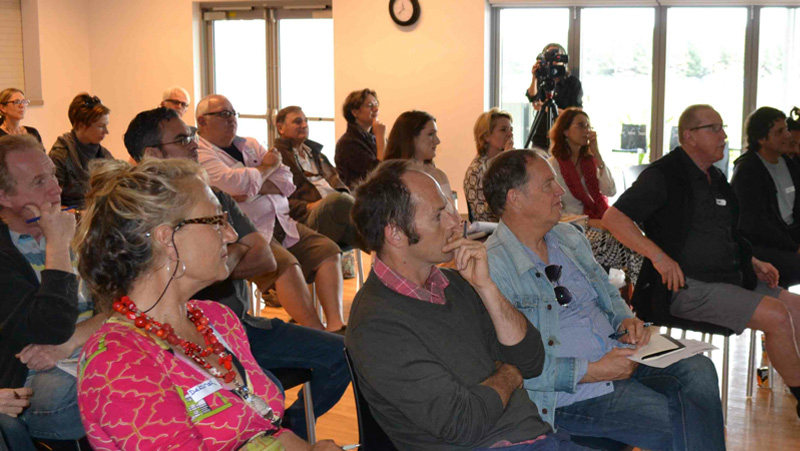 Pitching brings results
"Absolutely brilliant", "great advice" and "relevant" were just some of the comments in the feedback from participants at Screenworks Paper to Pitch workshop in Byron Bay on Friday Sept 12.
Following is a review on Paper to Pitch and pictures taken at the event
Miriam Stein, Executive Producer from Hatch Entertainment presented to an audience of around 40 Northern Rivers screen content creators on the importance of making commercially viable content for television broadcasters around the world and how to pitch concepts to the broadcasters.
Participants had the opportunity to get their screen concepts reviewed by Miriam and her business partner Greg Logan prior to the Paper to Pitch event.  At the event Miriam used the reviewed local ideas to demonstrate strong verbal and written pitches, she then ran a group work session guiding each group on how to prepare a script for a sizzle reel.
"To have the opportunity to have my project exposed to a great supportive group of people was amazing," said Nicole Sullivan a participant from Lennox Head. It has given me the next push to move forward and keepgoing, really inspiring."
Miriam also had separate meetings with a number of creatives from around the region to give advice on project development and to explore production potential.  Miriam said "There are a least 4 concepts with are very interesting and we are talking with the creatores about the potential of working together."
Hatch Entertainment is a production company formed by Miriam and her business partner Greg Logan in 2012 together they bring a fresh approach to creating formats for broadcasters around the world.
Following a creatively successful career as a feature film producer and not having made any money from her successes, Miriam Stein decided that if she wanted to use her production skills and stay in the screen industry she had to be more commercially focussed.  She partnered with long time friend Greg Logan, who has had a strong and financially successful advertising background and wanted to work in a more creative field.
Hatch Entertainment is about creating formats including unscripted, scripted, entertainment, factual, game shows, dating, lifestyle, documentary and comedy.
Here are some of the tips that Miriam shared at Paper to Pitch
In order to broaden your revenue potential from producing screen content you need to sell your ideas to international broadcasters, distributors and producers.  Australian broadcasters are risk adverse and often won't take new material unless it is proven internationally first.
Creating television formats is a way to increase the international potential of your television productions.  Formats need to be able to be made in any country around the world.
To make formats you first need to know what broadcasters are looking for,  you need to hook into what's happening around the world to find the zeitgeist.
Read – international industry publications ie,Hollywood Reporter, Reel Screen
Be Connected – so much available on line
Attend industry events and markets, esp MIPCOM in Cannes, Reel Screen in Washington.
How Hatch choose what to produce
Is it a format?
Will it play in many territories?
Does it have social insight and reflect trends?
What's happening in the world at present that people are responding to?
What's selling in television around the world at present?
To sell their ideas to broadcasters Hatch Entertainment do the following:
Come up with a great name
Give a simple, short verbal pitch – often just a 1 liner, it must be prepared
Follow up with an emailed paper pitch
If a few broadcasters have expressed interest, they create a sizzle / pilot
Always research who you are pitching to, make your knowledge of them part of your pitch – know what the broadcaster is programming.
Hatch will pitch as many as 15 concepts in a ½ hour meeting and then email the paper pitches for the ones that were of interest.
You need an agent to do business in the US
To find an agent, research and check out lots – they looked at around 15
They chose an agency that has a strong list of production companies that they could pitch their ideas to.
Each agent in the US prepares a Grid, a brief of what all the broadcasters are looking for.
Social experiment is a popular topic / genre for international broadcasters
Pitch to the development and acquisitions executives
Miriam approached broadcasters around the world and got their feedback on the following questions:
What makes a good title?
Simple, explains the shows' premise, must stand out in a catalogue
What makes a great one line  / verbal pitch?
Simple succinct, explain clearly and summarizes what the program is about and makes it sound appealing
Try lots of different ways to pitch and practice your pitch
Leave out specifics, names of characters, towns etc not important.
Need to show where there's tension, where there's fun
Why would the broadcaster want it?
Less is more
What can you take out without losing the most powerful stuff
Embellish eg "untold story" "amazing"
Broadcasters want to see/imagine how they will sell your program to their viewers
What makes a great paper pitch?
Keep it short, 2 pages max, ideally 1
Include visuals / don't rely too heavily on visuals
Include info on format, placement, length, structure of episodes, structure of the season
Grab the reader, hold the reader, leave the reader wanting more
If you give too much information the core idea can be diluted.  You can always send more information later if needed.
Don't put in too much work on an idea until you have a buyer / broadcaster.  Once you have a buyer in – they will tell you what they want with your idea
What makes a great sizzle / pilot?
Strong characters
Conflict
Process
Emotion and humour leave the viewer wanting more
Represent the show that will ultimately be made
3 – 5 minutes is long enough
Clearly explain what the show is
Don't be too clever or stylistic
Get a professional voice over
A great script
Expect to pay between $5k – $15K
You can see what is being pitched in the US during the Pilot Season.  Hollywood Report summarises and reports on the best http://www.hollywoodreporter.com/live-feed/tv-pilots-2014-complete-guide-667314.
Published on September 16, 2014 2:08 am