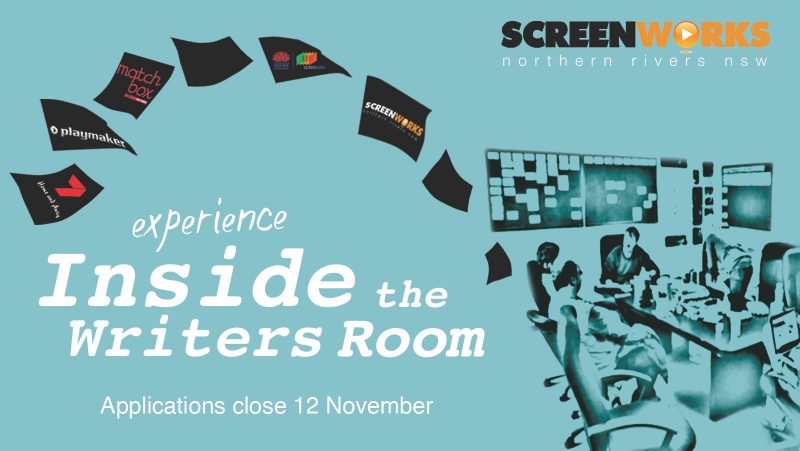 Inside the Writers Room 2015
About Inside the Writers Room
Inside the Writers Room is a professional development program designed to give up to three participants the opportunity to sit with professional writers in a writers room environment, as they work and develop a story into a television script.
This opportunity is most relevant to writers of television content and more specifically to writers of scripted content.
We have an impressive line up of production companies and productions that we will be sending participants to – these include Matchbox Pictures, Channel 7's Home & Away and Playmaker Media.
There will be an opportunity for the participants to receive advice or a market appraisal of their own television script treatment or concept.
Screenworks opened applications for Inside the Writers Room on 9 October 2014 and applications closed at 5pm on 12 November 2014
How to apply
To apply for Inside the Writers Room, applicants were required to meet the following criteria:
Applicants must
be a current Screenworks member
be a NSW resident
have a demonstrated writing ability with examples of writing for TV, and more specifically scripted content
demonstrate an ongoing commitment to screen writing
Applicants were asked to send in a completed application form, a treatment and extract from their script.
APPLICATION FORM NO LONGER AVAILABLE ONLINE
As part of the application process, applicants were also asked to describe how they could bring what they had learnt back to the region and share with other writers. Application forms were available from 9 Oct 2014. Applications closed at 5pm on Wednesday 12 November 2014.

Participants will be selected by a panel of local writers based on the quality and potential of their work. Up to 3 participants will be selected.
Travel, accommodation and per diem expenses for the successful participants will be covered by the Inside the Writers Room program.
Take a look inside the writers room of Breaking Bad
.
Published on February 4, 2015 9:00 am