Screen Connections and Directions (30 May 2014)
A one day forum connecting content creators with screen industry opportunity

9.30 – 4.30pm, Fri 30 May
Byron Regional Sports and Cultural Complex
249 Ewingsdale Rd
Byron Bay
Tickets available click here.

Guest speakers will present on industry trends and opportunities through case studies and panel discussions and will offer advice through round table discussions and networking activities.
This event is designed for content creators to build skills and industry knowledge, enabling them to take concepts through early development to pitch and funding readiness.
Screen Connections and Directions will encourage creatives to look at projects through the eyes of a producer.
Come along and spend a day with:
Lauren Edwards, Producer Goalpost Pictures
Julie Eckersley, Producer Matchbox Pictures
Veronica Fury, Executive Producer WildBear Entertainment
Tickets
$70 / $35 Screenworks members

Lauren Edwards is one of Australia's most acclaimed young Producers. Her short films have been selected to screen in competition in many national and international festivals including Cannes, Sundance and Berlin. She has won multiple awards including a Crystal Bear for Best Short Film, Best Short Film at TIFF Kids and Oscar qualifying Best Narrative Short Film at Heartland Film Festival USA. In January 2011 Lauren was chosen for the 6-month Producer Extension Placement at Screen NSW in the production finance and production development departments. In July 2011 Lauren joined Goalpost Pictures Australia where she was Associate Producer of The Sapphires and Co-Producer on Matthew Saville's film Felony written by Joel Edgerton, produced by Rosemary Blight, Joel Edgerton and Michael Benaroya.
Julie Eckersley is a producer with over 20 years experience in the industry. She originally trained as an actress and has worked nationally and internationally on stage and screening winning numerous awards. As the Multiplatform Producer for Matchbox Pictures, Julie initiated and oversaw the online campaigns for ABC drama's The Slap and The Straits and developed and produced the ambitious transmedia project Nowhere Boys. As a producer at Matchbox Pictures, she produced Anatomy 4, The Turning – Cockleshell, animation series ZuZu & the SuperNuffs, Real Housewives of Melbourne (Story AP) and works across a wide range of factual, drama and comedy shows on the Matchbox slate. She currently in post production on Maximum Choppage – Australia's first ever kung-fu comedy which will screen on ABC2 later this year.
Veronica Fury is a Principal and Executive Producer at WildBear Entertainment. Veronica produces award-winning screen content for audiences worldwide, working with television broadcasters like ABC and SBS in Australia and major international broadcasters such as ZDF Arte, TG4 and Arte France. Veronica's recent awards include Best Documentary – Arts at the 2012 ATOM Awards and Best Documentary – Public Broadcast at the 2012 AWGIE Awards for The Curse of the Gothic Symphony (2011). Recent projects produced include The Curse of the Gothic Symphony (2011), Dancing Down Under (2012), The First Fagin (2012), ABC 3 on 3 (2013), Mysteries of the Human Voice (2013),Comic Book Heroes (2013), Outside Chance (2013), My Big Fat Bar Mitzvah (2013), Keep In Touch (2013), Malaytown (2013), Soldier Proof (2013) and Outside Chance (2014).
AND THANK YOU TO OUR SPONSORS
Screenworks acknowledges the support of the following organisations:
Byron Shire Council
Byron Shire Council and Screenworks work toward a common goal of creating opportunities for local creative industry workers to form creative clusters.
Hudson Accounting Services
Providing a full range of accounting and taxation services for small & medium sized business and offering specialist advice for businesses involved in the Arts and Film Making industry.
And our accommodation sponsors
Atlantic is a unique coastal estate of Caribbean styled plantation houses located in the heart of Byron Bay
Apartments Inn is a beautifully appointed, 43 room apartment complex in the centre of Byron Bay.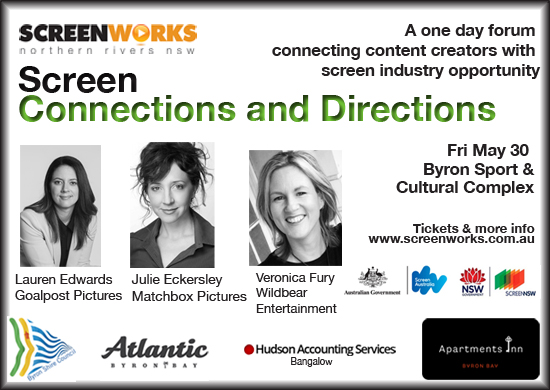 .
Published on April 23, 2014 5:15 pm