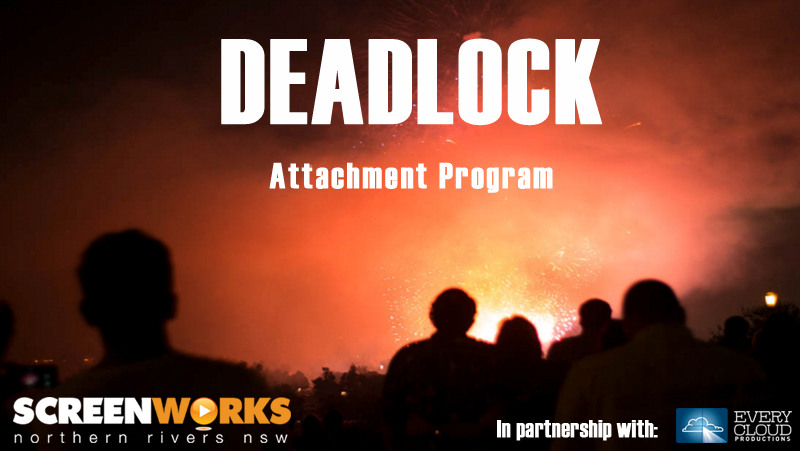 Deadlock Attachment Program (Media Release)
NEW OPPORTUNITIES BEING CREATED FOR YOUNG FILMMAKERS IN THE REGION
Local jobs for local film crew is one of Screenworks' top priorities. Which is why they are thrilled that Every Cloud Productions has announced they will be filming their new TV drama series Deadlock in the Northern Rivers in July.
As part of Screenworks' commitment to create opportunities for film crew and screen practitioners in the Northern Rivers, they have devised the Deadlock Attachment Program, which will give up to nine young screen practitioners the opportunity to work alongside experienced practitioners on the production of Deadlock. The program will be delivered in partnership with Every Cloud Productions.
To fund the Deadlock Attachment Program and get young local screen practitioners working on the production, Screenworks is seeking philanthropic support from local businesses, organisations and investors. As Screenworks is listed on the Register of Cultural Organisations and is endorsed by the Australian Tax Office as having Item 1 Deductible Gift Recipient status, all donations to this program will be tax deductable.
"We need to raise around $45,000 to be able to deliver all aspects of this exciting new program" explained Screenworks General Manager, Ken Crouch. "This is a new innovative way of funding career opportunities for young people in our region, so we hope that the community will support this new model".
"Over the coming weeks, we will be speaking to a number of local investors and will also hold a fundraising event. We encourage anyone who is interested in investing in the careers of young people in our region to contact Screenworks to find out how to get involved."
Donations to Screenworks' Deadlock Attachment Program can be made at https://www.givenow.com.au/northernriversscreenworksdeadlock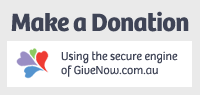 DEADLOCK is an original concept by acclaimed Northern Rivers filmmaker Deb Cox for Every Cloud Productions, and developed with writer Billie Pleffer, the series is being produced by Belinda Mravicic, Fiona Eagger and Deb Cox for Every Cloud Productions (Miss Fisher's Murder Mysteries, Newton's Law, The Gods of Wheat Street).
DEADLOCK will be directed by Billie Pleffer, mentored by Tony Tilse (Miss Fisher's Murder Mysteries, Underbelly) and the series will use local cast and crew wherever possible.
Every Cloud has previously produced two series of East of Everything and one series of Indigenous drama The Gods of Wheat Street in the Northern Rivers, demonstrating their commitment to the growth of a sustainable screen industry in the region.
Development of the series involved Screenworks partnering with Every Cloud Productions in Byron Bay in December 2015 to host the Deadlock Script Lab Workshop with emerging writers from across Australia. The workshop was held in collaboration with Bryan Elsley (co-creator and co-writer of the edgy UK youth drama series Skins, and, more recently, Dates and Kiss Me First) and included nine local youth sharing their experiences with the series writers and producers, which was integral to the authenticity of the series.
For more information about Screenworks' Deadlock Attachment Program, go to www.screenworks.com.au/deadlock
An Every Cloud Production, DEADLOCK is presented by the Australian Broadcasting Corporation and Screen Australia, in association with Film Victoria and Screen NSW. Developed with the assistance of the Screen Australia, Film Victoria and Northern Rivers Screenworks. All3Media International will handle international sales.
— ENDS —
For more information contact Lisa O'Meara Screenworks Events and Membership Manager 02 6687 1599 events@screenworks .com.au
To read the ABC and Screen Australia announcement about Deadlock, please go to either:
https://tv.press.abc.net.au/short-form-drama-series-deadlock-to-bring-northern-rivers-into-the-spotlight
or
https://www.screenaustralia.gov.au/sa/newsroom/news/2017/05-04-deadlock-to-bring-northern-rivers-into-the-s
Published on May 3, 2017 7:39 am