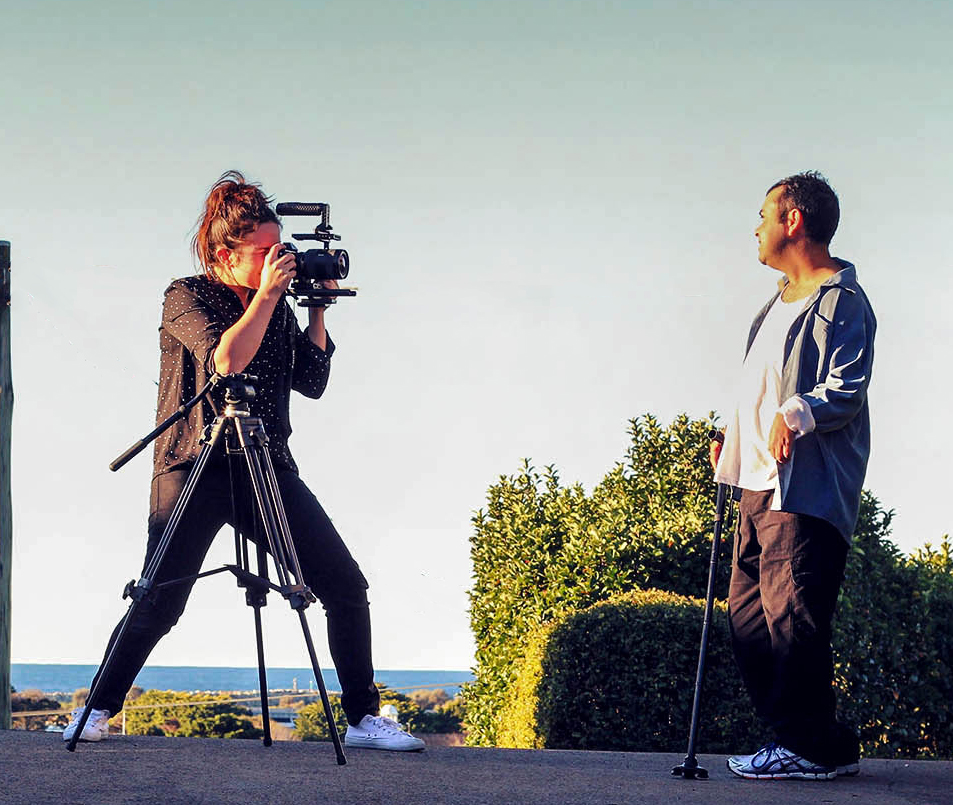 Short films on ABC and Virgin Australian Inflight Entertainment Create Opportunities for Regional Filmmakers
 A series of illuminating short films showcasing artists with disability living in regional NSW and created by regional filmmakers have gone to air on ABC, and will screen on Virgin Australia Inflight Entertainment from January till June 2018.
Createability, a program initiated by Screenworks and produced in association with Create NSW and the ABC, has made an incredibly positive impact on the lives of the artists featured in the films, and created great opportunities for the filmmakers.
A number of people with disability have gained experience working as crew on the films. Some have gained writing and producing credits which has helped break down barriers and given a voice to both regional artists and filmmakers living with disability.
Now in its third year, a total of 20 Createability short films have been funded and filmed.
Screenworks General Manager, Ken Crouch is very proud of the opportunities that Createability has provided for both the filmmakers and the artists. "The scale of impact that these films have far exceeded our original expectations," explained Mr Crouch.
"Createability films are now being seen all around the world having screened at numerous international academy accredited festivals, run as a stand alone program on ABC iView, broadcast on the ABC and more recently purchased by Virgin Australia to screen in domestic and international flights from January to June 2018." Mr Crouch added.
Bangalow based production team Poppy Walker and Sophie Hexter have made 2 short films through Createability; Ghost in the Machine in 2016 and The Battle in 2015.
They explained that: "Createability has opened several new opportunities for us as filmmakers: making new connections, providing a platform to share our work with a wider audience and the film's success on the festival circuit has lead to funding opportunities and a broader recognition of our work.
"After the success of The Battle, we were able to apply for Create NSW's SEED funding last year. We also received funding from Create NSW to travel to the Oberhausen International Film Festival so we could attend screenings of our film."
Isabel Darling from Batemans Bay created the film Corey the Warrior in 2016. "My film has been selected for film festivals around the world. I attended one festival in Cannes where I also made some great new creative networks."
Bec Hogan is based in the Hunter region of NSW and made the film Ascension for Createability 2017. Bec explained how difficult it is for an emerging filmmaker working in a regional area, "It can feel like there are no opportunities in the area where you live. With Createability being specifically geared for people outside of Sydney, it's such a fantastic opportunity. I feel now that 'the industry' is not impossible to break into.
"Createability not only gave me the means to produce a film, but also gave me skills and knowledge that will help me in my future career in film. During this amazing process, I've started my own production company, honed my skills, made great friends and made a high quality film."
There is a filmmaking hub in the Hunter region and Bec felt that making a film for Createability helped her tap into that community. "It's a surprisingly large filmmaking community hidden in The Hunter region," explained Bec.
"At the end of this year, I'll be working with the same crew I used for Ascension to produce another short film. I've also made connections with larger production companies and am working with them on big projects."
Kellie Jennar from Dubbo made the film In My Own World in 2016. She said that this filmmaking experience has helped her career immensely. "Directly following on from Createability, I was selected to attend a TV writing master class with Louise Fox organised by the Australian Writers' Guild. I was also selected for SEED: Regional Shorts – a Create NSW and regional ABC partnership, our production Pride Out West is currently in post-production."
The collection 20 Createability films are now available to view on ABC iView.
Season 1 of Createability will be screened on Virgin Australia Inflight Entertainment from January 2018 to June 2018 and both seasons 1 & 2 will be available on ABC iView. Screenworks would like to acknowledge the work and support of Victoria Baldock of Verve Entertainment in securing the Virgin Australia Inflight Entertainment opportunity.
http://iview.abc.net.au/collection/createability/
Pictured: Isabel Darling on camera filming Corey Stewart for Corey the Warrior in Batemans Bay
Published on December 4, 2017 3:11 am