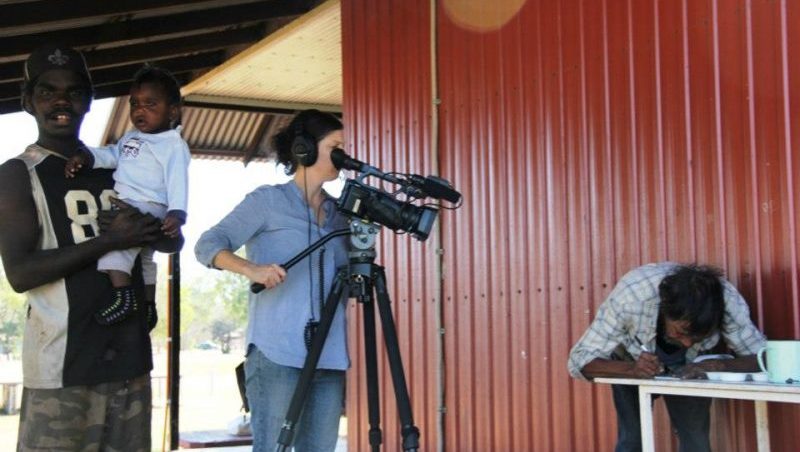 EXPOSED: REBECCA INGRAM
Long time Screenworks member Rebecca Ingram was recently selected for Screen Producers Australia's 2017 'Ones to Watch', was a finalist in the 2017 AWG's Prime TV Series Competition, is a Screen and Media teacher at TAFE, will shortly going into production as a Creative Producers Attachment with Deb Cox on Deadlock and then off to Vermont to participate in the  Stowe Story Lab.
We are so impressed with the work that Rebecca is doing we asked her to tell us a bit about how she got where she is today.
SW: Tell us a bit about what you do in the Screen Industry and how you got involved. 
R: My role in the Australian film industry has morphed quite a bit since I first started out at Metro Screen in 1998. It was here that I was employed to provide support and create initiatives for emerging filmmakers. Metro Screen was such a great launchpad for generating work and making connections that I soon moved into self-shooting and then got really busy working for various organisations making films with regional and urban marginalised groups. It was a platform to give them a voice and creative expression, which I guided them through. This unique film work kept me solidly employed for years, I travelled a lot around Australia, we won youth film festival awards and was highly rewarding – yet very intense too.
Around 2007 I moved into teaching filmmaking (prompted by family demands) at North Coast TAFE, and then a few years ago I took the leap and seriously committed to writing and developing drama concepts for TV – which has really taken my career in exciting turns. So I guess my current title is Story Creator and Creative Producer – which I'm really pleased with.
SW: What's the project you have most enjoyed working on, and why?
R: There are many projects that I have enjoyed working on: the connections with incredible people and their stories. However when I was invited to work for Djilpin Arts in Beswick, Arnhem Land with the Wugularr Women to perform their 'Mermaid Story' for the Walking With Spirit festival in 2012; that would have to be the most memorable and rewarding experience. I was also away from my toddler for the first time (which was really tough) and mostly sat – in preparation for our collaboration – with the women cutting Pandanus for them to weave. I learnt a lot about surrendering to the moment, time and patience. We also had to be really creative with what we had to work with for the multimedia performance. There were also some adventures in there too. It was touch and go….
But when the women came on stage and performed for the first time ever, I wept. For several reasons: the beauty of it all, in awe of them and the relief just came pouring out of me. But what finished it off was when a little girl sat down next to me and whispered to herself how beautiful it all was – that moved me. I knew we had done a good job. I was really honoured by that experience.
SW: How long have you been living and working in the Northern Rivers?
R: I first moved to the Northern Rivers from Sydney in 2001 – just around the time Screenworks was starting up – and I received a grant from the Motor Accidents Authority to run workshops and make a beautiful short film with the Minjungbal youth from Tweed Heads. After a year of getting settled in the Byron community I then headed to London to work at News International. But in 2005 I came back to the region (for love) where I worked for a Sydney company 'Vanguard Pictures' producing music videos based at Fox Studios. However it was too difficult to balance the remote lifestyle and city demands – this was the days before Sykpe and working regional was fashionable. So I dropped my burgeoning commercial film career and focussed solely on generating film work from the Northern Rivers.
SW: What is important to you in running a successful and creative regional business/ working regionally?
R: It is a lot easier now to be based regionally. For a start people have now heard of Mullumbimby! I don't get such an odd look anymore. When I'm not teaching Screen and Media at TAFE I hide away on my property and develop ideas for TV. I seriously don't know if I would be able to be in the right mindset in the city to do that.
I sense in the city emerging writers and filmmakers are more aware of their competition, which can act as a hindrance. We are protected from all that being regionally located – which works really well for my creativity. I can just go for it with my imagination and concepts. It's important to have that connection to the city though and not get too isolated and out of touch in our bubble here – it's a constant balance we seek out.
SW: Tell us a bit about what you have been working on most recently?
R: It's pretty exciting at the moment as I have a few projects in early development.
One project in particular – a crime series called 'Dog Box' – has gained quite a bit of interest, where it was a finalist in the AWG's 2016 Prime Time TV Series Competition. I'm taking it to the Stowe Story Lab (thanks to the ADG for the fellowship) in September this year, then on to New York for a few days to immerse in the culture! I've also been selected as one of this years SPA's 'Ones to Watch' where I have the wonderful Deb Cox mentoring me!! And I'm also undertaking a Creative Producers Attachment (funded by Screen NSW) on 'Deadlock' web series. The day after we finish on Deadlock I fly out to the States! So the rest of 2017 is pretty booked up with exciting projects and opportunities. I'm very thankful.
SW: Is there anything else that you would like to share with us about you and your work?
R: Over the years Screenworks has been incredible for my regional career in many ways: the people I have met, the work opportunities, the guidance offered by those who established it, the connections and access to the metropolitan decision makers, and the initiatives they offer too – all run by a dynamic team. We are truly lucky having Screenworks, as I don't think I would be where I am today without their constant support provided to me over the many years.
---
Please support Screenworks by using the links below.
Published on July 18, 2017 4:13 am