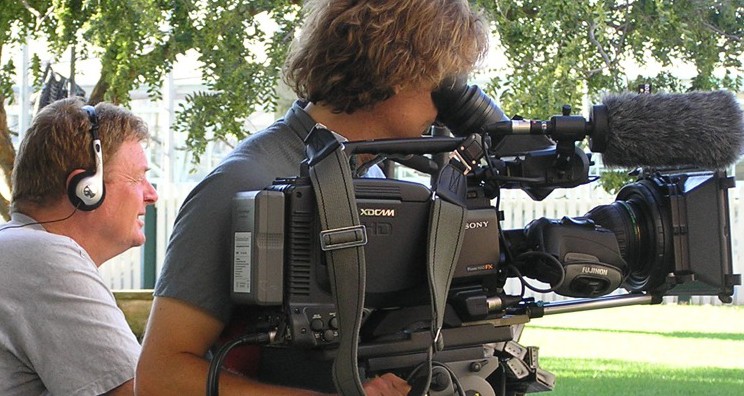 Local filmmaker seeks record amount from crowdsourcing
This is not an era of change – it is a change of eras
Crowdsourcing for creative projects is being turned on its head by a local Northern Rivers filmmaker and broadcaster who is not only looking to raise funding via the crowd for his next film, Occupy Groundswell, but is willing to share producer credits with the hundreds of investors who come on board.
Trevor Keightley, long-standing producer and director at Under The Sun Media with several documentaries to his credit, is looking to make Australian film industry history by seeking $150,000 through the crowdsourcing platform towards his next documentary-drama. This is the largest amount sought through crowdsourcing for a docu-drama project in Australia.
Rather than giving investors simple posters, hats and DVDs of the film for their support, Trevor is inviting these 'crowd-producers' to be part of the filming and scripting process via a dedicated web-based TV channel network that will broadcast behind-the-scenes action, production and script meetings and ongoing interviews of the producers and actors themselves. A second unit camera crew will be shooting all the studio and on-location action of the main unit crew for broadcasting on the channels. There is even a chance for crowdsourcing producers to play an extra in the movie as well as flights to the film launches and festivals.
"We haven't invented anything new here" says Keightley, "the difference is how we have assembled our design elements and approach. This is not your usual movie. And it makes sense to raise the funds needed from the Groundswell of people. Then we can make the film that needs to be made."
The film, Occupy Groundswell, is a docu-drama based on the journey of a number of characters that create a compelling and positive image for the future of humanity as they travel the globe seeking their truth.
Underpinning the story is the fact that over 100 million people globally seek to live a more sustainable and ethical life that will preserve our planet for future generations. The facts for the documentary part of the film are based on the research of American sociologist and Groundswell consulting producer Dr Paul Ray, co-author of The Cultural Creatives with Sherry Ruth Anderson, who has identified over 35% of the US population as being part of a sub-culture who base their purchasing decisions on values that are ecologically and spiritually founded and are under-represented by mainstream media and entertainment. This figure is comparable in Australia, Canada, Japan and across the UK and Europe, estimating that over 100 million people in the developed world actively seek to live in a more healthy and sustainable way. This is the provable Groundswell audience.
"Maybe you and some of your friends are Cultural Creatives," suggests Keightley, "and if so you are certainly not alone. Visit our website and have a look. Groundswell crowdsourcing offers major benefits for the business community as well so if you are practicing 'not business as usual' you too need to check out the site. "
The core Occupy Groundswell team is located between Sydney, Melbourne and San Francisco and will base operations in the Byron area and in addition to the feature film intends to continue providing values-based news, current affairs and entertainment via the web-based digital TV channels on the Groundswell network.
Producer packages can be fully tax-deductible as it is a project conducted through the Documentary Australia Foundation.
For more information about getting behind Occupy Groundswell's crowdsourcing effort, visit http://www.Behance.Net/OccupyGroundswell
Published on November 13, 2014 4:27 am