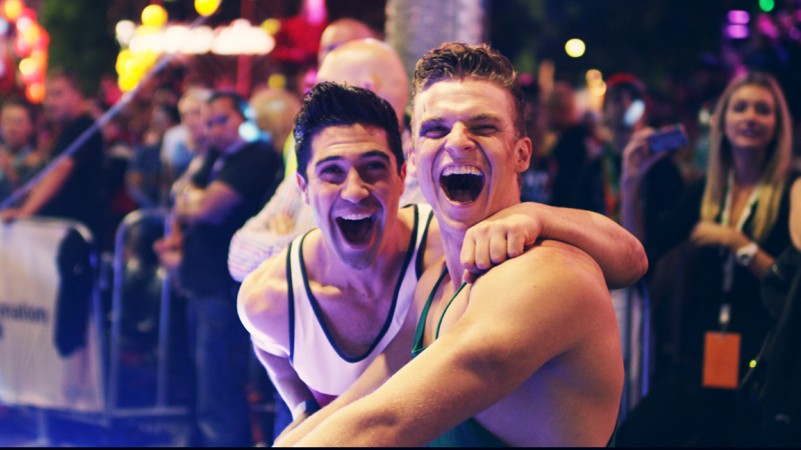 Drown
MEDIA RELEASE: 9 APRIL 2015
Premiere screening followed by Director, Dean Francis in conversation with Tobin Saunders
Tickets available online at Event Cinema Lismore.
After sell-out screenings in Sydney and Melbourne, Northern Rivers audiences are in for a treat with Screenworks' regional premiere screening of Drown, at Event Cinemas Lismore on April 22 at 6.30 pm. Set against the stunning backdrop of Sydney's beaches and directed by Dean Francis, Drown explores masculinity and homophobic fear through the cloistered world of competitive surf lifesaving.
Local personality Tobin Saunders is thrilled to be joining the filmmaker onstage for a live Q & A after the screening. "I'm really excited to see more varied representations of LGBTI issues in Australian Cinema. I was brought up on the Northern Beaches of Sydney and have watched the cloistered "masculine" world of Australian surf culture bubble away ever since. This film is pertinent and overdue!" says Tobin.
"For too long our stories have been pushed to the side… Homophobia is still causing untold damage, especially to our young. Through the media especially via storytelling we can diminish stereotypes and foster understanding and acceptance for people of diverse sexuality or gender identity."
In the film an Australian hero is de-throned as champion by a younger, gay competitor. A booze-fuelled night out brings jealousy, homophobic fear and unrequited lust to a tragic and shocking climax.
This gripping film examines "…the tragic consequences of unchecked self-loathing in a heavily defined and hard drinking culture of mateship…,
Drown captures the dynamic of young men wrestling with their inner demons and the improbable laws of attraction."
Colin Fraser, FilmInk Magazine
Director Dean Francis will join Tobin Saunders at the conclusion of the Screening to discuss the themes explored in the film as well as their unique approach to funding and distributing the film. Drown is an independently produced Australian film supported by crowd funding and one of the first to be distributed through TUGG a cinema on demand platform

This premiere screening event is supported by Screen Audience Development funding from Screen NSW.
---
Drown: A Film by Dean Francis
Starring Matt Levett, Jack Matthews, Sam Anderson And Harry Cook
Wednesday April 22nd, 6.30 pm
Event Cinemas Lismore
Corner of Keen and Zadoc Streets, Lismore NSW 2480
(02) 6622 4350
Tickets: $25 or $18 (Concession or Screenworks Members)
Includes live audience Q and A with the Director Dean Francis
Watch the Drown Trailer here at https://vimeo.com/94497966
Rated R18+ High impact sexual violence and themes.
Tickets available online at Event Cinema Lismore or https://www.screenworks.com.au
-ENDS-
For more information contact Ken Crouch, Screenworks General Manager
02 6687 1599 || gm@screenworks.com.au
Published on April 9, 2015 4:09 am