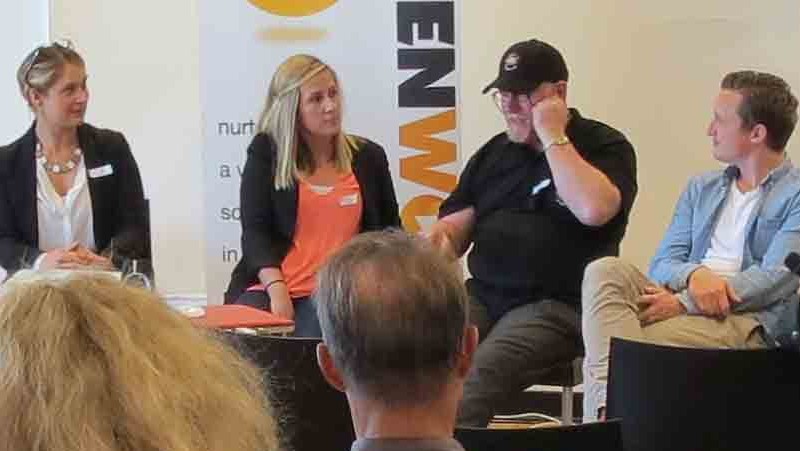 The Wrap on YouTube Hits and Online Success
On Friday August 14 a large group of content creators gathered in Byron Bay to hear experts in the field of online video talk about strategies for success at Screenworks YouTube Hits and Online Success.  Here's some of the highlights:
Erin Kunse – YouTube Content and Partnership Manager presented on the 10 Fundamentals for creating a successful YouTube strategy
Shareability – will your viewers share your clip?
Conversation – are you speaking to your audience?
Interactivity – Is there a way to involve the audience?
Consistency – are there strong recurring elements? e
Targeting – Is there a clearly defined audience?
Sustainability – if the audience loves it can you make more?
Discoverability – will the videos be found through search or related videos?
Accessibility – can every episode be fully appreciated by a brand new audience?
Collaboration – is there room to feature other YouTubers
Inspiration – is this idea coming from a place of genuine inspiration?
You can find the 10 Fundamentals for YouTube from a series on YouTube, here's a link to the first in the series
Liz Ferguson is the General Manager of Rightster Australia.
Rightster is a Multi Channel Network (MCN) managing digital content for a diverse range of clients with online video.
Rightster is about connecting the right content with the right audience at the right time
YouTube is still the 'go-to' site for the discovery of new video content
MCNs are entities that affiliate with multiple channels to offer assistance in product, programming, funding, cross partner promotion, partner management, digital rights management, monetisation and audience development.
Rightster is the largest global MCN
They have thousands of exclusive partners around the world
Rightster are YouTube experts and regularly work with clients on audience and revenue growth
Rightster have a range of strategies to drive viral content for their clients including 15,000 pre cleared viral videos and they source and license video and footage for bespoke projects
Their top tips for emerging video creators

Be discovered
Become a broadcaster
Think about a sustainable content plan
Build a community across multiple platforms
Interact with your audience
Demonstrate scale through analytics
Generate revenue
Tom Maynard from Marquee Studios presented on monetisation, different business models and how make successful branded content.
Marquee Studios works with a range of digital influencers to build audiences. They create original content for their brands to share. They specialise in 2 key interest groups tweens and foodies.
Tom pointed out that more and more content is being consumed through social media and that free to air and subscription viewing is being superseded.
Tom's key points were:
Content is important but social media is about who is the loudest in a busy space.
It does not have to be perfect
It has to be authentic – you have a one to one relationship with the audience
Collaborations and partnerships are important for leverage
Find a niche and go strong, be a pioneer
Cross overs between television and online video brands and content build audiences and revenue
Tom's tips for online video success are:
Put the viewer first
Be authentic
Think mobile
Collaborate with talent
Identify your niche
Think long term
It's a community
Dave Keam is the Managing Director of New Beach Media a Byron based digital media company that runs Skuff TV, a 24 / 7 streaming action sports channel. Skuff TV creates branded content, streams aggregated content and has built strong partnerships across the industry and related brands.
Skuff is Australian's only dedicated 24/7 action sports channel
They have built business partnerships with iinet, foxsports, Konka, Podsurf.tv, Samsung RCR, just to name a few
They run a weekly show through Pay TV, WebTv, IPTV and Smart TV, EDM, mobile and social including YouTube and facebook
Their audience is in the 18 – 35 age bracket and predominantly male so attract brands and advertisers that want to get to this audience.
They have positioned themselves as not sport specific and innovative
Graeme Stevenson is an artist, a pilot, a presenter and a film producer. Graeme retrained as a film producer when he had the vision for Colour in Your Life and wanted the skills to put it in place.
Colour in Your Life is an online video series that interviews artists and sells artwork.   The show is designed to help artists get global exposure. Graeme funds his series with support from the artists, they finance their own episodes.
Graeme has gone on to sell content to TV 4Me, free to air New Zealand, Sky TV, Foxtel Aurora 183 and Virgin Airways.
Published on August 19, 2015 11:26 pm