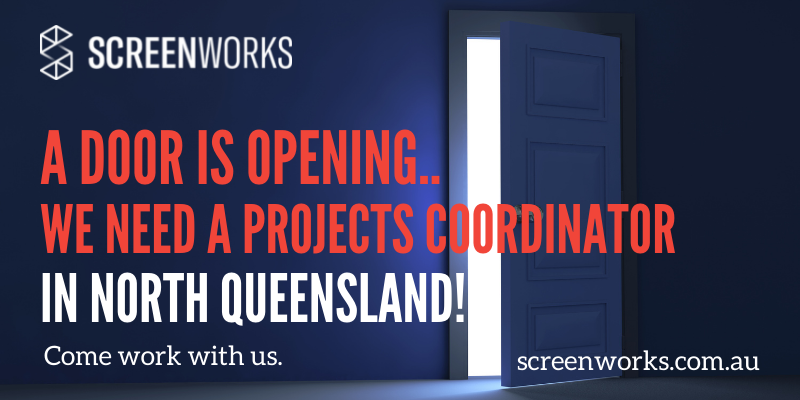 An exciting opportunity to help deliver the North Queensland Regional Program!
Applications close 8am AEST, Monday 10 January 2022!
Position Title: NORTH QUEENSLAND PROJECTS COORDINATOR
Fixed-term (3 years), 4 days per week working remotely in North Queensland, with flexible options available (subject to approval by the CEO).
The position is being offered at $65,000 per annum, pro-rata to 4 days per week ($52,000 per annum), plus superannuation and leave loading. The position will commence in February 2022 and continue to January 2025.
About Screenworks:
Screenworks is a growing screen industry service provider that delivers professional development and networking opportunities and services for film & TV content creators and workers living in regional Australia. We're a non-profit registered charity with over 20 years' experience and have an exceptional reputation for helping regional people overcome challenges by connecting them to opportunities in the industry.
The purpose of this position:
Screenworks has been delivering industry and talent development programs and activities in North Queensland since 2017 in partnership with Screen Queensland. From early 2022, Screenworks will undertake an expansion of our three-year pilot program in Far North Queensland across the entire North Queensland region to further grow the screen skills and production capacity of the state.
The North Queensland Projects Coordinator will help to deliver this 3-year North Queensland Regional Program from early 2022. This position will be permanently based in the region. Working closely with team members at Screenworks and Screen Queensland, the Projects Coordinator will focus on the successful development, delivery and reporting on each of the events, programs and activities being delivered by Screenworks in North Queensland.
We're looking for diverse candidates
Screenworks is an equal opportunity employer, committed to building an inclusive and diverse workplace that supports innovation and leadership.
Screenworks encourages applications from First Nations People, people of culturally diverse backgrounds, people with disabilities, and people from the LGBTIQA+ community. If you need assistance or support applying for this position, please contact us at ceo@screenworks.com.au or 0400 301 230.
Who to contact about this position
All enquiries should be directed to Screenworks CEO, Ken Crouch via email – ceo@screenworks.com.au
For people who are deaf or have a hearing or speech impairment, we welcome you to use the National Relay Service (NRS):
TTY users – phone 133 677 then ask for (02) 6681 1188

Speak and Listen (speech-to-speech relay) users – phone 1300 555 727 then ask for (02) 6681 1188

Internet relay users – visit the

National Relay Service website

and ask then ask for (02) 6681 1188
How to apply
All candidates should provide a cover letter detailing their suitability for this position, responding to each of the following:
Provide details of their previous experience working on film & TV industry productions or projects where they were required to demonstrate an ability to understand and identify project goals, steps to be undertaken and deliver on the expected project outcomes;
Outline a situation showing where and how their excellent planning and organisational skills were used in a previous position working without close supervision;
Explain a time where their keen attention to detail and aptitude for problem-solving were used to proactively address issue(s) that arose on a project or production;
Provide an example of a previous role where they used exceptional communication and interpersonal skills in a high-volume, deadline-driven work environment; and
List their experience using Office Suite and Google Suite (Google Docs, Sheets, Forms, etc) and any other computer skills/software relevant to the position requirements.
Previous experience working in the screen industry is essential. Experience working in project administration roles would be highly advantageous but not absolutely essential.
If you think you have what it takes and this role sounds like the perfect role that you have been waiting for, please submit BOTH the following via the Seek website listing:
your current resume detailing your previous roles working in the industry; AND
a cover letter detailing your suitability for this position that responds to each of the dot points above.
We will be assessing submissions as they come in, but applications will close at 8am AEST, Monday 10 January 2022.