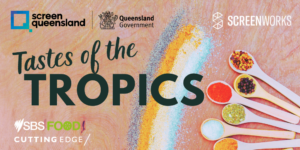 This initiative is part of Screen Queensland's North Queensland Regional Program, delivered by Screenworks in association with SBS and supported by Cutting Edge.
APPLICATIONS  CLOSED ON 1.5.23
We are pleased to announce the participants of Tastes of the Tropics – Maura Mancini and her team which includes Alison George and Kim Knox, Alvaro del Campo and team member Nick Lorentzen and Ewan Cutler and his team comprised of Tamera Simpson, Shontell Ketchell, Glenn Saggers and Josaphine Seale. Their productions will be developed with the support of Supervising Producer, Karen Warner and Cutting Edge, in partnership with Screenworks for broadcast on SBS. More details to come later in 2023.
What's the opportunity?
Tastes of the Tropics will support three mid-career filmmakers/filmmaking teams from North or Far North Queensland to produce a 22-26 min episode of TV intended for broadcast on the SBS Food Channel.
Screen Queensland and Screenworks are inviting applications from local mid-career filmmakers/filmmaking teams to apply to receive funding of $28k to create a high quality and unique food story from their region.
We are looking for stylistically compelling projects that could feature passionate farmers, innovative chefs, local providores or foodie families with a flair for sharing recipes and produce that will immerse the SBS Food audience in the local culture and cuisine.
Each team will work closely with an independent experienced Supervising Producer, SBS Food, Screen Queensland and Screenworks at all stages of the process from script approval into production and final edit picture lock.
Cutting Edge will finesse grade, graphics, credits and the final soundmix for each episode before mastering to broadcast standards.
Please read through the GUIDELINES and the TERMS & CONDITIONS, before completing the online application materials to submit your proposal.
APPLICATIONS  CLOSED ON 1.5.23
Tastes of the Tropics will:
Support mid-career filmmakers from NQ or FNQ  to find and tell quality factual stories from their local region for intended TV broadcast on SBS Food, Australia's only free-to-air food channel. 

Inspire local mid-career practitioners to create bold and distinctive projects that will encourage Australian audiences to explore and celebrate the people and culture of the Far North and North Queensland regions through the universal language of food. 

Increase the skills and industry experience of local filmmakers through;  

Local collaborations leading to increased local industry networks of screen practitioners.

Awareness of industry standards and acquisition of new skills through exposure to screen industry professionals outside of their region.

Generation of a broadcast screen credit that participants can use to build their industry and career profile.

Ensure the storytellers and stories being told reflect the diversity of people and experiences from North and Far North Queensland.
Who can apply?
Creative teams that include one producer, director, or writer who has at least two 'eligible credits' in their respective role. An 'eligible credit' is factual content over 10 minutes that has:

been broadcast by a recognised Commissioning Platform or channel, 

or commissioned and paid for by a commercial third party. 

or had a commercial theatrical release, or been invited to screen at a film festival in Australia.

Applicants can be individuals or teams. Less experienced practitioners may be part of the team, as long as at least one key principal is eligible as above. Teams are required to include at least

one key creative from an underrepresented background.

Applicants must also meet the general eligibility requirements as set out in the

Tastes of the Tropics GUIDELINES

document.

Applicants must check that they are available to take part in the Tastes of the Tropics i

nitiative

to these key deadlines (subject to change) before applying:

May 2023 – June 2023:

Script development & meetings

July 2023:

Production

August – October 2023:

Edits & Post Production

From November 2023:

Broadcast 

First Nations screen practitioners are strongly encouraged to apply. We are committed to ensuring diverse representation across all aspects of the production and development process, including differences in gender; age; Aboriginal identity; cultural and linguistic diversity; disability; sexuality(LGBTQI+), and socio-economic status.

The project that is the subject of the application must:

Focus on factual content, stories, and/or characters from the Tropical Far North or North Queensland region. 

Be under 26 mins in length.

Meet the

SBS charter. We recommend applicants familiarise themselves with the food section

of the SBS website before applying. 

not be advertorial or intended primarily as advertising or marketing material.
What do I need to submit?
Please fill in the ONLINE APPLICATION FORM

Supporting documentation within the application form includes:

A treatment that details the episode outline, th

e subject, script, characters and creative treatment (5 pages max)

Up to a 3 min pitch video consisting of:

Characters and brief story summary 

Themes and tone of the project 

Confirmation of your access to the factual content and characters 

Your team and their past experience creating content 

What is unique and innovative about your project  

Evidence of at least 2 professional screen credits.

Current CV for applicant and all credited crew – including links to previous works. Please include DOP and editor at minimum.

An outline budget to indicate how your $28k will be spent.

Download template here.
Please check the full GUIDELINES 

and

TERMS & CONDITIONS

before submitting your application.

If you have any questions about this initiative or your application, please contact

[email protected]

or call (02) 6681 1188
APPLICATIONS  CLOSED ON 1.5.23
This initiative is part of Screen Queensland's North Queensland Regional Program delivered by Screenworks in association with SBS and supported by Cutting Edge.
 Applicant information will be shared with Screen Queensland to assist with the delivery of future projects.