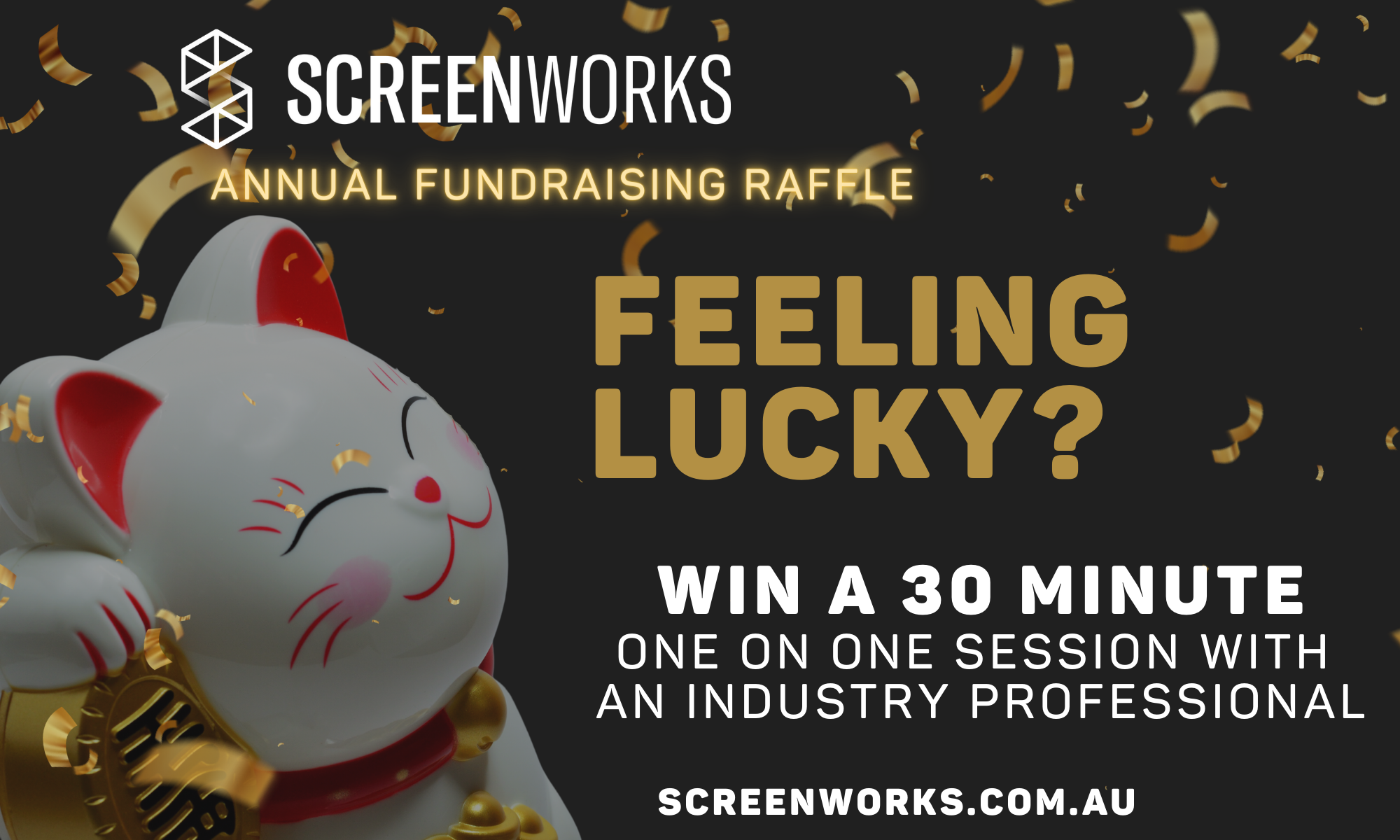 Julie Eckersley (SBS), Amanda Duthie (Stan), Deborah Huxley (Disney +), Lana Greenhalgh (Foxtel Group/BINGE)
Jodi Matterson (Made Up Stories)
and Alastair MacKinnon (Matchbox Pictures) are just some of the generous screen industry professionals who have donated their time to support Screenworks and regional screen practitioners as part of Screenworks annual raffle.
Representatives from each of the leading streaming services will join with some of the industry's biggest names to support Screenworks as part of its annual fundraiser. The annual fundraiser raises money that directly supports talent and industry development initiatives the organisation delivers across the country. 
Each year, Screenworks runs a raffle to raise funds that directly support the ongoing programs and initiatives we deliver across regional, rural and remote Australia. This year, we continue the tradition of 1-on-1 consultations to support emerging practitioners' career pathways across Australia.
We have secured the support of a group of prominent and influential professionals in the Australian screen industry, who have generously donated 30 minutes of their time to undertake a "1-on-1" Zoom consultation meeting to discuss career and/or project advice to one prize winner each.
To allow you to choose who you would like the opportunity to meet with, Screenworks have set up a separate raffle for each individual who has donated their time – this means that you can purchase tickets for multiple consultations (multiple raffles) based on the Industry Professional that you are most interested in meeting with.
Take part in our raffle below for your chance to win some fantastic opportunities!
Week 1: Streamers/Broadcasters (Drawn: Tues 16 January 2024)
Week 2: Producers & Industry Leaders #1 (Drawn: Tues 23 January 2024)
Week 3: Producers & Industry Leaders #2 (Drawn: Tues 30 January 2024)
More Producers & Industry Leaders to be announced
FAQs
Where does the money go?
All of the money raised through this raffle is used to support the ongoing programs and initiatives that Screenworks delivers across regional, rural and remote Australia. Our annual fundraising raffle is an important part of the ongoing success of the organisation and the impact it has on the lives of individuals living in regional Australia.
Which states are tickets being sold?
Screenworks is able to sell raffle tickets in all states and territories except for South Australia and Western Australia (due to the restrictions set out in various regulations that relate to the sale of raffle tickets in each state). We apologise for any inconvenience that this may cause.
Do I need to live in regional Australia to win a prize?
No, the purpose of this raffle is to raise money to support the programs and initiatives that Screenworks delivers that support the career and industry development in regional Australia. We welcome and encourage everyone in Australia to support Screenworks by purchasing raffle tickets in this year's annual fundraising raffle (noting the limitations to selling tickets to the states and territories listed above).
When will the industry consultations take place?
Screenworks will be responsible for arranging the Zoom consultation meetings on a day and time that suits both the prize winner and the Industry Professional.
Is there any charge for the consultation?
No, the person who wins the prize will not be charged a fee at any time.
Are there any age restrictions for this raffle and/or prizes?
Tickets in this raffle may only be purchased by individual persons who are aged 18 years or older. Similarly, prizes can only be won by individual people who are aged 18 years or older.