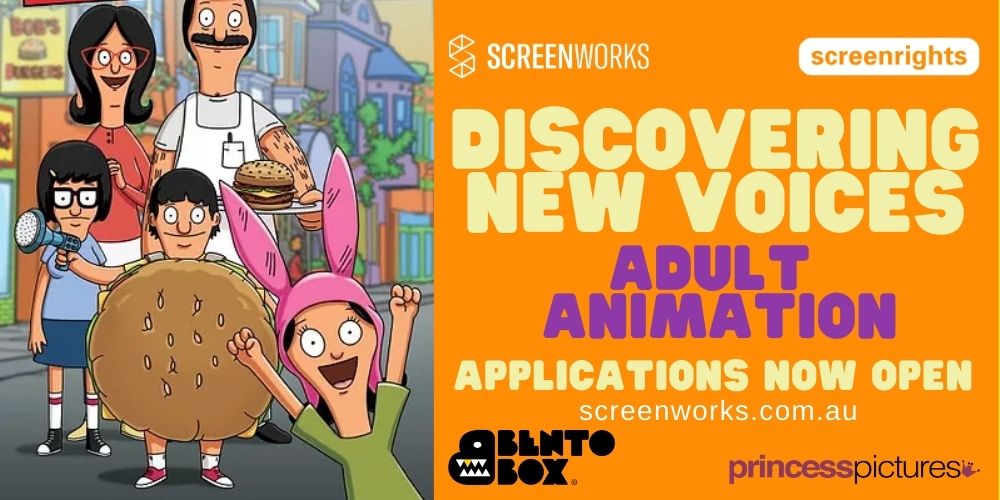 IN PARTNERSHIP WITH PRINCESS PICTURES
Supported by Screenrights Cultural Fund
Screenworks' Discovering New Voices – Adult Animation is a three-stage program designed to train undiscovered, diverse and talented writers and animators living in regional, rural and remote Australia with specific skills, and then place the final selected participant or team in Princess Pictures for a month to develop an animation project.
Through Screenworks Discovering New Voices – Adult Animation, Bento Box and Princess Pictures are seeking adult animation series concepts from regional Australians, for development and production.
The animation industry is hungry for new and unique voices so we strongly encourage anyone from an underrepresented background to apply.
We want pitches from animators and writers – and if you are both, that's even better. If you animate, write and perform, then we definitely want to see your work. We also love to hear from creative teams.
We're looking for anything from family-centred comedies to the weird and wild, as long as the idea can sustain returning seasons and fifteen minute or half-hour episodes. Project ideas submitted should be funny, irreverent and unique but also have heart.  
Think Bob's Burgers, Family Guy, The Simpsons at one end and Rick and Morty, Big Mouth and Bojack Horseman at the other.
While we're happy to look at anything, we find the best-animated projects are usually developed as an animation from the beginning (rather than developed as live-action and then re-imagined) and showcase the creator's unique point of view.
Applications close on
Monday 15 February 2021 9am AEDT
What you need to apply:
Essential Criteria 
Submission materials
You will need to have ready a pitch document of no more than 5 pages it should include:
series premise

character outlines

world and tone

a sample episode outline

other episode ideas

statement outlining inspiration behind the idea
Also include (can be extra pages):
artwork (if you have it) 

a link to a teaser (if you have it)

link to an example of your previous work

a short biography
The Process:
First up: Submit your application to get selected for the program. You can apply as an individual or as a team. If applying as a team, we recommend submitting an application for each person so that we get to know each person in the team.
Selected participants will then have the opportunity to go through the following stages:
Stage 1: A series of workshops on writing episodic comedy.  
Based on the quality and relevance of their applications, up to 25 participants will be selected to attend the online workshops.
At the conclusion of Stage 1, based on the quality of their work, up to 10 participants will then be selected for Stage 2.
Stage 2: A series of development workshops on story and character development and animation style and techniques.
At the conclusion of Stage 2, based on the relevance and quality of their work, at least 1 person, or team will then be selected to continue working with Princess Pictures for a month to either develop their animation project further or work on another project.  
The selected person will be paid a storyliner Award Wage Rate plus travel and accommodation costs.
Assessment Process:
The applications will be assessed initially by Screenworks to ensure all applicants meet the basic selection criteria, including:
Proof of residence in regional Australia

Confirm Screenworks membership

Fully completed application with all supporting documentation submitted
Then a team at Princess Pictures will assess the eligible applications and will be looking for:
A strong and original comedic animation concept that:

Demonstrates talent and potential

Can sustain an ongoing series

Appeal to either a family viewing or a clearly identifiable niche audience

Is funny, irreverent and unique
Application Deadline
Applications close at 9am AEDT (NSW time) on Monday 15 February 2021.
Late applications will not be accepted.
More Info:
For more information about this project, please contact the Screenworks CEO, Ken Crouch via email – [email protected]
Discovering New Voices – Adult Animation is presented by Screenworks in partnership with Princess Pictures and supported by the Screenrights Cultural Fund.