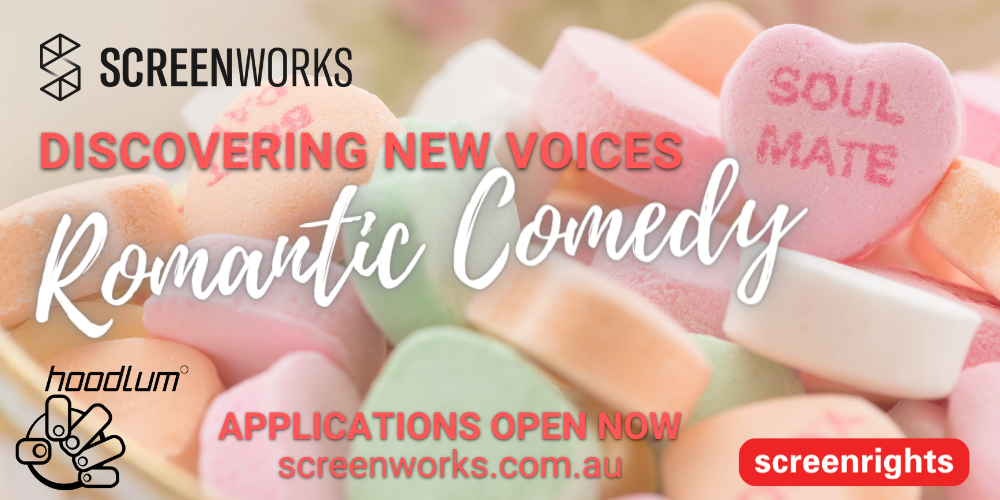 IN PARTNERSHIP WITH HOODLUM ENTERTAINMENT
Supported by Screenrights Cultural Fund
Screenworks' Discovering New Voices – Romantic Comedy is an exciting three-stage program designed to train undiscovered, diverse and talented writers living in regional, rural and remote Australia with specific skills, and then place the final selected participant or project team with Hoodlum Entertainment for a month to develop a new romantic comedy project.
Through this initiative, Hoodlum is seeking original rom com concepts from regional Australians for development and production. The team at Hoodlum are a romantic bunch who love a good laugh and a great cry. They also LOVE stories that have something to say, especially from a perspective that we may not get to see on screens.
Combine all that with a Friday night, paired up with your significant other, or besties and maybe a glass of wine with dinner, and what you have is a rom-com that is sure to make you happy-cry, blush and sigh with glee.
And that's what we're looking for! Romantic stories for features and television series that have underrepresented leads and/or come at story from a unique perspective and that have something to say.
Films we love include Love, Simon, The Half of It and The Lovebirds as well as Crazy Rich Asians and My Big Fat Greek Wedding. We want your love letter to the rom-com genre – send us a treatment (and script sample, if you have one), and tell us about the story you will create and why you want to tell this story.  What is it that sets your rom-com apart and why should it be made now?
Applications close on
Friday 5th November 2021 5pm AEDT
What you need to apply:
Essential Criteria 
Applicants must be over 18 years of age
Applicants must be a current Screenworks member (Regional Professional or Regional Associate Members) – click here to become a member
Be an Australian citizen or resident living in Regional Australia for a minimum of the past 6 months (please refer to the definition of Regional Australia on this page)
Submission materials
You will need to have ready:
A detailed treatment (up to 10 pages including format, logline, synopsis and character information)
Statement (250 words) about the story you want to tell and why.
Script sample of up to 5 pages (optional)
The Process:
First up: Submit your application to get selected for the program. You can apply as an individual or as a team. If applying as a team, we recommend submitting an application for each person so that we get to know each person in the team. (You can preview the application form before applying here).
Selected participants will then have the opportunity to go through the following stages:
Stage 1: A one-day online workshop on writing romantic comedy.  This workshop will be delivered via Zoom by Alexa Wyatt on Thursday 16 December 2021. Based on the quality and relevance of their applications, up to 20 participants will be selected to attend the online workshop. At the conclusion of Stage 1, based on the quality of their work, up to 10 participants will then be selected for Stage 2.
Stage 2: A series of one-on-one development consultations with Hoodlum Entertainment executives. At the conclusion of Stage 2, based on the relevance and quality of their work, at least one person or team will then be selected to continue working with Hoodlum for up to a month to either develop their rom com project further or work on another project. The selected person will be paid a storyliner Award Wage Rate plus travel and accommodation costs.
Assessment Process:
The applications will be assessed initially by Screenworks to ensure all applicants meet the basic selection criteria, including:
Proof of residence in regional Australia
Confirmation of Screenworks membership
Fully completed application with all supporting documentation submitted
Then a team at Hoodlum will assess the eligible applications and will be looking for:
A strong and original romantic comedy concept that:

Demonstrates talent and potential
Can sustain a feature-length duration or ongoing series
Appeal to a global rom com audience
Is funny and told from a unique point of view
Application Deadline
Applications close at 5pm AEDT (NSW time) on Friday 5 November 2021.
Late applications will not be accepted.
Discovering New Voices – Romantic Comedy is presented by Screenworks in partnership with Hoodlum Entertainment and supported by the Screenrights Cultural Fund.