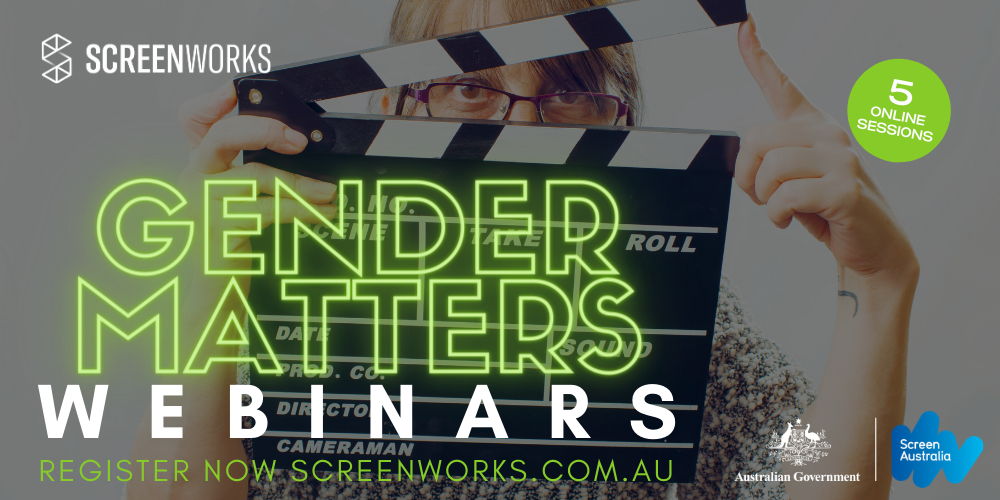 Screenworks, in collaboration with Screen Australia and the Gender Matters Taskforce, is excited to be hosting a series of five webinars covering a cross-section of the screen sector – screenwriting, directing, producing, documentary filmmaking and Heads of Department/crew roles and will showcase women working across the Australian screen sector.
Launched on 8 March to coincide with International Women's Day 2021 , the webinars are aimed at early-career female and gender diverse practitioners, especially those who are regionally-based and from culturally and linguistically diverse backgrounds, who are keen to connect with women from across Australia.
Fundamentally, these webinars will form part of the journey towards delivering the broader industry systemic change that is needed to achieve gender parity in the screen sector.
Each webinar will have a bespoke format to ensure the greatest benefits to registered attendees. The webinars will feature producers, directors, screenwriters, documentary filmmakers and HOD/crew who work in many different genres across TV, features and online. They will discuss their roles, career pathways into the industry and how the methods of content creation differ across the various genres and formats. Registered attendees will have plenty of opportunity to interact with the speakers and ask questions during the sessions.
Registration is open for 4 weeks for the following webinars:
PRODUCING – Thursday 22 April, 2pm – 3:30pm
DIRECTING – Thursday 29 April, 2pm – 3:30pm
SCREENWRITING – Thursday 6 May, 2pm – 3:30pm
DOCUMENTARY – Thursday 13 May, 2pm – 3:30pm
HOD/CREW – Thursday 20 May, 2pm – 3:3opm
Registrations Open
Deadline: Friday 2nd April 9:00am AEDT
About the webinars:
PRODUCING
Up to five producers with business and creative backgrounds will discuss the topic of  'How to take a production from Concept to Finance' and lead the audience through the steps of how to develop and finance a show or film. The webinar will illustrate different ways to break into the industry, and promote understanding of all the pieces needed to get a production up, including how broadcasters/platforms operate. Expected duration: 1.5 – 2 hours
DIRECTING
Up to five directors from the different mediums of online, TV and features will discuss their own pathways into the industry and their experience working across different formats. Viewers will learn about the process of shooting, how it differs (or not) between mediums and the different approaches to breaking into the industry. Expected duration: 1.5 – 2 hours
SCREENWRITING
A group of experienced writers from a range of screen genres and formats will showcase a series of case studies designed to give a detailed understanding and knowledge of different writing-related roles in the industry. Using examples drawn from the current film and TV landscape, this webinar will bring to life the scope of the writer's role across all forms of screenwriting. Expected duration: 2 -3 hours
DOCUMENTARY 
Up to five documentary directors/producers from different mediums of online, TV and features will discuss their own pathways into the industry and their experience working across different formats. Webinar viewers will learn about the process of shooting, how it differs between mediums and the different approaches to breaking into the industry. Expected duration: 1.5 – 2 hours
HEADS OF DEPARTMENT/CREW ROLES
A panel of highly experienced female practitioners working in the areas of Camera, Sound, Editing and Art Department will talk about their roles, career paths and experiences of working in the screen industry in roles that are often still largely male-dominated. This is an opportunity to hear first-hand from some of Australia's most accomplished female screen practitioners and learn how the landscape is changing for those women considering pursuing film/TV careers in crew roles.
Speakers:
More speakers to be announced over the coming weeks.
CORRIE CHEN: SCREENWRITER/DIRECTOR
Corrie Chen is an AACTA-nominated, ADG award winning screenwriter/director, and the 2018 Film Victoria's Greg Tepper award recipient. Working across comedy and drama, her directing work has screened at film festivals around the world, as well as ABC, SBS, and Channel Ten. She is an active member of the Screen Australia's Gender Matters Taskforce, continuing her advocacy for equality and inclusion in the screen industry. Most recently, she is the director and executive producer of SBS's Homecoming Queens.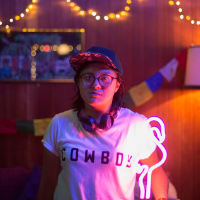 JEN PEEDOM: DIRECTOR
Jen Peedom is a BAFTA nominated director, known for her gripping, intimate portraits of people in extreme circumstances. Her credits include the internationally renowned feature documentaries SOLO, SHERPA and most recently MOUNTAIN, a collaboration with the Australian Chamber Orchestra.
SOLO won multiple awards internationally, including the AFI award for best documentary, the ADG Award and the Film Critics Circle Award.
SHERPA, was critically acclaimed on the international festival circuit, including Telluride, Toronto and London Film festivals, winning multiple awards including the Grierson Award at the BFI London Film Festival and a BAFTA nomination in 2016.  
Her most recent film, MOUNTAIN completed a sell-out national concert tour with the Australian Chamber Orchestra and became the highest grossing Australian documentary in box office history. It was released theatrically in 27 countries and went on to win three AACTA awards in 2018.
She is currently in development on a dramatic feature about Tenzing Norgay with writer Luke Davies (Lion, Beautiful Boy) and Executive Producer David Michod (Animal Kingdom, War Machine).
In 2010, Jen was the inaugural recipient of the David & Joan Williams Documentary Fellowship which recognizes and rewards creative ambition, intellectual rigour and innovation in documentary cinema.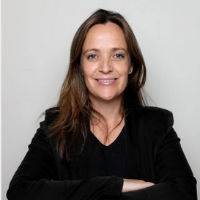 JOANNA WERNER: PRODUCER
Joanna has over 20 years experience in the film and television industry, she has produced over 94 hours and 173 episodes of television and a feature film, all of which have sold extensively around the world. Joanna's work has been defined by consistent acclaim, with multiple AACTA awards and Logies and three Emmy nominations. Joanna has amassed production credits on an array of internationally acclaimed work – most recently the Netflix Original Clickbait, Riot for the ABC, Secret City for Foxtel, as well as the two-time Emmy-nominated Dance Academy. Upcoming projects include The Newsreader for the ABC, and Surviving Summer, a teen surf series for Netflix. 
Joanna has also taken a leading role in the industry itself, as a Board member of Screen Australia and Chair of Screen Australia's Gender Matters Taskforce.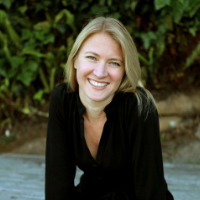 JODIE BELL: CEO/PRODUCER
Jodie is a First Nations descendant of Butchella and Jagera people of Southeast Queensland and is CEO and head Producer for Ramu Productions, a community-owned Production company in Broome, WA.  Jodie has produced a number of productions including short films Telling Our Story, In the Air, the WASA nominated Maap Mordak, Fishing, Yulleroo, Doug the Human, First Time Home, the Award winning short documentaries Naji, Marrimarrigun and Saving Seagrass, as well as the well-received documentary series, Characters of Broome and the Riiiji Carver for NITV.   Jodie was Co-producer on the CinefestOZ 2015 film of the year, feature documentary Putuparri and the Rainmakers and in 2019 she joined the CinefestoOZ team as the Indigenous film coordinator.  Jodie is currently in various stages of development on a number of projects including a documentary series, a feature film and a television series.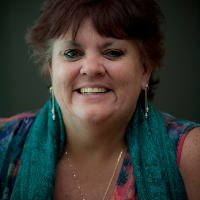 LISA FRENCH: EDUCATOR
Lisa French is the Dean of RMIT University's School of Media and Communication. Her extensive screen industry experience includes directing the St Kilda Film Festival, serving on the board of the Australian Film Institute, and producing several documentaries. She is a lifetime member of the AFI and WIFT, an international member of AACTA, and internationally recognised as one of Australia's foremost scholars on women in film and television. As co-chair of the UNESCO Network for Gender, Media and ICTS she has advocated for women's access to media, including at the UN's Commission for the Status of Women. She is currently a member of the Screen Australia Gender Matters Taskforce.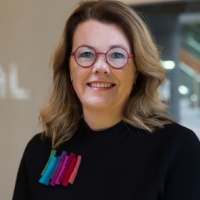 LIZ DORAN: WRITER/PRODUCER
Liz Doran is an internationally acclaimed writer/producer. She script produced/co-wrote the much loved, Please Like Me and in 2015 was co-creator/lead writer on Ready For This, which won multiple awards and was nominated for an International Emmy. She also co-wrote Molly, which had the highest consolidated ratings for an Australian drama series. She has written for loads of TV series including Doctor Doctor, Dance Academy and The Secret Life of Us and is currently prepping the 8 x 1 hour series, Barons, for ABC and Fremantle, which she co-created and will EP. In 2020 she formed the production company Good Lark whose first production The Tailings, an online series for SBS On Demand, will be on air in 2021.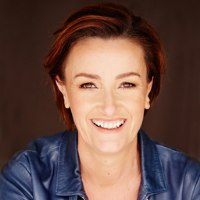 LOIS RANDALL: PRODUCER
Lois Randall is an award winning Screen Producer with a passion for authentic voices, and a commitment to inclusion and access. Most recently Lois was Co-Producer on the Dollhouse/RKP feature SERIOUSLY RED (now in post). In 2019 she was Producer of the 8 episode drama series SEACHANGE, an ITV and ECP co-production that premiered on Nine as the highest rating drama for the year. Through her company Magpie Pictures she was Producer and EP of the internationally acclaimed 13 episode live-action children's series GRACE BESIDE ME, that has screened on NITV, ABC, CBC and Disney, and awarded Children's Series of the Year at the 2018 SPA Awards. She was also Producer of THE GODS OF WHEAT STREET, Miniseries of the Year, 2014 SPA Awards, and a Development EP on the 2018 AACTA Award winning web series DEADLOCK, both ECP Productions for ABC. Lois has also produced several acclaimed short films, and previous credits include line producing the ABC drama series EAST OF EVERYTHING and John Weiley's Imax documentary feature SOLARMAX. 
Professional experience includes Executive Officer at Australian Screen Directors' Association (now ADG) and Manager of Metro Screen, and Lois is a board member of Screenworks, and a former member of the NSW Film and Television Industry Advisory Committee for Screen NSW.
Lois is a creative producer with a Masters of Fine Arts degree (COFA/UNSW), and BA Communications (UTS).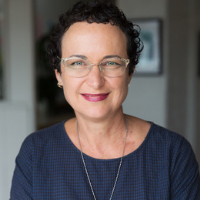 NIKKI TRAN: WRITER/PRODUCER
Nikki Tran is a writer and producer based in Melbourne, drawn to stories from underrepresented cultures and voices on our screens. Her producing credits include ABC's factual conversation series CAN YOU HEAR ME? (2020) produced entirely online during lockdown; AACTA nominated bilingual comedy GIRL, INTERPRETED (2020), and workplace dramedy FRESH! (2018). Nikki's creative practice has received development support through Film Victoria, Screen Australia, Footscray Community Art Centre's West Writers program, State Library of Victoria's Creative Fellowship and Malthouse Theatre. She recently interned at Film Victoria, ABC and Matchbox Pictures in scripted development as part of the inaugural Film Victoria Screen Development Internship.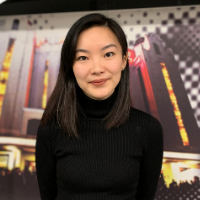 ROSIE LOURDE: CONTENT CREATOR
Rosie Lourde is a content creator traversing roles, formats and genres. Rosie's feature directorial debut, romcom Romance On The Menu, launched on Netflix ANZ in September 2020 and trended at #3 in its first weekend. Horror short, Dashcam, played as part of horror anthology series Deadhouse Dark at CanneSeries 2020. Digital series Starting From Now (which Rosie acts in and produced) has amassed over 135 million views online, sold to Australian broadcaster SBS and won numerous awards. Rosie was a writer/director/producer of virtual reality film Breach, producer on indie feature Skin Deep; and acted in several other projects including mumble core feature Chocolate Oyster which screened at Sydney Film Festival 2018. She was formerly the Investment Manager of Online Production at Screen Australia, as well as a co-Vice President of WIFT NSW, and currently sits on the Screen Australia Gender Matters Taskforce.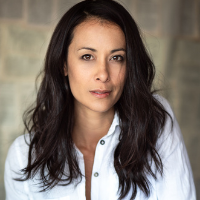 SANTILLA CHINGAIPE: FILMMAKER
Santilla Chingaipe is an award-winning journalist and filmmaker whose work explores migration, cultural identities and politics. 
 Chingaipe is a regular contributor to The Saturday Paper, and serves as a member of the Federal Government's Advisory Group on Australia-Africa Relations. 
 Her first book of non-fiction detailing the untold stories of African convicts, is forthcoming and a documentary based on the book, Our African Roots, airs later in 2021 on SBS.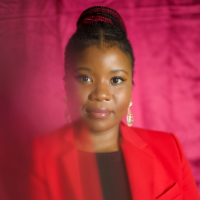 SARAH BASSIUONI: WRITER/DIRECTOR
Sarah Bassiuoni is a Sydney-based writer and director. She is currently writing episodes on season 2 of The Secret She Keeps, developing an original drama series under option with Matchbox Pictures/NBC Universal and is writing a feature film for Sweet Shop & Green.
In 2018, since earning her first writing broadcast credit for additional writing in On the Ropes an SBS/Lingo Pictures production, Sarah has since gone on to be a script editor and write an episode of The Heights for Matchbox Pictures/ABC. Sarah is also currently working in multiple writers rooms for various production companies including; Fremantle Media, Easy Tiger and Bunya Productions.
In 2019, Sarah directed a six-part narrative comedy web series, Carpark Clubbing, for ABC's iView and she was also selected as part of Screen Australia's Developing the Developer Program which, aims to build diverse voices in the screen industry. The program commenced with an intensive workshop to enhance the participants' development skills, after which Sarah was invited to be an external assessor for Screen Australia. As part of this initiative, Sarah is undertaking her placement at Fremantle Media in 2020. More recently, Sarah was appointed to the Gender Matters Taskforce, supported by Screen Australia.
Since graduating from the Australian Film Television Radio School (AFTRS) in 2016, her short films Little Secret and Dunes have premiered at academy accredited film festivals. Her work ranges from comedy to drama and is often informed by her previous career as a human rights lawyer.
Sarah works as a freelance writer/director and continues to develop several projects across short and long-form drama and comedy. She is the daughter of an Egyptian Muslim and Irish Catholic and grew up in Saudi Arabia, the USA and Australia.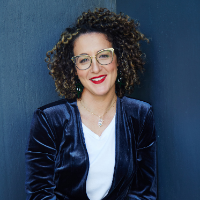 SOPHIE HYDE: DIRECTOR/PRODUCER
Sophie Hyde is a founding member of film collective Closer Productions. She lives and works on the lands of the Kaurna people in South Australia and makes provocative and intimate films and television.
Her debut feature drama 52 Tuesdays (director/producer/co-writer) won the Directing Award at Sundance and the Crystal Bear at the Berlin Film Festival. She directed and produced the Australian/Irish co-production Animals starring Holliday Grainger and Alia Shawkat, which premiered in Sundance 2019 and won a BIFA for Best Debut Screenplay. She created, produced and directed episodic series F*!#ing Adelaide, which premiered in competition at Series Mania and
screened on ABC Australia. She created, produced and directed (EP4) the 4 x 1-hour series The Hunting, which won two Australian Academy Awards for Best Screenplay in Television and Best Supporting Actor for Richard Roxburgh and the Australian Writers Guild award for Best Series. It is network SBS's highest rated commissioned program to date. Sophie was nominated for two Australian Directors Guild awards in 2020 for feature film Animals and The Hunting.
Sophie's feature documentaries include Life in Movement (producer /co-director), winner of the Australian Documentary Prize, Shut Up Little Man! An Audio Misadventure (producer) and Sam Klemke's Time Machine (producer), which both premiered at Sundance Film Festival and In My Blood It Runs (Producer) which premiered at Hotdocs, had a very successful cinema run, and has screened on PBS (USA), ABC (Australia) and will soon screen on ARTE (France and Germany).
In 2021 she will direct the Emma Thompson starring Good Luck To You, Leo Grande.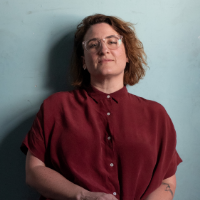 TARYNE LAFFAR: PRODUCER/WRITER
Taryne (Pinky) LAFFAR is a producer and writer who descends from the Bardi and Jabbir Jabbir nations. Her filmmaking credits include WHO PAINTIN' DIS WANDJINA?, BINGO!, RAINFOREST WARRIORZ, ON COUNTRY KITCHEN, numerous Our Stories for NITV, KGB (available on ABC iView) and OUR LAW (available on NETFLIX).
A 2019 Ones To Watch, she was subsequently announced Screen Forever's SBS First Glance prize winner, Taryne was also selected for the Indigenous Producer Program through Screen Australia, and also completed their Developing The Developer program. In 2020, Taryne's latest co-production, feature anthology RED was announced, as was her TV dramedy series development for TATA DETECTIVE. 
In 2021, PiNK PEPPER is working on comedy series OLD MATE, documentary series OUR LAW, and Augmented Reality and companion documentary WALKING WITH FANNY BALBUK, as well as RED & TATA DET.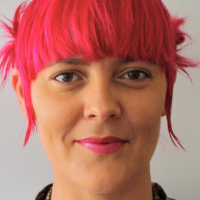 YAARA BOU MELHEM: WRITER/DIRECTOR
Yaara Bou Melhem is a journalist, writer and director based in Australia. Yaara's feature-length documentary, Unseen Skies interrogates the inner workings of mass surveillance, computer vision and artificial intelligence through the works of US artist Trevor Paglen and will be released in 2021.  Production partners include Participant (American Factory, Green Book, An Inconvenient Truth) and In Films (Firestarter – The Story of Bangarra). Her production company, Illuminate Films has produced films including War on Truth about 2018 Time Person of the Year, Maria Ressa and the Filipino editor's global campaign against disinformation. Yaara's films have received a number of accolades including two UN Media Peace Awards, two New York Film & Television Festival Awards, a Hong Kong Human Rights Press Award and five Walkley Awards. She has degrees in Journalism and Law.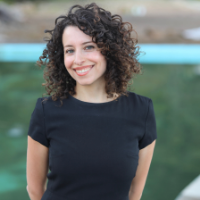 The Gender Matters Webinars are presented by Screenworks in partnership with Screen Australia.