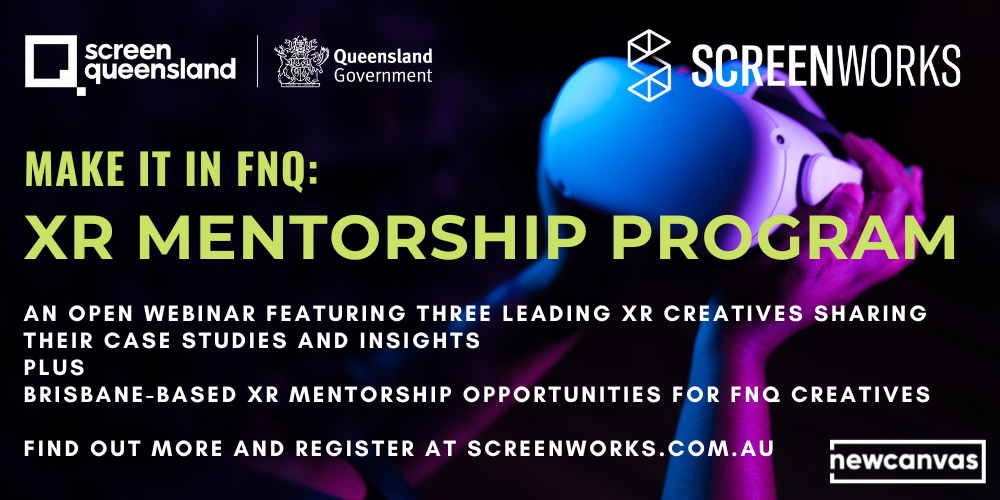 This initiative is part of Screen Queensland's Far North Queensland Screen Production Strategic Plan. Delivered by Screenworks.
Online webinar – Tuesday 23rd August 2022
Screen Queensland and Screenworks' Make it FNQ: XR Mentorship Program has been designed for anyone interested in learning about the XR industry and is keen to engage and learn from Queensland-based XR professionals to build and kickstart their careers.
The XR program will launch with an online webinar on Tuesday 23rd August. This program is open for everyone to attend and engage with this exciting medium. Three experienced and inspirational XR professionals will share their creative and commercial projects and insights through discussion and case studies of their work.
Nathan Anderson, CEO and EP of New Canvas – an XR Studio for immersive narrative media- will facilitate this conversation and presentation with two award-winning Brisbane-based XR creatives, Georgie Pinn and Michelle Brown. The seminar will conclude with a Q&A session. 
Following the seminar, Screen Queensland and Screenworks will call for applications from local FNQ creatives to be mentored by Georgie Pinn and Michelle Brown. 
Two creatives will be selected as mentees by each mentor. They will benefit from two Zoom sessions with their industry mentor before being supported with travel to Brisbane for an expense-paid working week where they will shadow their mentor and engage with the industry professionally.
Register via the form below or go to: https://us02web.zoom.us/webinar/register/WN_DUvsZm-1QBOaJt44sifL2A
XR Mentorships
Applications for the XR Mentorships will open at the completion of the Online Webiner. A live link to the application form will be made available on this page after that time.
Applications will close at 11.59pm on Tuesday 27th September 2022.
Mentoring Program Structure
This is a short-term and focused mentoring program for two people living in Far North Queensland seeking opportunities in the XR sector of the screen industry. There will be two mentorships awarded, one person per mentor. Each professional mentor will assess the shortlist of applications to select their mentee. 
Mentorships will comprise of:
2 x 45 mins zoom calls with your mentor. 

1 x working week trip down to Brisbane to meet with your mentor and potentially other industry professionals. The mentor may offer the opportunity to attend meetings, events, observe business skills and provide additional advice. Travel, accommodation and per diems will be covered.

Upon completion, each mentee must deliver a report detailing the opportunities presented and how these have influenced their career.
Schedule:
Applications open following the launch webinar on Tuesday 23rd August 2022.

Applications close at 11.59pm Tuesday 27th September 2022.

Successful candidates will be notified by Tuesday 4th October 2022.

Zoom calls and the trip to Brisbane will be arranged at a mutually beneficial time for mentor and mentee after that (but must be completed by the end of November 2022).
Mentors & Speakers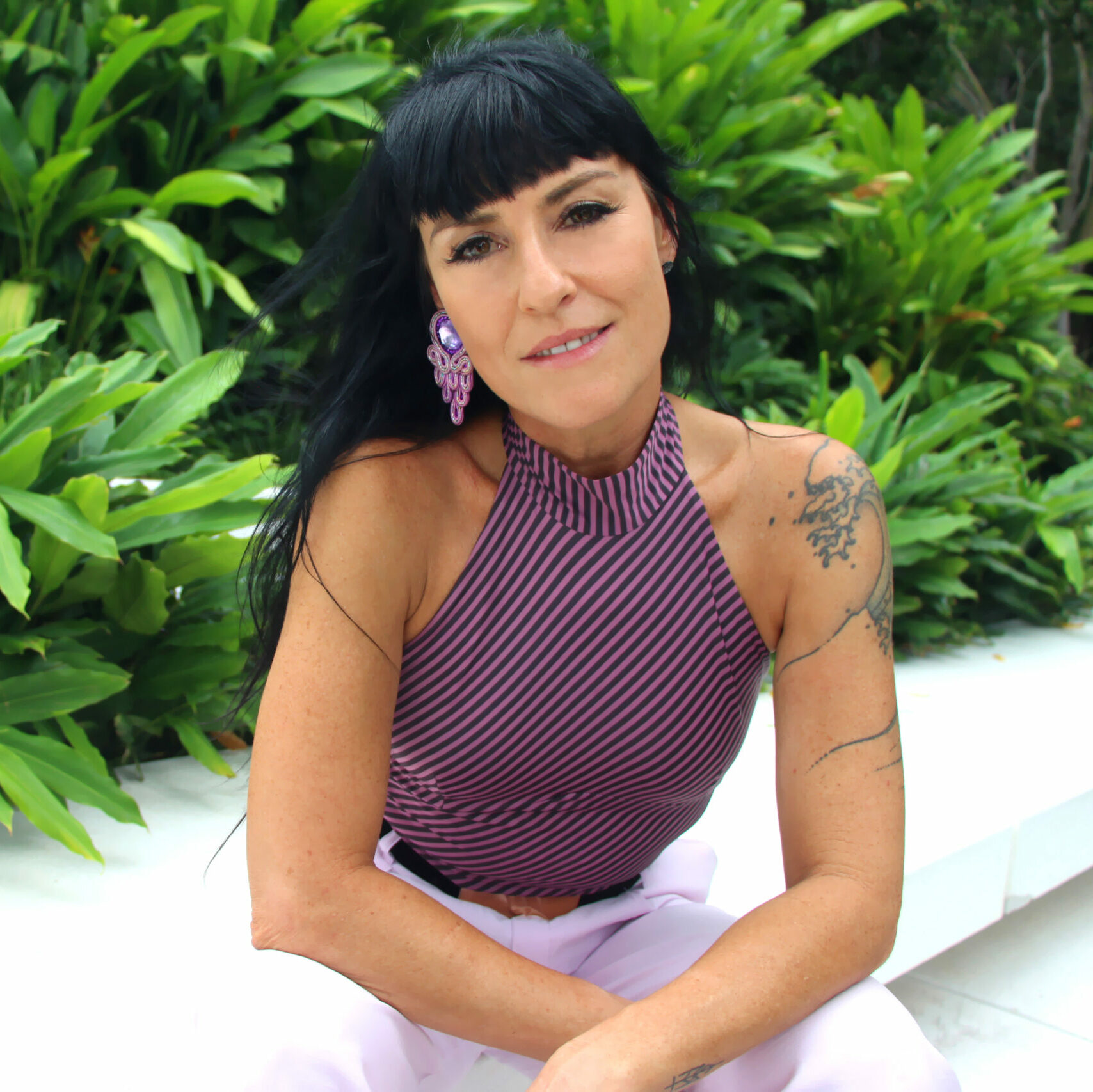 Georgie Pinn (Speaker & mentor)
VR artist and educator
georgiepinn.com
Georgie has 25 years experience in generating creative content and concepts for broadcast, online and cultural public events, using interactive and immersive technology to blur the line between artist and audience. Her skills span all the layers of film, animation and sound production as well as exploring and developing live generative audiovisual platforms, collaborative storytelling and interactive technology. She uses real-time motion capture devices, immersive user interfaces and personal storytelling to elicit empathy and connection. As an educator, she also designs and facilitates technology-based workshop programs that explore new inclusive forms of creative expression and multi-sensory platforms for learning.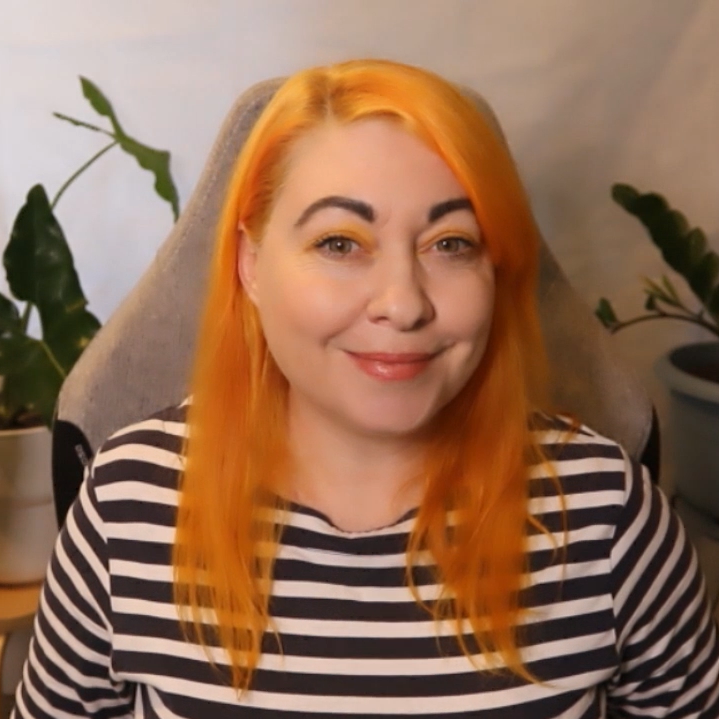 Michelle Brown (Speaker & mentor)
VR artist and educator
thebadlament.com
Michelle Brown is a Brisbane-based new media artist focused on virtual and augmented reality and creating storytelling experiences in the digital space. She has produced documentary series for Australian television, created music videos and visuals for a variety of artists and festivals and has exhibited work internationally and around Australia. Michelle's work has been featured at Sundance film festival, SXSW, Cannes XR, CADAF, Github Universe and she has worked with Snapchat, Google, Brisbane Festival, Curiocity plus many more.
Nathan Anderson (Speaker)
CEO & Executive Producer, New Canvas
newcanvas.co
Nathan Anderson joined the media industry in the late 1990's with formative experiences including a production role on The Matrix. He has 20 years' experience in tech startups and large media companies including Disney, Foxtel, and NBC Universal developing and delivering projects across diverse digital platforms. A proponent of transmedia and multiplatform thinking, Nathan has long been exploring the merger of traditional media storytelling with high tech innovation and finds his natural home in VR.
Nathan is a member of the Producers Guild of America, New Media Council, and is a regular speaker at industry conferences and events. Nathan graduated with a Masters by Research (AFTRS, 2010) exploring interactive narrative forms.
Eligibility Criteria
There are no eligibility requirements to attend the XR webinar. Register for your free space

here (insert link)

today

The mentorships are aimed at emerging FNQ practitioners, and all applicants must meet the following criteria:

Demonstrate an interest in and a commitment to pursuing that interest in XR. Demonstrate that you have been living in Far North Queensland for six months before submitting your application.

Be an Australian citizen or permanent resident.

Complete all sections of the online application form and apply before the closing deadline.
If you require assistance with your application, please contact Screenworks Project Coordinator Louise Hodgson at louise@screenworks.com.au or on 0415 092917.
Assessment Process
Applications from Aboriginal and Torres Strait Islander people, people with disability, and culturally and linguistically diverse people are strongly encouraged.

Screenworks will manage the online application process and will initially assess all applications for eligibility and quality.

Shortlisted applications will be assessed by Screen Queensland representatives and our XR mentors.

The following selection criteria will be considered when assessing applications:

The potential for the mentoring opportunity to help the applicant build relevant industry skills.

The skills, achievements, experience and track record of the applicant.

The applicant's potential to contribute to and enhance the growth of screen production in Far North Queensland.