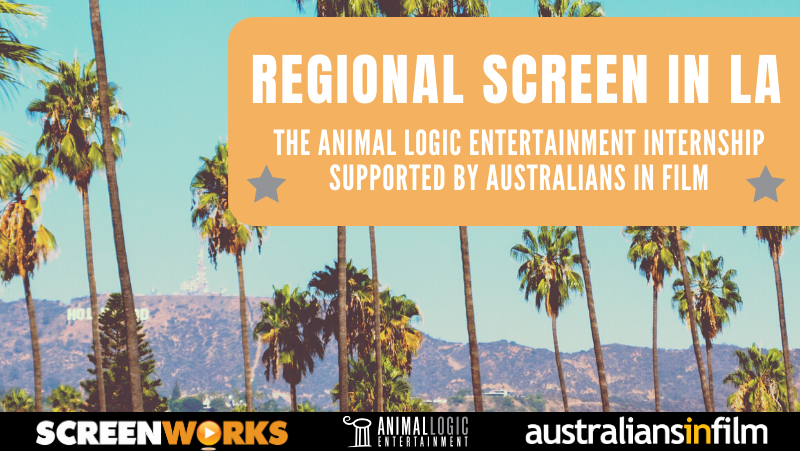 Screenworks' Regional Screen in LA Program – The Animal Logic Entertainment Internship supported by Australians in Film is designed to provide unparalleled Hollywood access to an undergraduate or recent graduate from Regional Australia who has interest in becoming a development executive or producer.
Screenworks has partnered with Animal Logic and Australians In Film to offer this work experience opportunity for a recent graduate or undergraduate from Regional Australia.
This exciting opportunity to work with the team of passionate storytellers in the Los Angeles offices of ALE (Peter Rabbit, Peter Rabbit 2) and subsidiary live-action production company, Truant Pictures, is open to any undergraduates or recent graduates who demonstrate significant potential and passion in their screen industry-related course of study and area of expertise. The two-month internship will involve all aspects of international feature film development, acquisitions, packaging and production.
AiF internship programs have been running at Animal Logic Entertainment (ALE) for the past five years and recipients have gone on to successful careers in the Australian and international screen industries, including Melanie Jayne (HBO), Sleena Wilson (Black Bear Pictures) and Lauren Brown (Ludo Pictures).
WHEN WILL THE INTERNSHIP TAKE PLACE?
The next internship is planned to start in early 2021 and will run for a period of 2 months.
Who can apply?
Only individuals may apply (applications will not be accepted from teams or companies).
Applicants must be an Australian citizen or Australian permanent resident with a current passport and able to take responsibility for obtaining any U.S. Visa that may be required.
Applicants must be able to demonstrate that they are a bona fide resident of Regional Australia* (refer to the definition) at the time of submitting an application.
Applicants can be University or TAFE graduates (graduating year of 2016 to current day) of a screen industry-related degree or course, or current students. The focus is on the calibre of the applicant and strength of their application. Applicants must be able to demonstrate some experience in production (as in a student film, or in a work capacity).
This is an opportunity for an undergraduate or recent graduate from Regional Australia who has interest in becoming a development executive or producer.
What do I need to apply?
Applicants are required to provide the following as part of their applications (please see the online application form for details):
CV including a list of projects that have been completed and screen credits

A statement outlining how this opportunity will advance your career as a business entertainment professional

Information including URL links & passwords for productions you have worked on (eg. student work, paid work)

A letter of support for your application
Written References
Applicants are required to obtain one letter of support from a screen industry professional who has known you for more than 12 months and/or is familiar with your work.
The letter of support should be returned to the Applicant for submission with their application (ie. it should not be sent separately to Screenworks).
Applications submitted without the letter of support will not be accepted. Letters of support will not be accepted after the application close date.
The letter of support should be from someone who can directly attest to your work ethic, how you work with others, your skills, their belief in your ability and your personality and character.
What is the assessment process?
1st Round: Call for applications : All applications will receive initial eligibility and quality assessment by Screenworks staff. Eligible applications will be sent to an assessment committee made up of representatives from Australians in Film and Screenworks who will determine a shortlist of applicants who will progress to the 2nd found of the assessment process.
2nd Round: A select group of applicants will be notified and asked to submit coverage from a sample script. More information about this round will be provided to the select group of applicants selected.
3rd Round: Three candidates are selected and notified for interviews with representatives from Animal Logic Entertainment, Screenworks and/or AiF.
Application Fee
AUD $55 per application to apply which includes a one-year Screenworks Regional Emerging Professional Membership.
Current Screenworks Regional Emerging Professional and Australians in Film International Industry members only pay AUD $10 administrative processing fee.
If you wish to apply for a fee waiver due to financial hardship, please email programs@screenworks.com.au
What is the value of the internship and what is included?
The selected internship recipient for 2020 will receive:
A USD$10,000 Internship Fee to help cover rent, food and transport costs while in Los Angeles for 2months. The intern will be based out of Animal Logic|Truant Pictures offices in Echo Park in Los Angeles.

One return economy airfare to Los Angeles for the Internship Recipient in addition to regional flights/transport in Australia.

Support with travel arrangements and preparation in the lead up to the residency in Los Angeles, this will include support to secure the appropriate visa for the internship recipient.

AiF would provide support and access while the Intern is working in Los Angeles for 2months, provide pre-recommendations, LA industry support & networking, including a welcome to LA drinks and lunch.

The recipient will also get a complimentary 12-month industry membership to AiF (valued at $300) which would provide them unlimited access to AiF screenings and education programming while in Los Angeles for 2 months, including desk access to Charlie's, 24|7.

Post-residency support provided by Screenworks (up to five Skype/online meetings).
Selected Recipient Contract
The award of the Screenworks' Regional Screen in LA Program – The Animal Logic Entertainment Internship supported by Australians in Film is subject to the Recipient agreeing to be bound by the conditions laid down in a contract document signed between Northern Rivers Screenworks Inc. ("Screenworks") and the Recipient. An internship cannot commence until Screenworks receives an executed copy of the contract document from the Recipient.
How to apply
Applications can only be made via the Screenworks online application form.
All applications must be made on the online Application Form provided. Faxed or mailed applications will not be accepted. No grace periods provided.
If you require assistance with completing the online application form (for example, if you do not have access to an internet connection in remote Australia) please contact Screenworks on (02) 6681 1188.
Privacy Statement: Your privacy is respected by Screenworks and personal information will be handled in a sensitive manner. Information collected on the Application and References will be used for the purpose of selecting Regional Screen in LA Program and will be provided to Screenworks Staff, the Internship Selection Panel, the Judges and Committee Members, and the Board of Screenworks. All personal information will be handled in accordance with Australian privacy laws applicable to the state of New South Wales.