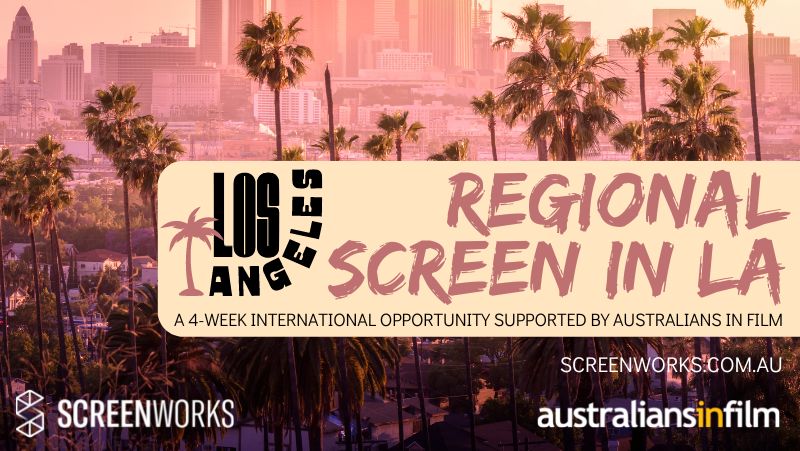 Screenworks' Regional Screen in LA Program, supported by Australians in Film, is designed to provide unparalleled Hollywood access to a film/TV practitioner (creative or crew) from Regional Australia who is interested in progressing their career with an international perspective.
Screenworks has partnered with Australians in Film to offer this professional development opportunity for emerging professional creative or crew practitioners living in Regional Australia.
This is a unique chance to gain experience working in Los Angeles and is open to emerging professionals who demonstrate significant potential and passion in their area of expertise. 
When applying for this program, you will be required to provide a video pitch of what you would like to achieve during your 4-week experience in Los Angeles and how this will assist you in achieving your career goals.
This year, applications are encouraged from both above-the-line and below-the-line screen practitioners. The experience will be tailored to the successful recipient's particular field of interest and career development ambitions.
When will the opportunity take place?
The experience on offer will run for four weeks in Los Angeles in 2023. The timing will be agreed upon between the selected recipient, Australians In Film and Screenworks.
Application Timeline
Applications are now closed. Congratulations to
Finn Clarke
, our 2023 recipient!
Subscribe
to our newsletter or follow our social channels to stay up to date on future opportunities.
Who can apply?
Only individuals may apply (teams or companies are not eligible).

Applicants must hold a current Screenworks or Australians In Film membership to be eligible to apply.

Applicants must be Australian citizens or Australian permanent residents with a current passport and able to take responsibility for obtaining any U.S. Visa that may be required. 

Applicants must demonstrate that they are bona fide residents of Regional Australia* (refer to the definition below) when applying.

Current students are not eligible to apply.
The focus is on the experience and calibre of the applicant and the strength of their application. Applicants must demonstrate previous professional experience working on a production in a role related to the work experience proposed in Los Angeles.
"Screen practitioners living in regional Australia simply do not have the same opportunities as those living in the metropolitan centres, especially when exploring overseas avenues. This opportunity will provide an invaluable pathway for an emerging regional practitioner to get international experience, make connections in the US and benefit the industry here in Australia."
Applicants from diverse backgrounds strongly encouraged
Applications are strongly encouraged from Aboriginal and Torres Strait Islander people, LGBTQIA+, women and female-identifying practitioners, people with disability, deaf people and hearing impaired people, culturally and linguistically diverse people and people living in remote areas of Australia.
Screenworks is strongly committed to ensuring equal access to this project – if you require assistance with your application, please contact Screenworks on:
Telephone: (02) 6681 1188
To make a National Relay Service (NRS) call:
TTY users phone 133 677 then ask for (02) 6681 1188
Speak and Listen users phone 1300 555 727 then ask for (02) 6681 1188
Internet relay users connect to the NRS and then ask for (02) 6681 1188
What do I need to apply?
We strongly encourage all applicants to watch the recording of the "AUSTRALIANS IN FILM: THE PATH TO HOLLYWOOD" session held at the 2022 Regional to Global Screen Forum (embedded below) before preparing their application.
After watching the recording, applicants are required to complete the online application form and to provide the following as part of their applications (please see the online application form for details):
A URL link to a short video up to 2 minutes in length (maximum) detailing what you want to do during four weeks in Los Angeles and how this will support your career goals.

CV including a list of projects that have been completed and screen credits.

A letter of support for your application (see below).
Letter of Support
Applicants must obtain one letter of support from a screen industry professional who has known you for more than 12 months and is familiar with your work. 
The letter of support should be returned to the Applicant to upload with their application (i.e. it should not be sent separately to Screenworks).
Applications submitted without a letter of support will not be accepted. Letters of support will not be accepted after the application close date.
The letter of support should be from someone who can directly attest to your work ethic, how you work with others, your skills, their belief in your ability and your personality and character.
What is the assessment process?
Applications are now closed.
All applications will receive initial eligibility and quality assessment by Screenworks staff. Eligible applications will be sent to an assessment committee made up of representatives from Australians in Film and Screenworks, who will determine a shortlist of applicants who will progress to the 2nd round of the assessment process.
2nd Round: A shortlist of applicants will be notified and asked to undertake an interview process to help Screenworks and Australians In Film select the best candidate. The shortlisted applicants will be provided with more information about this round.
Application fee
Applicants are required to pay an AUD$10 administrative processing fee as part of their application. The online application form includes instructions on how to pay this fee. 
If you wish to apply for a fee waiver due to financial hardship, please email [email protected].
What is the value of the opportunity and what is included?
The selected recipient for 2023 will receive:
One return economy airfare to Los Angeles for the recipient in addition to regional flights/transport in Australia.

Support with travel arrangements and preparation in the lead-up to the residency in Los Angeles.

Accommodation assistance and living allowance of USD$4,000 will be provided to the recipient.

AiF will provide support and access while working in Los Angeles for four weeks, plus pre-recommendations, LA industry support & networking, including a welcome to LA lunch.

The recipient will also get a complimentary 12-month industry membership to AiF, providing them unlimited access to AiF screenings and education programming while in Los Angeles, including desk access to Charlie's 24|7.

Post-residency support is provided by Screenworks (up to five Skype/online meetings).
"Screenworks has created vital and impressive career pathways for regional screen professionals, and AiF are again excited to be working with Ken, Jeanie and the entire Screenworks team in delivering this incredible international opportunity for a passionate and motivated screen creative. We look forward to opening doors here in Los Angeles for the lucky recipient."
Selected recipient contract
The awarding of the Screenworks' Regional Screen in LA Program supported by Australians in Film is subject to the Recipient agreeing to be bound by the conditions laid down in a contract document signed between Northern Rivers Screenworks Inc. ("Screenworks") and the Recipient. A recipient cannot commence travel until Screenworks receives an executed copy of the contract document from the Recipient.
How to apply
Applications can only be made via the Screenworks online application form.
All applications must be made on the online Application Form provided. Faxed or mailed applications will not be accepted, and no grace periods will be offered.
If you require assistance completing the online application form (for example, if you do not have access to an internet connection in remote Australia), please contact Screenworks at (02) 6681 1188.
Privacy Statement
Privacy Statement: Your privacy is respected by Screenworks. Information collected on the Application and References will be used to select Regional Screen in LA Program. It will be provided to Screenworks Staff, the  Selection Panel, the Judges and Committee Members, and the Board of Screenworks. All personal information will be handled under Australian privacy laws applicable to the state of New South Wales.
Definition of "Regional Australia":
"Regional Australia" Definition – Regional Australia refers to areas in each state and territory as defined below:
New South Wales – Regional areas are defined as all areas in NSW outside the Sydney Metro, Western Sydney and Blue Mountains areas (excluding the ACT).
Australian Capital Territory – All areas in the ACT are defined as regional.
Queensland – Regional areas are defined as a resident outside of South East Queensland, defined as a 100-kilometre radius of the Brisbane or Gold Coast central business district.
Victoria – Regional areas are defined on the VicScreen Regional Councils map (https://screenworks.com.au/wp-content/uploads/2021/01/Map_of_Victorian_Regions_2020.pdf).
Tasmania – All areas in Tasmania are defined as regional.
Northern Territory – All areas in the Northern Territory are defined as regional.
South Australia – Regional areas are defined as residents living outside of Adelaide, outside more than a 50-kilometre radius from the Adelaide GPO.
Western Australia – Regional areas are defined on the linked regional map as all regions excluding the Perth Region (https://www.screenwest.com.au/film-in-wa/locations/interactive-map/regions-of-wa/).
More information:
For more information, contact the Screenworks team:
P: (02) 6681 1188