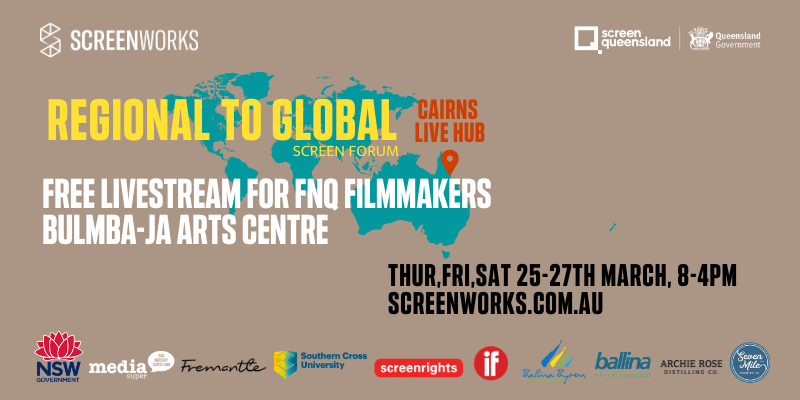 FREE ENTRY TO THE CAIRNS LIVE HUB OF THE SCREENWORKS REGIONAL TO GLOBAL SCREEN FORUM FOR ALL FNQ SCREEN PRACTITIONERS.
From March 25 – 27, 2021 inclusive, Screenworks will be delivering the Regional to Global Screen Forum (formerly The Business of Producing).
The Cairns Live Hub presents a unique experience for filmmakers of any experience level to access our conference sessions for free!
Free to all FNQ residents.
Bring your friends, have a cup of tea and watch the live digital feed direct from Regional NSW!
Screenworks' Regional to Global Screen Forum brings together some of the screen industry's most innovative and successful professionals to share insights and advice on best practice and current trends.
Producers, broadcast and SVOD executives from around the world, as well as representatives from the Australian screen industry funding bodies will be there.
The Cairns live hub is the ONLY region in Australia to benefit from FREE access to our conference thanks to Screen Queensland, and attendees can drop in to hear from key decision makers, influencers and professionals from Netflix, Amazon Prime, Screen Australian, ausfilm and Ludo Studio to name just a few.
Held over three packed days , you can drop in and out as often as you like and attendees can participate via text message in the Q&A sessions.
Register your name below if you want to drop in, and check out the full program here.