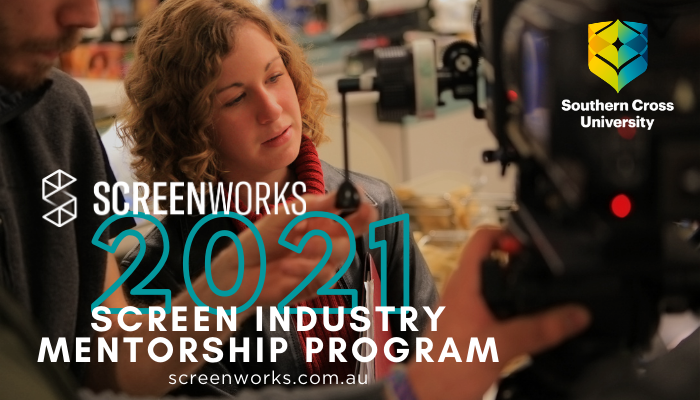 Screenworks in partnership with Southern Cross University is offering two screen industry mentorship places to students in their final year of studies in Screen and Media or related disciplines (Writing, Art & Design, Digital Media, Music) at Southern Cross University.
The mentorships will provide two students with 3 x 1 hour consultations with a screen industry professional in the appropriate field of interest and study.  The mentors will be chosen to suit each of the selected applicants' skills and career aspirations and will be highly regarded screen industry professionals.
Applications are open from Monday 3 May 2021 for three weeks.
The selection committee will be looking for motivated students who have achieved outstanding results in their studies, show a commitment to the pursuing a career in the screen industry and demonstrate potential and talent.
Selection of the two students will be completed in consultation with the Southern Cross University Associate Professor of Media (Faculty of Business, Law and Arts) in conjunction with Screenworks executives. Successful applicants will be notified in early June, with mentorships taking place in the second half of 2021, subject to the availability of suitable mentors.
As well as answering a number of application questions, you will be asked to submit your CV and examples of work you are most proud of.
The 2021 Screen Industry Mentorship Program is presented by Screenworks in partnership with Southern Cross University.