Our top five top tips for anyone living in regional Australia and wanting to build a career in the screen industry.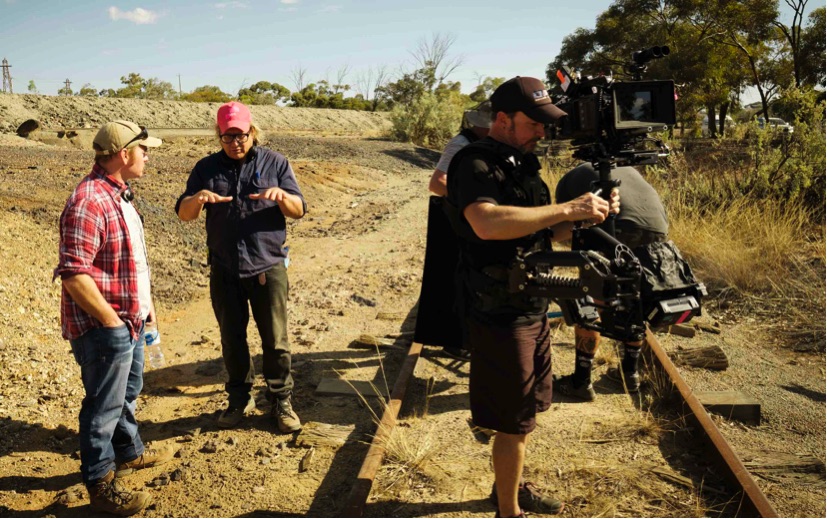 Pictured: Early career filmmaker Jason King (left) working as an attachment on WakeIn Fright
in Broken Hill and getting advice from Director Kriv Stenders. Photo credit John Platt
Whether you're looking to build specific skills or wanting to transfer skills from another industry, there is a diverse range of areas within the screen industry that can be considered as career options for people living in regional Australia. There are key creative roles including writing, directing and producing or technical jobs of camera operating, lighting and sound or post production opportunities including editing and special effects.  Then there are possibilities to bring other industry skills and cross-over in to screen industry jobs such as carpenters for set building, costume designers for wardrobe, hair and make-up – just to name a few.
Here are our top five recommendations if you're living in regional Australia and seeking a career in the screen industry.
For people living regionally there are unique challenges with finding pathways to creating a career in the film & tv industry, but this is specifically why Screenworks was created and continues to deliver its programs.  We encourage that people living in regional Australia who are serious about a career in the screen industry become Screenworks members in order to have the best opportunity to succeed.
According to Screenworks' CEO, Lisa O'Meara the skill area that most needs to be filled in regional Australia is producing. The role of the Screen Producer is to bring a project to fruition by creating a budget, seeking finance, finding the team, realising market opportunities and managing the production.
"We are constantly being approached by creative people wanting to get their film and television concepts produced," explained O'Meara "but it's almost impossible to get anywhere without a producer and a pathway to audience.  We often look to the metropolitan centres for producers, as there is only a handful in regional Australia.  There is so much potential for regional practitioners who have an interest in business and financing to build their skills as screen producers."
One of Screenworks' career programs designed specifically to help regional producers advance their career is the Regional Producer Elevator Program. Selected participants are provided $3,500 to invest in their career development as a Screen Producer, they are also appointed with a mentor and receive an all expenses paid trip to the Screen Producers Australia's Screen Forever Conference in Melbourne, where they are able to join in selected exclusive sessions that take place at the conference. This opportunity is offered annually.
Screen Australia resources:
Starting in the Industry (Screen Australia) 
Getting Started (Screen Australia publication)