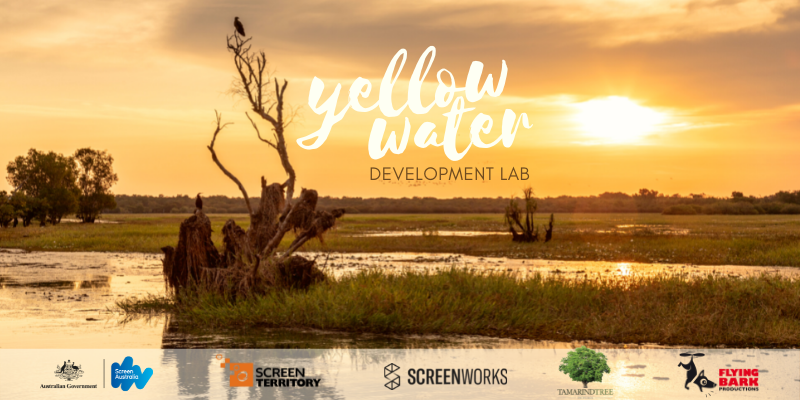 Workshop Dates – Early 2022 TBC
Applications are now open for early career regionally based Indigenous writers to apply to be part of a development lab in the Northern Territory as part of its third Regional Script Lab X initiative.
Screenworks has partnered with Darwin-based production company Tamarind Tree Pictures and leading animation house Flying Bark Productions to deliver the 4.5 day Development Lab for Yellow Water Billabong, a new children's animation series set in Yellow Water Billabong in Kakadu National Park. The development lab is being supported by Screen Australia and Screen Territory.
Being held on dates in early 2022 to be confirmed, the Yellow Water Development Lab will provide invaluable hands-on experience of the writing and development process for early-career Indigenous screenwriters living across regional Australia. The lab is an extraordinary opportunity to work with experienced Indigenous writers including including Producer/Writer Danielle MacLean and Producer Anna Grieve from Tamarind Tree Pictures and Flying Bark's Creative Director Alexs Stadermann and Head of Animation Alexia Gates-Foale.
A total of five regional early career Indigenous writers from across Australia will be selected to participate in the lab. Each selected participant will be paid a fee of $4,500 in addition to having travel to the Northern Territory and accommodation expenses covered. All applicants will also receive a complementary 12-month Screenworks membership (upon submitting your application, non-members will be sent a link to receive a complimentary 12-month Screenworks membership. Current Screenworks members will receive a free 12-month extension).
To be considered for the Yellow Water Development Lab, applicants must be able to demonstrate previous experience in screenwriting and be living in regional, rural or remote Australia (click here for regional areas definitions). Applicants also need to be potentially available to travel to the Northern Territory in early 2022 (travel and accommodation expenses will be covered by Screenworks).
Applications are now open and will close at 5pm AEST on Friday 10 September 2021, with applicants being notified by early October.
Terms and Conditions apply as set out in the application form.
Please note that in the current climate of ongoing and changing COVID restrictions, the original workshop dates of 27 September to 1st October have been postponed in the interests of the health and safety of all workshop participants. The application process will proceed as outlined above – successful applicants will be informed of the new dates for the workshop and will have the opportunity to confirm their availability for those revised dates. In the event that any selected participants are not able to make the new dates, places will be offered to those on the assessment panel's runners-up list. 
Applications Open
Deadline: Friday 10th September 5:00pm AEDT
The Screenworks, Tamarind Tree Pictures and Flying Bark Productions Yellow Water Development Lab is
supported by Screen Australia's Enterprise Ideas funding program with investment from Screen Territory.