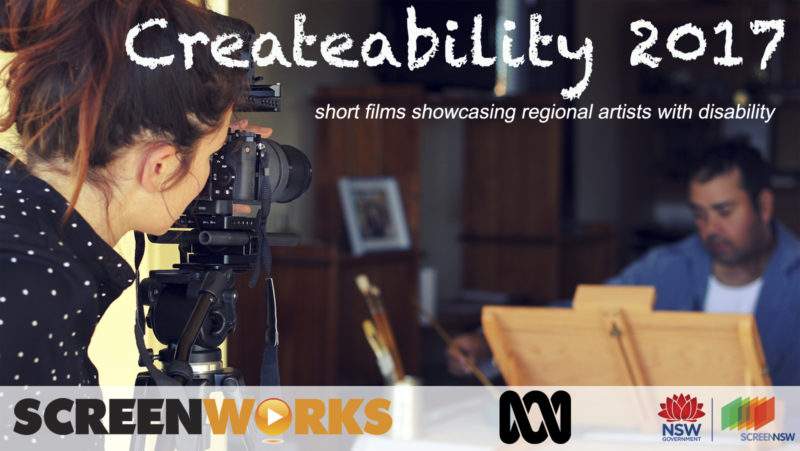 Createability 2017
The key objective of CREATEABILITY 2017 is to profile work produced by artists with disability through identified arts organisations and screen media.
Follow the Createability project on Instagram
PROJECT UPDATE: 30th June 2017
Since our last post, the eight regional Createability filmmakers have been busy honing their shooting scripts and meeting with their experienced local ABC Open Producers in script clinic sessions.  All shooting scripts need to be signed off before the filmmakers can start spending their funding money and proceed with principal photography.
It has been fascinating to read the incarnations of each script throughout this approval stage and only serves to make us more eager to see those first cuts in mid August. Shooting will start for many of the 2017 Createability films in the coming weeks.
"I can't wait to get started on this film and I'm very excited" Susie Forster, Ocean Shores.
To the right, you'll see 5 of our 8 filmmakers during their script clinics.
(clockwise from top: Steve & Alexis of Mayfly Media in Wagga with ABC Open Producer, Luke Wong, Susie Forster of Ocean Shores taking a selfie with ABC Open Producer Catherine Marciniak during their Skype script clinic, Bec Hogan of Newcastle leaving the ABC Newcastle offices with her latest script, Ainsley Jenkins of Next In Line Films in Wagga with Luke Wong and finally, Karenza Ebejer of Lismore with Catherine Marciniak following their script clinic session)
Please watch this space as we announce all our featured artists over the next few weeks.
---
 INTRODUCING THE CREATEABILITY 2017 FILMMAKERS
PROJECT UPDATE: 15th May 2017
We are very excited in the Screenworks office today as we announce the 8 regional filmmakers and projects that have been selected to be part of Createability 2017. Scroll down to find out more about this years recipients of Createability funding, each filmmaker will recieve $5000 to make their short films.
The full media release can be accessed via this link.
Debrah Novak, Yamba
Debrah Novak is an emerging Short Film Maker from Yamba, Northern NSW. Her pathway into the screen industry has come through ABC Open and she now has a couple of broadcast credits. Last year she was selected for the 2016 Creatability Project with her story 'Grandmother Dreaming'. She was also the guest host for the 2016 ABC TV 'Back Roads', Clarence River Episode'. Debrah's short film 'Dingo Love' was selected for the 2015 Byron Bay International Film Festival and the 2015 Bangalow Short Film Festival, Flickerfest. Debrah's work was also selected for an ABC TV rebranding exercise and Grafton's Bent Street Film Festival.In 2014 Debrah was joint winner of APN Videographer of the Year. // debrahnovak.com.au
Helen Newman, Albury
Helen is an award winning Australian filmmaker whose work over the last 15 years has taken her around the globe gathering stories from the inspiring to the heartbreaking. Underpinned by the aims of giving voice, exploring the unknown and capturing the magical Helen's projects have led her to work in a broad range of situations; war zones, refugee camps, remote indigenous communities, amid protests, as part of live theatre productions, with community groups and individuals. // nomadfilms.com.au
Susie Forster, Ocean Shores
Originally trained as a fine artist, Susie has combined her creativity with the digital world through film and multimedia. She has been producing, directing and editing short and long form documentaries, music and community videos, corporate promos and promotional clips for over a decade. Her love of story-telling has led her into the world of the short documentary, and her passions include community, living healthy and sustainable lifestyles and sharing knowledge with young people. Susie runs Northern Rivers production company, Byron Bay Multimedia. // byronbaymultimedia.com.au
Bec Hogan, Blackalls Park
Bec Hogan is a videographer, photographer and sunglasses enthusiast. After studying film and television production in both in Brisbane and Tokyo, she has worked for several production companies including the ABC and has started her own business. After years working in the corporate video sector she wishes to engage her creative side once more and realise her dream of becoming a film director. // Bec Hogan portfolio
Ainsley Jenkins, Wagga Wagga
Ainsley Jenkins is a Producer and founding Director of Next In Line Films. Based in Wagga Wagga NSW, Ainsley works in both commercial and creative spaces producing videos for clients and producing short films. Studying Television Production at Charles Sturt University in Wagga Wagga, Ainsley developed her love of storytelling. She first cut her teeth in the industry as a broadcast programmer where she worked for Southern Cross Austereo and later Network Seven.   Ainsley's love of production won out when she decided to return home to Wagga Wagga in 2014 and establish Next In Line Films with her production partner and brother Damian Jenkins. She wrote her first short film Dirt in 2013 which was a finalist at Breath of Fresh Air Film Festival in 2015 and Fleurieu Film Festival in 2016 and played as part of the short film corner at Cannes Film Festival in 2015. In 2015 Ainsley wrote and directed her first short film Page 33. // nextinlinefilms.com.au
Karenza Ebejer, Lismore
Karenza Ebejer is an independent filmmaker based in the Northern Rivers of NSW. Her focus is on community and educational documentary and short films. She has an interest in individual stories of people on the fringe and likes to explore a diverse range of human experiences in film. Her education has included a BA at Melbourne University and a Postgraduate Diploma in Film and Television at Queensland University of Technology. Since 2015, Karenza has produced a long form independent music documentary "Ajde Da Igrame" (Let's Dance) and the short film "Tilly's Symphony' for Createability 2016. // vimeo.com/karenzaebejer
Steve Moore & Alexis Neylan, Wagga Wagga
Steve and Alexis run Mayfly Media, a boutique video production company based in the Riverina, NSW. They work across corporate, education, small business and government communications. While they work with clients right across Australia and overseas, their hearts are in the regions and they love nothing more than telling the real stories of the real people, places and projects of regional Australia. Steve Moore is a director and videographer with a background in both Biological Sciences and Natural History Filmmaking. Steve is obsessed about the natural world and lives to document it on film. Alexis is committed to getting to the heart of the brief from every organisation she works with and enjoys the learning that comes from producing engaging and authentic videos for great local businesses and not-for-profits. An award-winning producer (The Enemy Within, 2015), Alexis gets a real kick out of telling the real stories of real people and showcasing all that regional living has to offer. // mayflymedia.com.au
Darius Devas, Byron Bay
Darius has established himself as one of the leaders of multi-platform filmmaking in Australia through his production company Being Here Films. This was solidified with international success of his interactive multi-platform documentary series Goa Hippy Tribe for SBS, funded by Screen Australia and Screen NSW. The project won him the prestigious 2012 SXSW Interactive Award for Film & TV as well as winning many other awards and selections at festivals worldwide. In 2016 Darius directed The Word: Rise of the Slam Poets, for ABC iView and in 2014 Darius received Screen Australia development funding for his Multi-platform documentary The Afghan Connection. His short film Meeting Susan had its world premiere at the 2014 Sydney Film Festival. His experimental short Within (narrated by Guy Pearce) screened at the National Gallery of Victoria as part of Melbourne Now as well as TedXSydney 2014. // Being Here Films
Please watch this space, we will be introducing our regional artists over the coming weeks.
---
 CREATEABILITY FILM FESTIVAL SUCCESSES
Congratulations to the Screenworks members whose Createability films have been selected for  the following festivals;
Both Kellie Jennar's film, In My Own World and Susie Forster's film, The Fine Art of Being Zion have been accepted into the Bent Bridge Film Festival

---
2017 CREATEABILITY APPLICATIONS ARE NOW CLOSED
Applications for CREATEABILITY 2017 closed at midnight on April 23rd 2017.

Thanks to all who showed interest in this years project, keep checking back  to see how the initative progresses. Let the deliberations begin!
---
CREATEABILITY GOES LIVE ON FACEBOOK
This year Createability harnessed the power of the internet to broadcast the ABC Open Pre-ProductionMasterclass via Facebook LIVE.
It was mandatory for all filmmakers applying for Createability 2017  to watch the masterclass via the ABC Open Facebook page and this could be done live or post the event.  ABC Open and Createability Series Producer Anthony Scully was joined on screen by Hunter-based filmmaker Nicky Elliott, who made 'Pearl Red Moon' for Createability 2016.
Between them they talked through case studies and  provided invaluable tips on how to submit an engaging and viable storyplan to Createability 2017. We at Createability HQ were able to respond to viewers questions during the Facebook LIVE  broadcast in the comments section in real time. The future is here!
---
Registrations for CREATEABILITY 2017 will close at midnight on
Sunday 23rd April 2017
WATCH THE CREATEABILITY ABC MASTERCLASS VIDEO HERE
DOWNLOAD LINKS:
Createability 2017 Storyplan template
Createability 2017 Budget template
---
Program Overview:
CREATEABILITY 2017 is a Screenworks initiative supported Screen NSW and the ABC that provides funded opportunities for professional filmmakers living in Regional NSW to profile artists with disability living and creating in their communities.
Screenworks has funding available for 8 filmmakers to produce 8 films in total. Each film will between 3 and 7 minutes and will profile an artist with disability who resides and creates in Regional NSW.
Filmmakers with disability:
Filmmakers with disability are strongly encouraged to apply for this program. All filmmakers selected for this program will be strongly encouraged to connect with and to include emerging filmmakers with disability from regional NSW as part of their team. Opportunities may also include mentorship, skills development, industry networking and/or creative collaborations, with a view to help enable collaborations and project teams for future projects.
If you are a filmmaker with a disability living in regional NSW and want to be involved in the project, we want to hear from you. Send us an email to [email protected]
---
Eligibility for Filmmakers:
CREATEABILITY 2017 is not an entry-level initiative for filmmakers.  All applications must first meet the following eligibility criteria in order to complete the application process.
The applicant must, at a minimum, have one broadcast short-form credit (i.e. music videos, television commercials, online content or corporate films commissioned and paid for by a third party)
Applications are only open to Australian citizens or residents living and working in Regional NSW. This is defined as all of NSW excluding Sydney Metropolitan, the Blue Mountains and the Central Coast.
The applicant must be available and able to produce the short documentary to these key deadlines:


| | |
| --- | --- |
| Script deadline: | Monday 12th June 2017 |
| Shoot window: | 10th July – 30th July 2017 |
| Rough cut deadline: | Monday 14th August 2017 |
| Fine cut deadline: | Monday 11th September 2017 |
| Final Delivery of Materials deadline: | Monday 2nd October 2017 |

All applicants must watch the Createability Facebook Live Video stream ABC Pre-Production Masterclass and/or watch it post the event. This will assist them to complete their application. They will gain professional advice to assist them in producing a competitive storyline and outline budget to the standard required by the independent panel. The ABC Pre-Production Masterclass was streamed live via the ABC Open Facebook page on Tuesday 28th March 2017, 8pm – 9pm EDST. This video is now available to view here. If you have a questions when watching after the event, please email them to [email protected]
Each filmmaker must complete the online Createability 2017 application form. Applications close on Sunday 23rd April 2017. All mandatory questions must be answered and all support material uploaded. Mandatory supporting documentation includes:


These materials will be assessed by an independent panel and a final decision made on the successful applicants during week commencing 8th May 2017.

---

Funding available:

Each successful filmmaker will be allocated a budget of $5,000 excluding GST to produce a short film up to a maximum length of 7 minutes.  As part of the application process, each filmmaker will need to clearly demonstrate how the $5,000 budget will be spent.

When considering the budget, each filmmaker must include information about the accessibility components that will be included in their short film.

---

Terms of Funding:

Project funding is provided as a grant. If you are successful, Screenworks will enter into a written agreement with you, specifying the terms of the funding and what you will need to deliver in order to receive payments. All projects selected for production will be subject to editorial guidelines and must comply with editorial feedback provided by Screenworks and/or the ABC.

The successful filmmaker teams will be required to grant Screenworks, the Australian Broadcasting Corporation (ABC) and the NSW State Government agencies (such as Screen NSW) a non-exclusive, worldwide, royalty free licence to use the short film for its own corporate or promotional purposes including but not limited to use on websites, newsletters and/or annual reports for perpetuity.

Screenworks reserve the right to approve production budgets prior to contracting.

---

Successful applications:

If you are one of the 8 selected filmmakers you will be required to work with an appointed ABC Producer to engage with your subject artist, to develop your storyline and produce a shooting script for approval before commencing pre-production and principal photography. This will be through face-to-face script clinic meetings, telephone conversations and email correspondence. Each key deliverable stage e.g.: script, edit, fine cut will require the approval of all stakeholders before progressing to the next stage.

---

Assessment criteria:

The Screenworks and ABC team will assess eligible applications against the following assessment criteria:

Quality of the application material.
Quality of the story & treatment of subject matter.
Track record and previous experience of filmmaker.
Ability of the filmmaker to deliver the film on-time, budget and to a high standard.
Filmmakers interest in the project and how filmmakers with disability can be included in the project.
Screenworks may also take into consideration whether the applicants have a number of concurrent outstanding projects in development or production that may impact on the quality.


---

Project promotion:

Screenworks and the ABC intend to promote this project through multiple channels including promotion to local regional media via press release information and on social media channels. There will also be project page updates on the  Screenworks and ABC websites to detail the project. Each filmmaker selected will be expected to support and co-operate with Screenworks and the ABC to ensure that it is able to achieve the project promotion objectives set out above.

Where a filmmaker chooses to submit their film in to Australian or international film festival, any entry fees will be the responsibility of the filmmaker.

---

Submitting your application:

All Createability 2017 applications for funding must be submitted by midnight (AEST), Sunday 23rd April 2017. An application receipt will be emailed to all applicants within 3 business days of submitting your application.  If you do not receive a receipt email, you should contact Screenworks on (02) 6687 1599 to confirm that your application has been received.

Applications must be submitted using the online application form.  Applications submitted by other methods will not be accepted. If you experience any difficulty with the online application, please contact Screenworks Project Coordinator, Louise Hodgson on (02) 6687 1599.

---

Screenworks Diversity Commitment:

Screenworks are strongly committed to increasing diversity across all sectors of the screen industry. We encourage all talented filmmakers to apply to our programs regardless of their gender, race, religion, sexual orientation or disability status.

We also ask that applicants consider inclusiveness, accessibility and diversity when forming their filmmaking teams for any Screenworks initiative.

---

CREATEABILITY 2017 is supported Screen NSW and is being delivered in partnership the ABC.
---
Please support Screenworks by using the links below.
Published on March 10, 2017 5:18 am