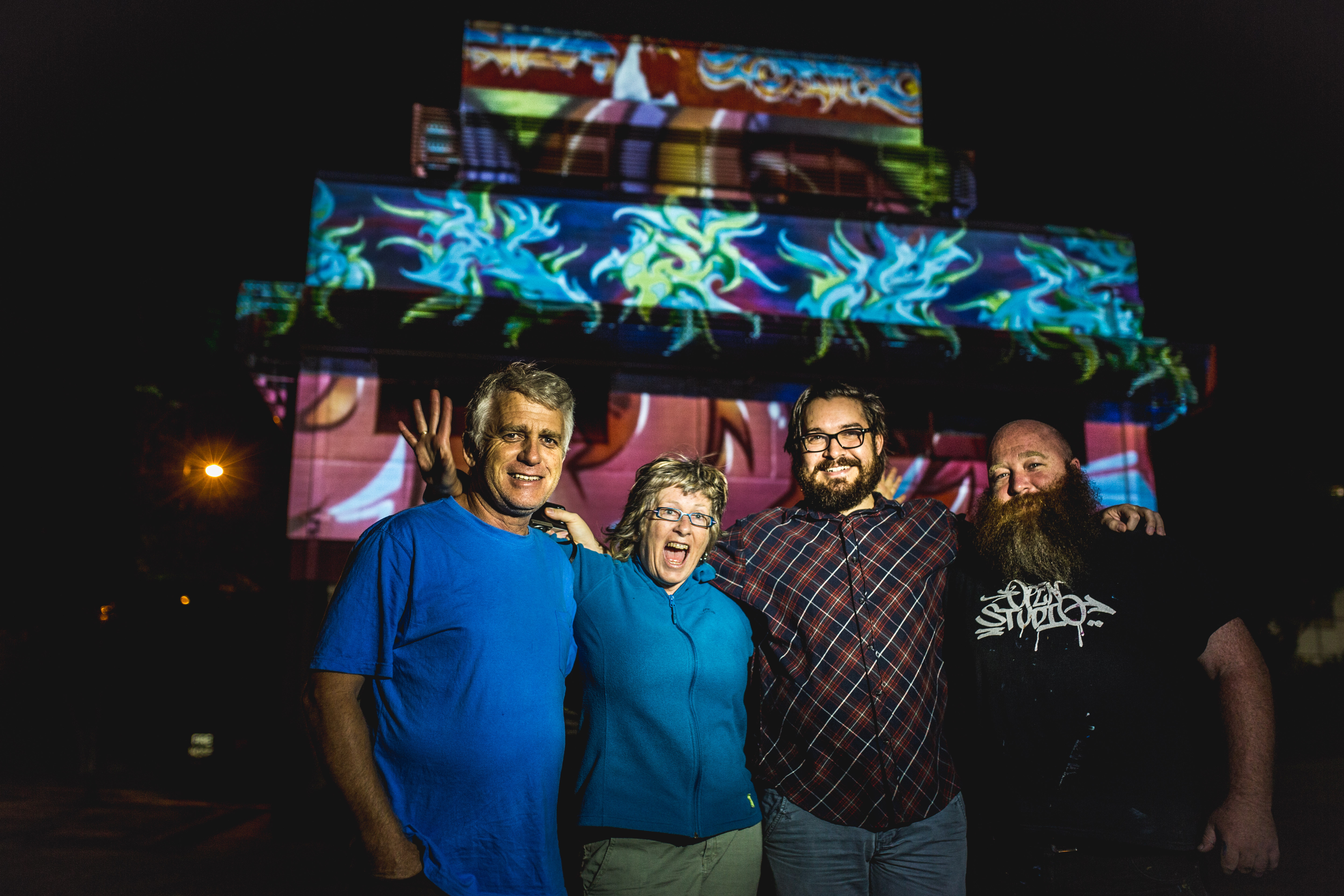 Light waves on Coffs Coast
Screenwave is bringing projection art to the Coffs Coast with SWIFF Light Box – taking the magic of moving image beyond the four walls of a cinema
This year's Screenwave International Film Festival brings to the Coffs community a centrepiece that is a first of its kind for regional NSW.
SWIFF Light Box is a public projection art installation which will be lighting up the summer nights at multiple local sites.
Designed to be experienced as a progressive narrative, with the public encouraged to walk from site to site to experience the cinematic moving image artworks, it will see buildings and walls drenched in light, symbols and animations.
The project brings together four local artists: street artist Ash Johnston, sand painter John Thiering, and contemporary Gumbaynggirr artists Brentyn Lugnan and Alison Williams. They are collaborating with Illuminart – the projection art wizards who have carved a path nationally in the medium, having performed at headline festivals such as Vivid Sydney, and also on regional installations across Australia.
Illuminart's role is to composite and animate the work in an interplay of light and technology, using a variety of multimedia tools.
Cindi Drennan, Illuminart's founder and SWIFF Light Box creative director, says that the concept of SWIFF Light Box is all about taking a cinematic experience outside of the four walls of the theatre, and giving audiences the chance to enjoy moving images within a new context.
"It's been so interesting bringing these four artists together," she says. "Ash's work is very immediate – graff is very much about provocation and leaving a mark, it has an ephemeral quality, versus Alison's and Brentyn's work, which is very long-term; very connected to deep time and long values that are passed from generation to generation.
"So we're exploring this really interesting context around time – awareness of time and multigenerational time that are coming through the juxtaposition of these artists' work."
Cindi hopes that the project will give the Coffs Coast community the opportunity to participate in a unique style of storytelling.
"It's a bit like going to see a film, except that no longer are you sitting in a cinema watching the film unfold. It's a progressive journey where the sites themselves are part of the experience of the story.
The four sites are: the Jetty Memorial Theatre, the Forestry Corporation building, Element Bar and, a little walk away, South Coffs Island quarry site.
The big spectacle will be projected up on the cliff face at South Coffs Island's quarry site. Large scale projected artworks will be seen from across the harbour, painting Coffs' trademark oceanside vista in projected animation and lightscapes.
SWIFF Light Box is on 19 to 25 January, projections from 8.30pm till late. Free and suitable for all ages. For more information see swiff.com.au.
Picture: (left to right) John Thiering, Di James, Dave Horsley and Ash Johnston at the Forestry Corporation site
Published on December 13, 2017 4:28 am