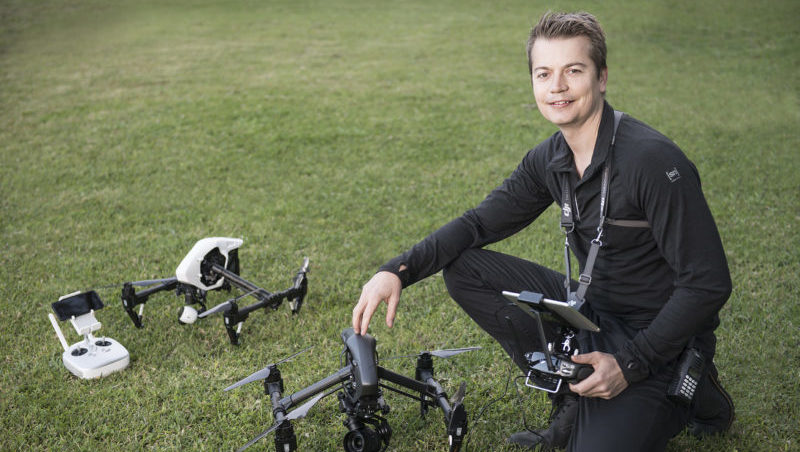 EXPOSED: Clayton Lloyd
As we prepare for our upcoming Demystifying Drones event on 16 September, we caught up with Screenworks member Clayton Lloyd.
Clayton is a highly trained specialist with 25 years experience in the design, print, photography and video industries. We sat down with Clayton to find out a bit more about his work, business and experience of working in our region.
Tell us a bit about what you do in the Screen Industry and how you got involved. 
At present I produce business promo videos as well as documentary style interviews, I regularly live stream multi-camera events and each week I am involved in filming and producing educational video content for a national RTO in the area. I have also over the last few years been producing aerial videography – which I really enjoy.
Originally Sydney-based I now have over 26 years experience within the design, colour management, photography and video industries working in a number of fields.
In 1999 I left Sydney for a fresh opportunity accepting a placement in a graphics/retouching business in Byron Bay. In 2002 I started my own business Flawless Imaging that now has clients nationally and internationally. I have made video productions a key focus over the last 12 years and continue to invest in this area.
In 2015 I acquired a CASA certified UAV drone license that has opened up more opportunities within the filming industry. Coming from a photography background I am continually developing new ways to use drone videography as a main tool in my video workflow. I also provide a specialized fully licensed and insured service that can be contracted out for projects like feature films and documentary style productions or programs.
What's the project you have most enjoyed working on, and why?
Most recently I have been working on the feature film Scarlett that has been filming in the area. I was contracted to produce all the aerial visuals for the movie using my drones. This has been an amazing experience and was my first time working on a feature film. I very much enjoyed working alongside the director and the DOP and it has given me the confidence to offer my drone services to larger style productions.
Another standout was working alongside Definition Films and seeing their postproduction setup at Fox Studios as well as seeing the workflow and how the footage gets processed.
How long have you been living and working in the Northern Rivers?
I moved to the Northern Rivers in 1999 and started work straight away in Byron Bay industrial estate at a local graphics business. I established my own business Flawless Imaging in 2002.
What is important to you in running a successful and creative regional business/working regionally?
For me a lot of my work comes from word of mouth so an important first step is to have a clear communication with any new enquirers and potential jobs, this first contact and communication sets a foundation of how I work and shows the commitment and attention to detail that will come from working with me.
Another key aspect is to not just think local but to also think global. Why can't a regional creative business be based here but also offer work around Australia and abroad? I'm often in Sydney and Brisbane working and also travel to the UK once a year for work so this is an expanding and developing area and I'm looking forward to offering my services on a much broader scale.
Tell us a bit about what you have been working on most recently?
As mentioned above the feature movie Scarlett has been my most recent larger scale production but I'm also working on three business videos in the Brisbane area. These projects will involve drone videography as well as traditional ground gimbal work and interviews. I'm also currently in discussion with an Australian television network about some work on some of their programs.
Is there anything else that you would like to share with us about you and your work? 
One key or unique feature of my work is that I am not just a 'camera operator' or a 'drone operator' for hire – I have been looking through the lens for over 20 years. I bring a love of colour, light and composition to everything I shoot. This experience is very valuable especially when on set as I can offer support with how the shot can be taken, taking into account the subject and the brief. Productions that hire me also receive all my other skills, meaning a day rate for drone hire can also include my still photography and video ground gimbal work if it is required. This has been a great support to my clients, especially when there is a tight budget but all theses services are needed.
I look forward working with Screenworks and getting to know the other talented screen works members into the future and I also very much look forward to the drone workshop coming up in September.
Published on August 16, 2016 11:55 pm