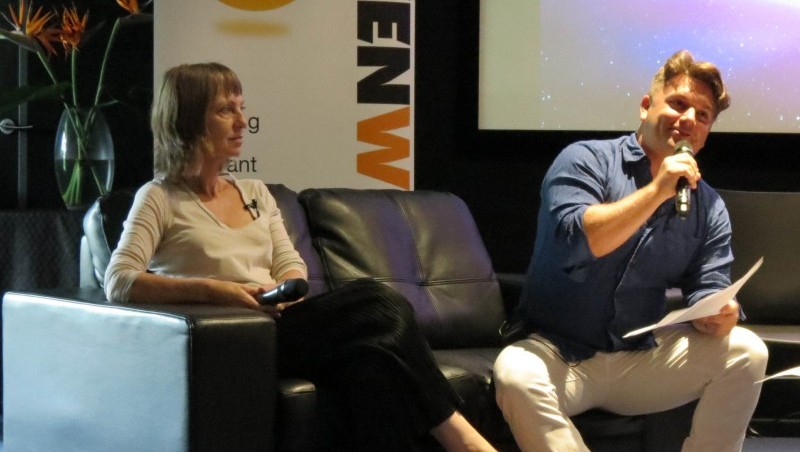 Event wrap-up: The Business of Producing
On Friday 11th March and Saturday 12th March over 100 attendees headed to SAE Institute Byron Bay to attend the Screenworks The Business of Producing seminar.
The 2-day seminar provided numerous sessions on best practice for documentary and drama production and connected attendees with some of Australia's most accomplished producers and executives as they shared key screen industry advice through case studies, presentations, and roundtable discussions.
Event attendees have provided the following feedback about the event:
"Great variety of panellists and enjoyed their honesty and anecdotes the most (you can get facts and skills anywhere! It's stories of their personal experiences both good and bad that are invaluable)."
"The event was very well laid out which made it easy to get around and see all the speakers at some stage of the two days. Speakers were all very open to chatting and of course the drinks and nibbles is always a nice way to relax and catch up."
"I learned SO MUCH. It was great to be able to speak with Helen Pankhurst and 'leverage' her admiration of previous work in order to pitch the new work. There is nothing better than doing that face to face in a relaxed environment."

The seminar program that was run over the 2-days included the following sessions:
Day 1 Session 1 – Successful Producing (Helen Panckhurst & Trish Lake)
Day 1 Session 2 – Building the Finance
Day 1 Session 3a – Budgeting for Doco w/ Helen Panckhurst
Day 1 Session 3b – Budgeting for Drama w/ Lois Randall
Day 1 Session 3b – Funding from Screen NSW w/ Mark Hamlyn
Day 1 Session 4a – Production Financing w/ Sharon Menzies
Day 1 Session 4b – Production Accounting w/ Jane Corden & Rose Keeping
Day 1 Session 4c – Risk management and insurance w/ David McEwan
Day 1 Session 4d – Completion Guarantor w/ Dan Reid
Day 1 Session 5 – FRIDAY MIXER EVENT
Day 2 Session 1 – Key Note Address: Matt Deaner, CEO Screen Producers Australia
Day 2 Session 2 – Best Practice for the Producing Process
Day 2 Session 3 – Living Regionally, Working Internationally
Day 2 Session 4a – ROUND TABLE 1: Producing drama w/ Helen Panckhurst
Day 2 Session 4b – ROUND TABLE 2: Producing documentaries w/ Trish Lake
Day 2 Session 4c – ROUND TABLE 3: Accessing State Funding w/ Mark Hamlyn
Day 2 Session 4d – WORKSHOP: Budgeting for QAPE Options w/ Jane Corden & Rose Kepping
Day 2 Session 5 – Meeting a Need (Panel Discussion)
Most of the sessions at the seminar have been filmed by Screenworks and will be edited in to short webisodes that will be uploaded to Screenworks on Demand in the coming months.
We recommend that you subscribe to Screenworks on Demand to be notified when each webisode is uploaded.
Thank you to everyone who attended The Business of Producing seminar – we hope that you enjoyed it and we look forward to seeing you at our next event.
Published on March 16, 2016 3:50 am