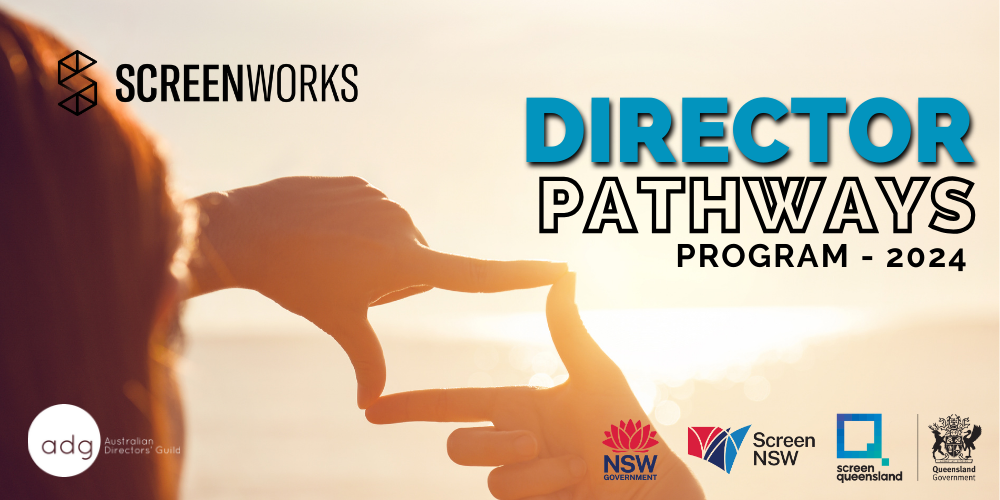 Advancing the career paths of regionally-based NSW and QLD screen directors
Screenworks' Director Pathways Program is an annual professional development program that provides bespoke career development opportunities to two early-career directors living in regional NSW and two from regional QLD.
APPLICATIONS ARE NOW CLOSED
It is designed to increase the participating directors' skills and industry experience by supporting them to create tailor-made career plans and by providing relevant screen industry introductions that will ultimately help them advance their careers. Screenworks, with the support of Screen NSW and Screen Queensland, will invest $3,500 in implementing each of the selected participants' career plans.
The Director Pathways Program is delivered in partnership with the Australian Directors' Guild (ADG) and with the support of Screen NSW and Screen Queensland.
Two directors from regional NSW and two from regional QLD will be selected to undertake the following program:
$3,500 to go toward their professional/career development

Meeting with the Australian Director's Guild – a one on one meeting to refine your Career Plan and explore professional development opportunities and industry introductions. You will receive advice on how to achieve your personal goals and elevate your career potential as a screen director

Registration to Screenworks Regional to Global Screen Forum in May 2024 and a travel/accommodation bursary to support attendance.
As part of the application process, applicants are required to submit a detailed Career Plan setting out proposed activities for 2024 to the value of $3,500 (excluding GST). Your Career Plan can include training or professional development courses (eg screen directing courses), conference/event/market attendance (national or international) and Australian Directors' Guild membership or other relevant industry subscriptions.
Through this program, we expect that participants will enhance their skills and career potential and increase the capacity of the screen industry in regional Australia.
The 2024 Director Pathways Program is open to directors of all genres, including (but not limited to) TV drama, documentary and children's television.
This program would best suit early-career directors who are genuinely committed to building their skills as a professional director and need support and opportunities to further their careers.
Applicants must be a resident in regional NSW or regional QLD.
The following selection criteria will be considered when assessing applicants for participation in the 2024 Director Pathways Program:
The potential effectiveness of the proposed Career Plan to help the applicant build relevant industry skills and overcome identified career barriers to living and working regionally with defined outcomes that help achieve future creative and career goals.

The skills, achievements, experience and track record of the applicant and the quality of their previous work.

The potential of the applicant to contribute to and enhance the growth of screen production in regional NSW or regional QLD.
What do I need to submit?
CV/resume

12-Month Career Plan – download and fill in this template

(link to downloadable Career Plan Template)

, then upload it as instructed in your application form

A sample of your work – optional but recommended. Please provide a link to an online video of your work

Proof of regional residency (eg driver's licence, proof of age card)
For more details on the criteria and application process please see the Program Guidelines and Terms & Conditions below.
Definitions, guidelines, terms & conditions: