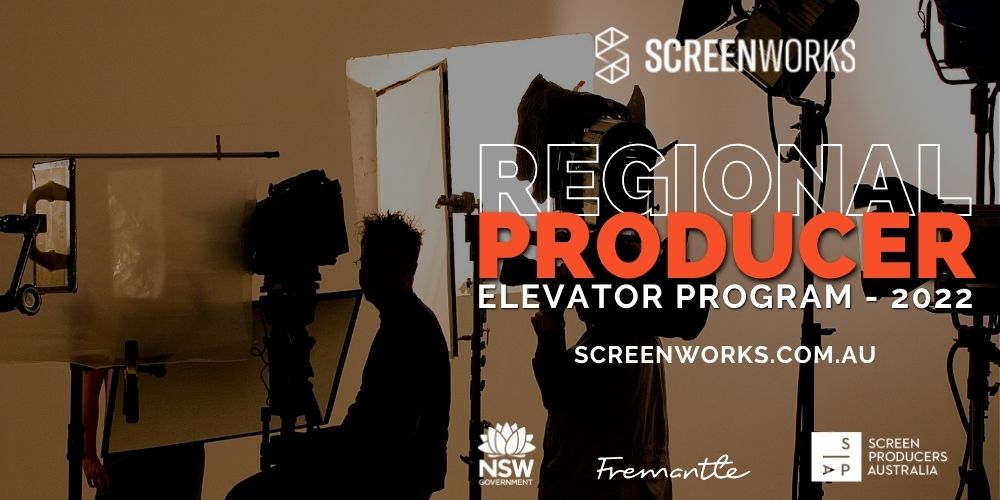 Advancing the career paths of NSW regionally-based screen producers
What's the opportunity?
Screenworks' Regional Producer Elevator Program annually supports talented early-career producers living in regional NSW, giving them the opportunity to pursue their screen industry ambitions and implement a professional development program that will help elevate their careers.
The 2022 program is designed to increase the skills and industry experience of two NSW regionally based producers.  Each will be allocated $3,500 to support their bespoke career development plans and given an opportunity to attend meetings with key industry stakeholders in metropolitan centres. They will also be supported to attend the SPA Screen Forever Conference on the Gold Coast 28-30 March 2022 and the Screenworks Regional To Global Conference in May 2022, as well as receive career and project advice from a professional experienced producer.
Tell me more!
The 2022 Regional Producer Elevator Program will be delivered by Screenworks with support from Screen NSW, Screen Producers Australia (SPA) and Fremantle.
It will provide two selected regional NSW producers with:
$3,500 to go toward their professional/career development
project, skills and career advice from a professional experienced producer
attendance at relevant conferences or events being delivered by Screen Producers Australia, including Screen Forever (28-30 March 2022)
attendance at the 2022 Screenworks Regional To Global conference in May
Screenworks are delighted to be partnering with Screen Producers Australia (SPA) for this program. As well as supplying discounted tickets to relevant SPA events or activities, including the opportunity for the two selected producers to attend the 2022 Screen Forever conference, SPA will be supporting this program by providing assessors for the applications.
Executives from Fremantle will be supporting this program by offering project, skills and career advice during 2022 to the selected applicants.
To be considered for this invaluable opportunity, applicants will need to submit a 12-month Career Plan [link to downloadable Career Plan template] that sets out what they will put in place to increase their skills and further their career through the Screenworks Regional Producer Elevator Program.
Through this program, participants will enhance their producing skills and career potential in order to contribute to the growth of the screen industry in regional Australia.
Who can apply?
Screenworks' 2022 Regional Producer Elevator Program is open to producers of all genres, including (but not limited to) TV drama producers, documentary producers and children's television producers. 
This program would best suit early-career producers who have had initial success in the industry and are genuinely committed to building their skills as a professional producer and furthering their careers. 
Applicants must be a resident in regional NSW.
What do I need to submit?
CV/resume

12-Month Career Plan – download and fill in this template

(link to downloadable Career Plan Template)

, then upload it as instructed in your application form

Proof of regional residency (eg driver's licence, proof of age card)
For more details on the criteria and application process please see the Program Guidelines and Terms & Conditions below.
Definitions, guidelines, terms & conditions:
Screenworks is thankful for the support of our Regional Producer Elevator Program partners.