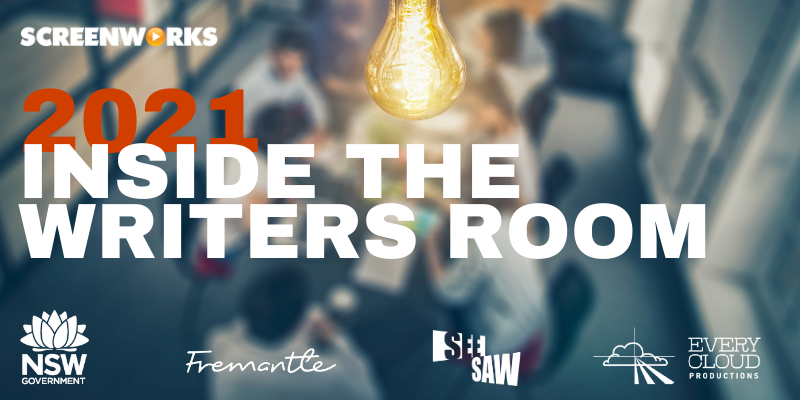 Advancing the career paths of NSW regionally-based screenwriters.
Inside the Writers Room is a professional development program designed to give three regional NSW screenwriters the opportunity to sit in and watch professional writers working on the story for a television script in a writer's room environment.
Thanks to the support of our partners – Screen NSW, Fremantle, Every Cloud Productions and See-Saw  Screenworks is able to offer the selected participants an opportunity to observe writers' rooms in these highly respected production companies.
These opportunities are most relevant to emerging or early-career writers of television content, and more specifically TV drama or comedy series. There may also be an opportunity for the participants to receive advice or a market appraisal on their own projects or scripts.
By delivering the program for a sixth year, Screenworks wants to build the skills of emerging and early-career screenwriters, provide an opportunity for people living and/or working in regional NSW and improve our regional screen industry's capacity and sustainability.
Program Structure and Guidelines
Three early-career regional NSW screenwriters will be offered the following opportunities:
1. OPPORTUNITY TO OBSERVE A WRITERS ROOM IN ACTION
Up to 1 week trip to Sydney or Melbourne to observe a professional writer's room take place at one of three production companies. This component includes flights, accommodation (up to 5 nights), per diems and ground transfers included.
2. PRESENTATION TO LOCAL SCREENWRITERS GROUP
Successful participants will be required to provide a written report and a presentation on the experience and outcomes from their involvement in the program (at the completion of the program).  This can be delivered in person or via zoom.
Eligibility Criteria
To apply for Screenworks Inside the Writers Room you must meet ALL of the following criteria:
Must be able to demonstrate a high-level writing ability by providing an example of writing for TV, especially drama or comedy and demonstrate a commitment to pursuing a long-term career as a screenwriter;

Demonstrate that you have been living in Regional NSW* for a minimum period of 6 months prior to submitting your application (* refer to definitions below);

Be an Australian citizen or permanent resident;

Must be a Screenworks member

Complete all sections of the online application form and submit the application prior to 9am AEDST, Monday 2nd November 2020
Support Materials and Documentation Required
Below is a list of support material and documentation required to complete the application.
Details on your current project (including title, short synopsis, potential format etc)

A sample of your work – a treatment or script extract (up to 5 pages maximum)

A letter of support from a screen industry professional who has known you for more than 12 months and/or is familiar with your work.
Selection Criteria
The following selection criteria will be considered when assessing applicants for participation in Screenworks Inside the Writers Room program (all criteria areas are equally weighted):
The potential for the writers room opportunity to help the applicant build relevant industry skills and potential to establish a career as a screenwriter living and working regionally.
The skills, achievements, experience and track record of the applicant(s) and the quality of their previous work.
The potential of the applicant to contribute to and enhance the growth of screen production in regional NSW demonstrated by the quality of sample works and support documentation provided with the application.
Applications from Aboriginal and Torres Strait Islander people, people with disability, culturally and linguistically diverse people and people living in remote areas of Australia are strongly encouraged.
Screenworks is strongly committed to ensuring equal access to this project – if you require assistance with your application, please contact Screenworks on:
Telephone: (02) 6681 1188
Assessment Process
All applications will receive an initial eligibility, quality and relevance assessment by Screenworks staff. Shortlisted applications will be sent to an independent assessment panel that will include Create NSW and an experienced scriptwriter.
The assessment panel will consider how well the eligible applicants meet the selection criteria (listed above).
Applicants will be notified by late November 2020 in writing of the outcome of their application.
Application Deadline
Applications must be submitted using the online application form available via Screenworks website. No late entries will be accepted, no extensions will be granted. Incomplete applications will be deemed ineligible.
Screenworks will advise all applicants in writing of application success or otherwise. No specific feedback will be given on individual applications.
APPLICATIONS CLOSE 9AM AEDST, MONDAY 2ND NOV 2020
Definitions / Glossary of terms:
"Initial Success" – To demonstrate Initial Success, applicants are asked to identify one of the following:
a producer/production credit for a dramatic or factual film or screen work that has achieved broadcast, theatrical release or been commissioned or acquired by a major online content provider; or
a producer/production credit for a dramatic or factual film or screen work that has been included in a curated festival, with preference given to the festivals profiled on the Screen Australia website (http://www.screenaustralia.gov.au/connect-with-audiences/festival-profiles) or on the 88th (2016) Academy Awards Short Films Qualifying Festivals List (https://www.oscars.org/sites/oscars/files/88aa_shorts_festival_list.pdf).
a producer/production credit for a dramatic or factual film or screen work that has attracted an online audience of 5,000 or more views.
A producer may also be considered eligible if they have had recent success in projects currently in development that may meet one of the above criteria.
Regional NSW – Regional NSW includes the Central Coast, Hunter and Illawarra and is defined as the areas or regions outside of Sydney and Western Sydney as defined on Screenworks website
Screenworks is thankful for the support of our Regional Producer Elevator Program partners.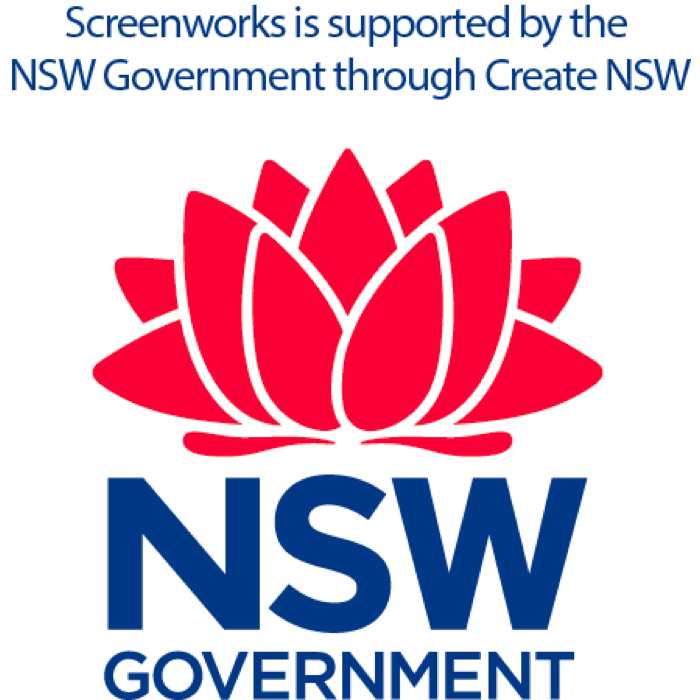 Screen NSW
Screen NSW is the statutory authority established to assist, promote and strengthen the screen industry in NSW so as to promote Australia's cultural identity, encourage employment in all aspects of screen production, encourage investment in the industry, enhance the industry's export potential, encourage innovation and enhance quality in the industry.

FremantleMedia Australia
Fremantle is one of the largest and most successful creators, producers and distributors of scripted and unscripted content in the world. A global entertainment powerhouse, Fremantle has an outstanding international network of production teams, companies and labels in over 30 countries. We produce in excess of 12,000 hours of original programming, roll out more than 70 formats and air 400 programmes a year worldwide. The group distributes over 20,000 hours of content in more than 200 territories. We are also a world leader in digital and branded entertainment, with more than 370 million subscribers across 1,500 social channels and over 100 billion views across all platforms.
In Australia, Fremantle are leaders in original drama such as Wentworth, Picnic at Hanging Rock and Neighbours. It produces the hugely successful Australia's Got Talent, Celebrity Name Game, Great Australian Bake Off, Grand Designs Australia, Escape from the City, The Recording Studio and Restoration Australia. Fremantle is also at the forefront in the creation and production of digital media content, brand integration and brand extensions including the popular Grand Designs Magazine and Australia's number one selling board game, Family Feud.
We are part of RTL Group, a global leader across broadcast, content and digital, itself a division of the international media giant Bertelsmann.
For more information, visit www.fremantle.com, or follow us @FremantleHQ and visit our LinkedIn and Facebook pages

Every Cloud Productions
Every Cloud Productions is an independent, Australian production company producing distinctive, high-quality television drama for domestic and international markets. Masters of crime, mystery and female-led content, Every Cloud Productions know how to deliver finely crafted, high-quality scripted drama for the global market. We bring together key creatives with vivid imaginations to take audiences on adventures across contemporary spaces & historical timelines. Our characters are bold, entertaining, rebellious, charming, generous & vulnerable; igniting fan-bases globally.
Founded in 2009 by leading television industry creatives, Fiona Eagger and Deb Cox, the company balances strong storytelling and high production values with astute producing expertise.
Every Cloud Productions is focused on fostering Australian talent, supporting co-operative alliances with creative producers across various media formats, and engaging with development opportunities within the industry.
Possessing established relationships with international sales agents and distributors, the company continues to focus on making exceptional drama productions for domestic and international audiences.

See-Saw
Academy Award®, BAFTA and Emmy Award winning producers Iain Canning and Emile Sherman founded See-Saw Films in 2008. With offices in London and Sydney, See-Saw specializes in international film and television production. See-Saw's television division is run by Emmy Award winning executive producers Hakan Kousetta and Jamie Laurenson, while Rachel Gardner heads the Australian slate, from development through financing and production to creative delivery.
See-Saw Films produced six-time Academy Award® nominated Lion, starring Dev Patel, Nicole Kidman and Rooney Mara, as well as The King's Speech, which was nominated for twelve and won four Academy Awards® in 2011 including Best Motion Picture. Other recent projects include Widows directed by Steve McQueen and starring Viola Davis. Upcoming projects include Ammonite, written and directed by Francis Lee, starring Kate Winslet and Saoirse Ronan; Operation Mincemeat, directed by John Madden and starring Colin Firth, Matthew Macfadyen and Kelly Macdonald; The Power Of The Dog, written and directed by Jane Campion, starring Benedict Cumberbatch, Kirsten Dunst and Jesse Plemons; and Thomas Wright's sophomore feature The Unknown Man starring Joel Edgerton and Sean Harris.
See-Saw's television division kicked off with the multi-award winning first season of Jane Campion's Top of the Lake. Campion returned with Top of The Lake: China Girl starring Elisabeth Moss, Nicole Kidman and Gwendoline Christie which premiered at the 2017 Cannes Film Festival and was nominated for a Golden Globe.  State of the Union, written by Nick Hornby, directed by Stephen Frears and starring Rosamund Pike and Chris O'Dowd had its world premiere at the Sundance Film Festival 2019 and won three Emmy Awards. Upcoming projects include Samantha Strauss' The End for Foxtel, Sky Atlantic and Showtime, starring Harriet Walter and Frances O'Connor; and The North Water for BBC Two written and directed by Andrew Haigh, starring Colin Farrell, Jack O'Connell and Stephen Graham.