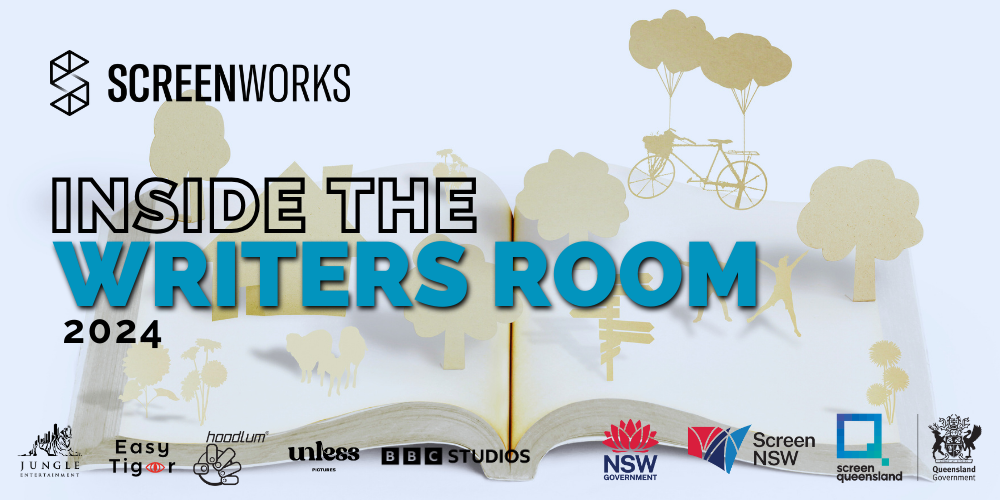 Advancing the career paths of regionally-based NSW and QLD screenwriters
Inside the Writers Room is an annual professional development program designed to give three regional NSW and two regional QLD screenwriters the opportunity to sit in and watch professional writers working on the story for a television script in a writers room environment.
Applications are now CLOSED.
These opportunities are most relevant to emerging or early-career writers of television content, and more specifically TV drama or comedy series.
There may also be an opportunity for the participants to receive advice or a market appraisal on their own projects or scripts.
Thanks to the support of our partners – Screen NSW, Screen Queensland, BBC Studios, Easy Tiger Productions, Hoodlum Entertainment, Jungle Entertainment and Unless Pictures – Screenworks is able to offer the selected participants an opportunity to observe writers rooms in these highly respected production companies.
Three early-career regional NSW screenwriters and two early-career regional QLD screenwriters will be offered the opportunity to observe a writers room in action. They will be supported to travel to to the location where the writers room is taking place, at one of our five partner production companies for up to one week. This component includes flights, accommodation (up to 5 nights) and per diems.
Successful participants will be required to provide a written report and a presentation on the experience and outcomes from their involvement in the program (at the completion of the program).
By delivering this opportunity for a seventh year, Screenworks is building the skills and knowledge of emerging and early career screenwriters and building the capacity and sustainability of the regional screen industry.
James Mayson 2022 Inside the Writers Room Participant feedback:
"The experience was invaluable, and the ongoing network continues to expand – opening up all sorts of avenues to pursue writing in the screen industry as a profession".
Iris Huizinga, 2022 Inside the Writers Room Participant feedback;
"ITWR gave me a clear understanding of the workings of a writers' room. How much work goes into each episode. How much of the story and character arcs are worked on in a writers' room and the amount of work the writer of that episode needs to do at home".
2024 Inside The Writers Room program is open to early-career screenwriters living in regional NSW and regional QLD.
The program is particularly suitable for emerging or early-career writers of television content, and more specifically TV drama or comedy series, though writers with experience in other genres are welcome to apply.
Applicants must meet ALL of the following criteria:
Must be able to demonstrate a high-level writing ability by providing an example of writing for TV, especially drama or comedy and demonstrate a commitment to pursuing a long-term career as a screenwriter;

Be a current Screenworks member

Resident in

regional NSW or regional QLD

for at least six months prior to the date of application
The following selection criteria will be considered when assessing applicants for participation in Screenworks' Inside the Writers Room program:
The potential for the writers room opportunity to help the applicant build relevant industry skills and the potential to establish a career as a screenwriter living and working regionally.

The skills, achievements, experience and track record of the applicant and the quality of their previous work.

The potential of the applicant to contribute to and enhance the growth of screen production in

regional NSW or regional QLD

.
CV/resume

A sample of your work – a treatment or script extract (up to 10 pages maximum)

Proof of regional residency (eg driver's licence, proof of age card)
For more details on the criteria and application process please see the Program Guidelines and Terms & Conditions below.
Definitions, guidelines, terms & conditions: