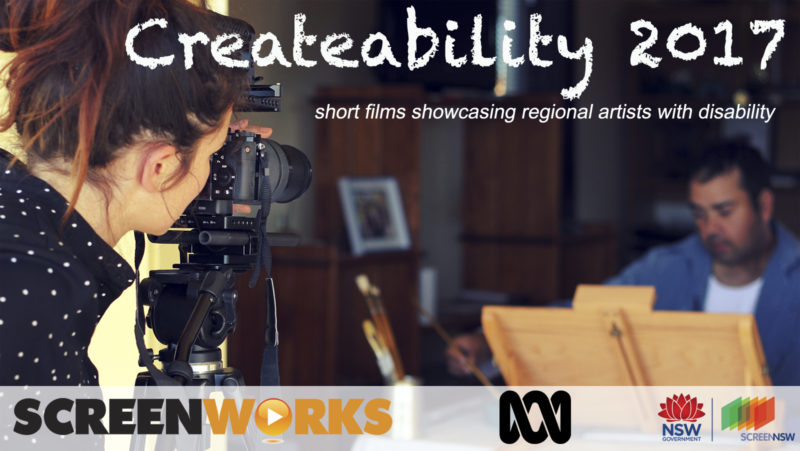 Filmmaker Announcement: More people with disability behind the camera for this year's Createability project
Screenworks has today announced the eight filmmakers from regional NSW that will receive funding as part of Createability 2017 – a project profiling work produced by artists with disability. This year, half of the projects will include a person with disability in a key creative role on the production.
"Our ambition for Createability has always been to showcase the creative talents of both artists and filmmakers with disability living in regional NSW. I'm thrilled that, with the selection of this year's films, we have been able to increase the number of people with disability making the films as well as supporting the artists themselves" said Screenworks General Manager, Ken Crouch.
The eight successful applicants that were selected by a panel of representatives from Create NSW (formerly Screen NSW), ABC Arts, ABC Regional and Screenworks are;
Grace Under Fire by Debrah Novak of Yamba, NSW profiles a local singer/songwriter who will gain co-producing and music credits for the film.
A Spiral Mind by Helen Newman from Albury, NSW will document a jewelry artist from Albury who will also earn a writing credit for the film.
On Parr will see director Susie Forster of Ocean Shores, NSW teaming up with Tim Winton-Brown as co-producer, writer and presenter – he is a creative with a disability – as he reacquaints with his old friend; a dancer, painter and sculptor in Nimbin, NSW.
Freewheeler will combine the work of a graphic artist with the medium of film. Director, Bec Hogan of Blackalls Park, NSW identifies as having a disability.
The Laughing Kookaburra by Ainsley Jenkins of Wagga Wagga features a local artist who is inspired by the birdlife around him.
Dancing To The Max by Karenza Ebejer of Lismore, NSW showcases the passion of a young dancer.
Finding the Artist Within by Stephen Moore & Alexis Neylan of Wagga Wagga, NSW will document the artistic journey of an illustrator.
Darius Devas of Byron Bay, NSW will feature a dynamic young painter, born in Kenya in his film, Speaking With Colours.
Create NSW Manager of Screen Investment, Sofya Gollan said, "Whether it's in front or behind the camera, at Create NSW we are committed to removing barriers and creating new opportunities for screen practitioners and artists living with disability, to embrace and showcase a diversity of quality storytelling and entertainment. The Createability project from Screenworks is a fantastic initiative and has produced some incredible work that we are very proud to be a part of."
"ABC Arts is pleased to be supporting Createability again in 2017 to bring these stories from a such a wide variety of makers and creators to our ABC iview audiences" said Mandy Chang, Head ABC Arts
Fiona Reynolds, Director ABC Regional said she was "excited by this year's Createability applications as they represented yet another way for people in regional Australia to connect with the ABC. The partnership between regional filmmakers and our supervising producers based in regional towns around New South Wales, is a great example of how we can work with regional communities to share their stories with national audiences.
Each of the eight filmmakers will receive a grant of $5,000 to make their short film and will now work closely with a dedicated local ABC Supervising Producer to hone their scripts and ideas before filming starts in July. The final films will be broadcast on ABC iview on December 3rd 2017 to mark the International Day of Disability.
More information is available from Screenworks' Createability 2017 website – https://www.screenworks.com.au/createability
For high resolution images, please go to https://screenworks.com.au/program-news/createability-images-videos/ and for video content please go to the Screenworks On Demand YouTube Channel.
CREATEABILITY 2017 is supported by Create NSW and is being delivered in partnership with the ABC
-RELEASE ENDS-
For more information, interviews or pictures please contact
Ken Crouch, Screenworks General Manager
02 6687 1599 || gm@screenworks.com.au
---
Screenworks Diversity Commitment:
Screenworks are strongly committed to increasing diversity across all sectors of the screen industry. We encourage all talented filmmakers to apply to our programs regardless of their gender, race, religion, sexual orientation or disability status. We also ask that applicants consider inclusiveness, accessibility and diversity when forming their filmmaking teams for any Screenworks initiative.
Published on May 17, 2017 9:29 pm