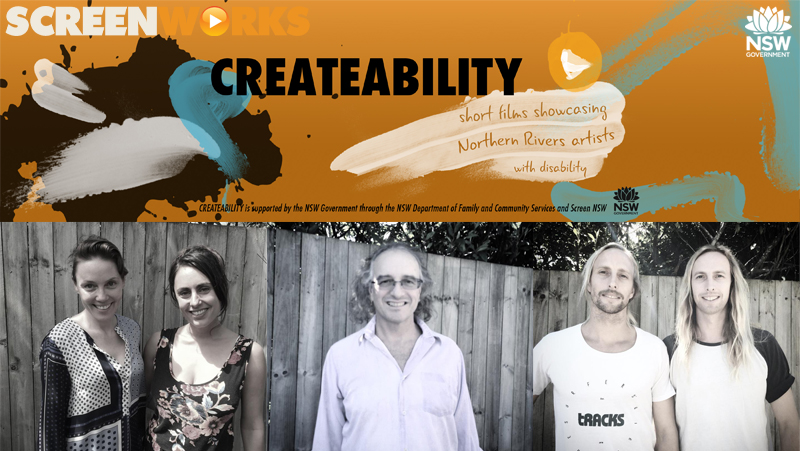 Screenworks announces who will produce short films about artists with disability
MEDIA RELEASE – 2 April 2015
Following a difficult selection process from an impressive range of submissions to Screenworks' Createability project, three Northern Rivers Producer / Director teams have been selected to each produce a short documentary film profiling the work and life of artists with disability living and creating in the region.
Screenworks General Manager, Ken Crouch has been thrilled with the interest in the project – "all of the submissions were of a very high professional calibre, so narrowing the applications down to just 3 teams was extremely difficult. Just as difficult was deciding on which artists to profile – but, what a nice challenge to have!
"Createability is all about providing local artists with disability the opportunity to challenge community attitudes and misconceptions that form barriers to social inclusion, and we're really proud that Screenworks is able to offer the opportunity to produce these short films to local professional screen workers in our region" said Mr Crouch.
After hours of assessment and deliberation, the successful filmmakers / production teams selected for the Createability Project are:
Jonatan Lundmark and Sebastian Lundmark from Byron Bay (Rest Your Eyes Productions),
Bangalow-based Poppy Walker and Sophie Hexter, and
Andy Bambach from Suffolk Park (In Your Face Productions).
All three teams have extensive experience in producing broadcast quality films.
Having worked as a filmmaker since the early 1980's, Andy Bambach is looking forward to working with local artist, Peta Lipski. "I am really excited to be involved in the Screenworks Createability project. It's a fantastic opportunity to work with Peta Lipski and showcase her amazing hand-made puppets, each an original character with a distinctive story. Peta is an inspiring artist and performer living with a disability who follows her artistic passion and dreams."
Jonatan and Sebastian have established themselves as popular local filmmakers having worked on many high profile local productions including the Youtube viral hit, I'm Happy. They are looking forward to profiling young local musician, Lydian Dunbar. Lydian is an electronic music artist who also works in theatre and cross platform work that has been exhibited in Regional Galleries in Australia. Lydian joined the inclusive electronic pop band Tralalablip in 2010. Tralalablip have recently been invited to undertake a residency in Germany later in 2015.
Poppy and Sophie are currently in discussion with several Northern Rivers based dancers for their film. "We are thrilled to have been given this opportunity to create a short documentary for Createability. In collaboration with Screenworks and a small team of dynamic artists we will be creating a highly-cinematic dance film illuminating the work of a gifted, local performer". Full details about Poppy and Sophie's film will be released in the coming weeks.
Screenworks has officially launched a Createability Instagram account this week so that locals can follow the project as the films are produced over the coming months. To follow their journey, users need to log in to their Instagram account and simply type in createability_screenworks when doing a user search. The Instagram account can also be accessed at https://instagram.com/createability_screenworks/.
Screenworks will be profiling the artists who have been chosen to tell their stories on the Screenworks website, social media and the local media – stay tuned for further updates on this exciting project.
Screenworks' initiative, CREATEABILITY, is being funded and supported by Screen NSW and the NSW Department of Family and Community Services.
-ENDS-
For more information, interviews or pictures please contact Ken Crouch, Screenworks General Manager on 02 6687 1599 || gm@screenworks.com.au
---
Filmmaker biographies:
Andy Bambach – BIOGRAPHY
Andy Bambach has worked as a filmmaker since the early 1980's in documentary, drama, education, music and the arts often in remote and challenging environments. Andy has previously worked with disabled artists who paint with their feet, physically and emotionally abused women who are finding new purpose through creating and sharing art, Bali bomb victims learning to live again through surfing and creative arts and a beggar girl in India who has had her life changed forever with the gift of a prosthetic leg. Andy has recently filmed a documentary with a blind photographer and musician who performs in a blind orchestra in Mumbai with another local filmmaker Rani Willis. Some of Andy's productions include 'A Surfers Legacy', 'Unemployment in Malawi', 'Kill Plastic Not Wildlife', 'Life in Byron', 'Byron Underwater' and 'Kintore Health Promotion through music and animation'.
https://screenworks.com.au/profile/andy-bambach/
Poppy Walker – BIOGRAPHY
Poppy established Propeller Pictures in 2009 to produce social justice and advocacy documentary films, including: co-directed feature documentary Not So Straight, two short films about HIV commissioned for Cambodian TV (Sophat and Nasear and Bright Day) and the award-winning On Her Shoulders, a co-directed short which screened on the ABC. Poppy is currently directing a film about sexuality and ageing with development support from Canal Plus, and a short film following an adult Lego enthusiast and his ballerina muse. Recently venturing into narrative film, Poppy is in post-production on co-written and directed short film Hitch. She is co-founder of multidisciplinary studio H.W Collective, assists curating the Schools Program for the Byron Bay Film Festival and is the Production Coordinator for Cumulus Visual Effects. She holds a BA in Journalism from Monash University and a Graduate Diploma in Documentary from the Victorian College of the Arts.
https://screenworks.com.au/profile/poppy-walker/
Sophie Hexter – BIOGRAPHY
Sophie works internationally as a stylist and writer, and is represented by Hart & Co Management. Launching her career at Harper's BAZAAR, she has gone on to forge a successful freelance career working for a number of fashion and lifestyle magazines, including a four-year tenure as a columnist with The Age. As a creative consultant, Sophie works with major fashion brands and has sat on the advisory board of the Melbourne Fashion Festival and Melbourne Spring Fashion Week. She has directed TV commercials for clients such as the Melbourne Fashion Festival, Chadstone and Dotti, and has consulted on various commercials for clients such as Visa, Pantene, Renault and Myer. Sophie scripted the four-part documentary TV series, The Closet Tales of Australia Fashion, and has worked in development as a writer and consultant on various TV documentary and narrative film scripts. In 2014, Sophie co- founded the multidisciplinary studio, The H.W Collective, and made her dramatic short directorial debut. She is currently developing two feature film scripts. Sophie holds a BA (Hons) from Monash University and an MA (First) from Oxford University.
https://screenworks.com.au/profile/sophie-hexter/
Jonatan Lundmark – BIOGRAPHY
Jonatan is 33 years old and has a bachelor in film production from SAE Institute Australia – Creative Media Education. He is currently working as a producer/director at the production company Rest Your Eyes. Jonatan has 13 years experience of camera operating and editing. Jonatan directed and produced the award winning documentary Byron bay The Meeting Place and is currently working on an indigenous documentary – Ninja circus. The Ninja circus documentary takes place in Uluru NT.
https://screenworks.com.au/profile/jonatan-lundmark/
Sebastian Lundmark – BIOGRAPHY
Sebastian is 33 years old and originally from Sweden but has been living in Byron for the last 7 years. Has a bachelor in film production from SAE Institute Australia – Creative Media Education. Sebastian is currently working as a Director and Editor at the production company Rest Your Eyes . Sebastian has been making films for the last 20 years. For the past 6 years he has working full time time on various documentaries, commercial and corporate productions.
Published on April 2, 2015 7:00 am