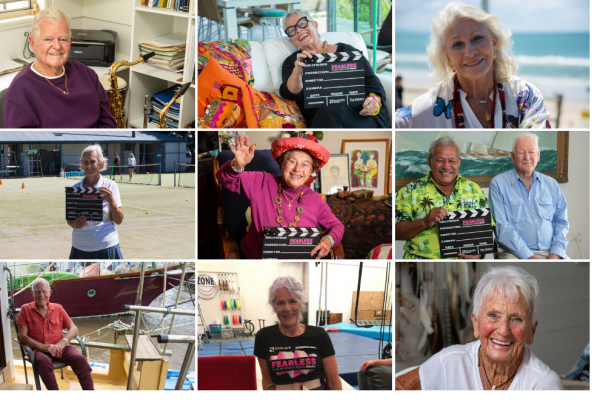 FEARLESS SENIORS SET FOR STARDOM AS THEIR SHORT DOCUMENTARIES ARE RELEASED
A collection of inspirational short films showcasing the surprisingly bold lives of nine Northern Rivers seniors over the age of 75 will be released online from Wednesday, December 5th 2018, as a result of a Screenworks initiative in partnership with Feros Care and supported by The Bakery Media Production.
Nine seniors have taken part in the initiative called FEARLESS, which sees each of them star in a short film about their fearless lifestyles and receive a 'Story Producer' credit for helping to create their documentaries. The entire charismatic collection is now available to view online here www.feroscare.com.au/fearlessfilms
Screenworks, Feros Care and The Bakery Media worked very closely with each participating senior to pass on filmmaking skills and create a suite of films that challenge community attitudes and celebrate ageing.
Introducing the nine FEARLESS seniors and their films (clockwise from top left in photograph):
Wendy Taylor, Suffolk Park (79 years young): Wendy is a creative force to be reckoned with and one of her (many) mantras is "don't go beige with age!" She posts her inspirational musings on growing older and shares her fashion secrets with her Instagram followers at WendysThirdAct
Margaret Fisher, Byron Bay (88 years young): Margaret is a tennis nut and practices daily in Byron Bay with her dog 'Coach Leo'. She travelled to Croatia in October to compete in the World Senior Tennis Championships.
Royden Ainsworth, Ballina (80 years young): A seasoned jazz musician and composer, Royden can't imagine his life without music. He is still composing, organising gigs and playing regularly with his two jazz bands across the Northern Rivers region.
Julie Crow, Suffolk Park (76 years young): Julie is vibrant and strong. She proves it by challenging herself to swing upside down from a circus trapeze for the first time ever.
Peter Warner, Lismore/Tweed (87 years young): Peter is keen for another ocean adventure with his old Tongan crew mate, Mano. They sail a yacht into the ocean and organise a drone to capture the results.
Nina Milenko Marzi, Byron Bay (97 years young): Nina charms everyone she meets. She credits drumming, dancing, friendship and shopping for her colourful Byron Bay lifestyle.
Klaas Nierop, Ballina (87 years young): Klaas loves his outdoors lifestyle. He and his beloved dog, Wolfie live on a boat in Ballina harbour. He kayaks, cycles, swims and visits the gym to stay strong and it shows.
Berenice Lancaster, Byron Bay (77 years young): A self-confessed swimming addict, Berenice swims across Byron Bay every morning and her latest overseas jaunt was an ocean-trek holiday, swimming around the Greek Islands.
Feather Thompson, Byron Bay (82 years young); Feather is a local legend who refuses to change as she ages, she's still dancing up a storm to the live bands in the Byron pubs and sunbakes nude on its beaches.
Screenworks' CEO, Ken Crouch is impressed by the commitment shown by the FEARLESS participants:
"One of the most incredible things about this initiative has been the commitment shown by the seniors since the initial application stage. Many of them have genuinely stepped up and learnt new skills to be able to bring their stories to the screen, ably assisted by the team at The Bakery Media Production.  This eclectic and appealing collection gives these seniors the chance to have their voices heard and share their escapades with the world"
Feros CEO, Jennene Buckley said that they are proud to release these stories of seniors who are challenging the traditional views on ageing:
"We are thrilled with the personalities and stories that this project has uncovered, and we'd love for these films to surprise, charm and inspire people.  Ultimately we're confident that our 9 FEARLESS seniors are going to crush those boring old stereotypes about growing older"
View the series trailer and the films online here www.feroscare.com.au/fearlessfilms
FEARLESS is being delivered in partnership between Screenworks and Feros Care and is supported by The Bakery Media Production.
-RELEASE ENDS-
To arrange an interview or more information,  please contact: Louise Hodgson, Screenworks Event Coordinator
02 6681 1188  ||  coord@screenworks.com.au
Published on December 5, 2018 12:22 am