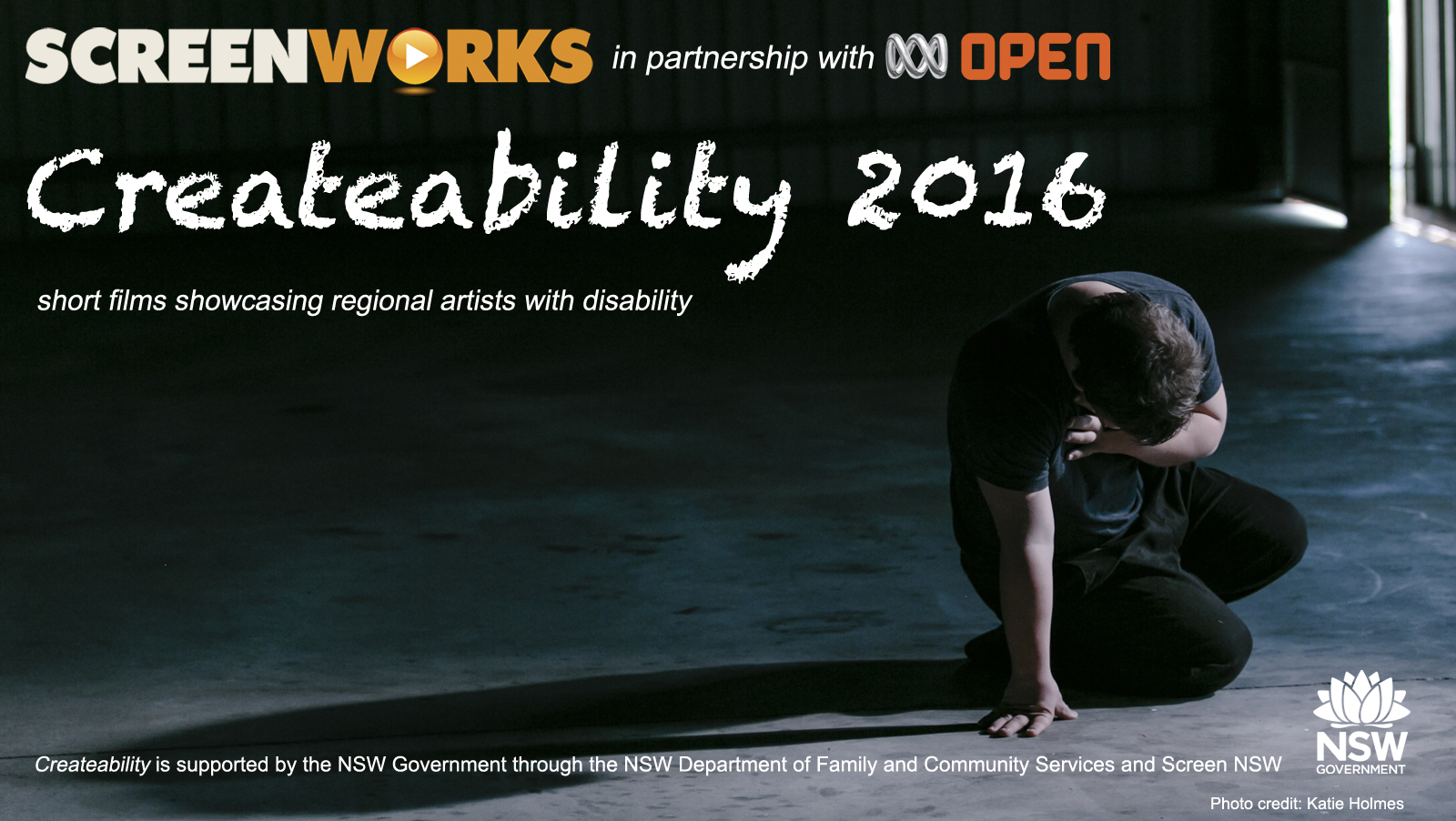 Nine regional NSW filmmakers to receive short film funding as Screenworks announces Createability 2016
Northern Rivers based screen industry organisation, Screenworks has today announced increased opportunities for Regional NSW filmmakers as part of Createability 2016 – a project that provides funded opportunities for professional filmmakers to profile artists with disability living and creating in regional NSW. Registrations are now open for filmmakers and artists to apply.
Now in its second year, Createability 2016 will be more than three-times the size of last year's pilot project, and thanks to increased support from ABC Open and the NSW State Government, the project will be expanded from the Northern Rivers NSW region to the far corners of Regional NSW. This sizeable project will be entirely driven and managed from the Screenworks office located in Bangalow NSW.
Locally in the Northern Rivers, Screenworks will double its funding in the project to bring the total to 5 films plus an educational video. Five local filmmakers will each receive $4,000 funding to be used to profile Northern Rivers artists with disability. Screenworks will also contract a professional production company to produce an educational video that explores captioning and audio description in short films.
In a first for the not-for-profit organisation, Screenworks will work in partnership with ABC Open, Screen NSW and other regional NSW arts organisations to extend the Createability project in to other regional NSW locations.
Screenworks will make funding available to produce one film per region in each of the following:
Orana Region (including the following Council areas – Dubbo, Gilgandra, Mid-Western Region, Narromine, Warrumbungle)
South East NSW (including the following Council areas – Bega, Bombala, Cooma-Monaro, Eurobodalla, Snowy River)
Upper Hunter (including the following Council areas – Upper Hunter Shire, Gloucester, Muswellbrook, Singleton, Dungog)
Far West region (including the following Council areas – Broken Hill, Central Darling, Wentworth).
Screenworks' General Manager, Ken Crouch is excited about the opportunities that the increased scope of the project will deliver in its second year –
"Last year, Createability was known to us in the Screenworks office as the project that not only exceeded all expectations, but also kept giving back to everyone that was involved." said Mr Crouch. "We're genuinely excited about being able to continue and to build upon this success as we undertake the increased scope for stage 2 of the project and especially as it gets rolled out across Regional NSW."
In its pilot year, Createability and Screenworks attracted a lot of positive interest by investing directly into local screen production. Two of the three Createability 2015 films have been aired on the ABC, whilst the third is currently garnering interest on the International Film Festival circuit.
This year, Screenworks is now asking filmmakers in the Northern Rivers, as well as the other regional NSW areas, to register for the Createability 2016 project. To register, simply head to www.screenworks.com.au/createability and complete the online registration form.
Concurrently, Screenworks is also seeking artists with disability from the Northern Rivers and each of the four featured regional areas of NSW who would be interested in being considered for the project. All artistic disciplines are relevant and will be considered.
Applications to register for Createability 2016 are now open and will close at 5pm on March 10th 2016.
In March, the selection process will continue with all registered filmmakers being invited to attend a Pre Production Masterclass, which will be run by ABC Open in each of the project regions.
Filmmakers will then be required to submit a competitive storyline outline and a proposed budget for the short film that they would like to produce. An independent selection panel will select the five short films to be produced in the Northern Rivers NSW Region, in addition to four short films to be produced in Regional NSW.
Final decisions on all successful filmmaking funding applicants, in addition to the selection of artists who be profiled, will be made at the end of April 2016.
Preproduction for the short films will commence in May 2016, with the final delivery date for films being early August 2016.
Detailed information about the project, in addition to links to the online registration form are available from Screenworks' CREATEABILITY 2016 website – https://www.screenworks.com.au/createability.
Createability is providing local funded opportunities for professional filmmakers to profile artists with disability living and creating in Regional NSW. By producing these short films, Screenworks wants to provide artists with disability the opportunity to challenge community attitudes and misconceptions that form barriers to social inclusion, while also providing the funds and opportunities for Regional NSW professional screen workers to produce short films.
Createability 2016 is supported by the NSW Government through the NSW Department of Family and Community Services and Screen NSW.
Createability 2016 is being delivered in partnership with ABC Open.
For high resolution images and video content for this release, please go to https://screenworks.com.au/program-news/createability-2016/
-RELEASE ENDS-
Published on February 18, 2016 1:41 am