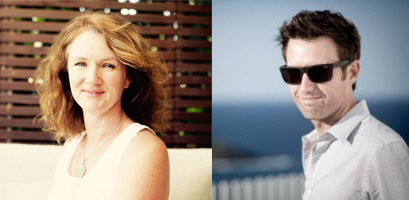 TWO REGIONAL FILMMMAKERS SELECTED FOR SCREENWORKS DIRECTOR PATHWAYS PROGRAM
MEDIA RELEASE                11 DEC 2017
Sawtell based filmmaker Simon Portus and Goonellabah based documentary director Karenza Ebejer are both one step closer to realising their career dreams following their recent selection as the two participants in Screenworks Director Pathways Program.
Screenworks Director Pathways Program is a professional development program, delivered in partnership with the Australian Directors Guild (ADG) with the support of Create NSW, that provides bespoke career development opportunities to two emerging and early-career directors living in regional NSW – Karenza Ebejer from Goonellabah and Simon Portus from Sawtell are the 2018 selected participants.
They will each receive $3,500 to put toward a professional development program of their making and be given career support and industry introductions from Screenworks and the Australian Directors Guild.
Karenza Ebejer has a background working as a producer and director of corporate videos and has been transitioning into short form documentary making.  In the last couple of years she has created 2 short films as part of Screenworks Createability program which have aired on ABC.  She also works with Lismore's Red Inc and various councils mentoring youth, disability clients and Indigenous communities in filmmaking.
"I really want to build my skills so I can work towards director feature length documentaries with a social impact," explained Karenza.  "I am interested in the theme of birth as a rite of passage.  I would like to run a wider educational campaign alongside a film, rolling out an educational package that could go into birth and women's health  centres."
"Through Screenworks Director Pathways Program I am able to increase my directing skills by attending a series of documentary directing master classes as well as camera and lighting courses at the Australian, Film Television and Radio School.  I would also like to get an attachment position, working alongside a professional director that I can learn from.  For a long time I have  been wanting to attend the annual Australian International Documentary Conference in Melbourne to  build up some industry connections.   None of this would be possible without the support and funds from Screenworks and the Australian Directors Guild."
Simon Portus has had significant success in directing dramatic short films, his 3 multi-award winning shorts films have screened at Berlin, Melbourne and Sydney film festivals.  Simon is currently developing several feature films and a TV series and will use his $3,500 to go toward working as an attachment with a TV series director and becoming a member of the Australian Directors Guild.
"I'm interested in directing character driven drama for film and television," explained Simon. "Ideas that explore the complexities of human relationships and really dig into why we do the things we do."
Both Simon and Karenza will have their career plans reviewed by the Australian Directors Guild who, along with Screenworks will give them assistance in the implementation of their plans.
Published on December 12, 2017 1:33 am