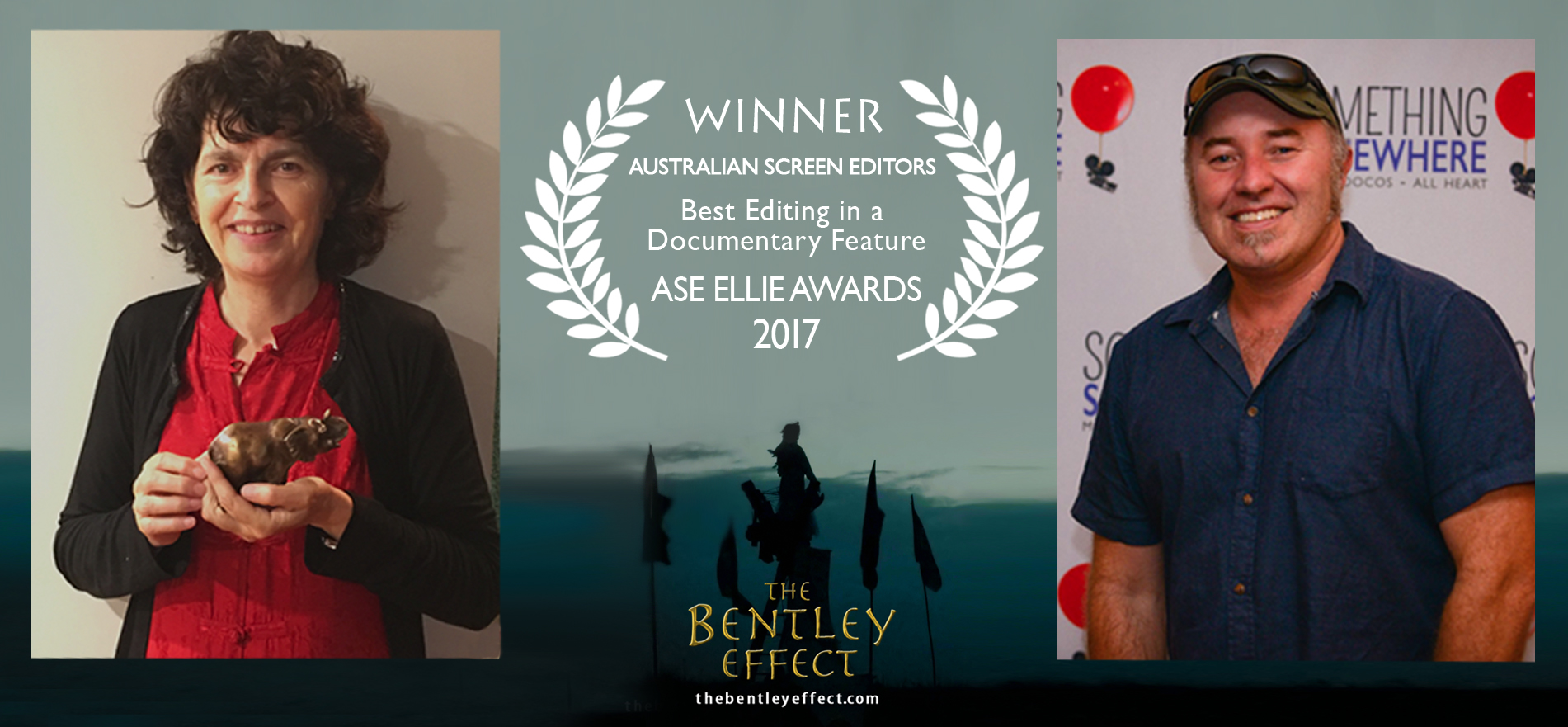 LOCAL EDITING DUO TAKE OUT TOP FILM AWARD
At the recent held 2017 annual Australian Screen Editors (ASE) awards, the much coveted 'Ellie' for Best Editor of a feature documentary went to Screenworks members Brendan Shoebridge and Harriet Clutterbuck ASE for The Bentley Effect. It is an outstanding achievement for these two editors to be judged winners by their peers against entries from all over Australia. As one of the ASE committee said,"The competition was very stiff".
"Because the film follows a social movement spanning nearly five years, trying to squeeze the most compelling story into 85 minutes was a great challenge. It felt like the mother of all jigsaws so it was a tremendous relief to get through it all. For Harriet and I to now be recognised in the craft by our peers is a great thrill." said Brendan who also shot, produced and directed the film. The Bentley Effect took fourteen months to edit and involved over 48 TB of footage. After 5 months of continuous editing, Brendan hired Harriet to join him in the edit suite to help lighten the load and speed up the process. With a combined total of fifty eight years worth of editing experience between them, the pair complemented each other well.
Having just returned from a highly successful New Zealand screening tour, Brendan was unable to attend the recent gala event in Sydney. Harriet received the award on behalf of the team and in an emotional acceptance speech said, "Of all the films I have ever edited, this one was truly made in the editing room. It is a great honour to receive this award." The delighted pair said congratulations must also go to their tireless story consultant Anne Delaney and project consultant Dr Wayne Somerville who both made enormous contributions to the local documentary that has now won numerous top awards in festivals around the globe.
"With big business constantly implementing new ways to plunder the planet and threaten our life support systems I fear the film's themes are only growing in relevance and importance." said Brendan. "Yet this slow boat is starting to turn. Good people are standing up for what is truly valuable and it seems there is a growing appetite for stories of hope and positive change."
So what's next? After a 12 month theatrical release here and abroad, the film is now waiting on approvals and processing for a DVD release, expected late February / early March 2018. However, to meet the Christmas demand and help cover the DVD production costs, it will be available shortly as a presold DVD Gift Voucher via the film's website: www.thebentleyeffect.com
Published on December 13, 2017 4:36 am